Athletics doping scandal: Nothing but weasel words from Sebastian Coe on sport's darkest day
IAAF leader could have been dynamic, prepared, convincing. He was not 
Ian Herbert
Chief sports writer
Monday 09 November 2015 23:04 Comments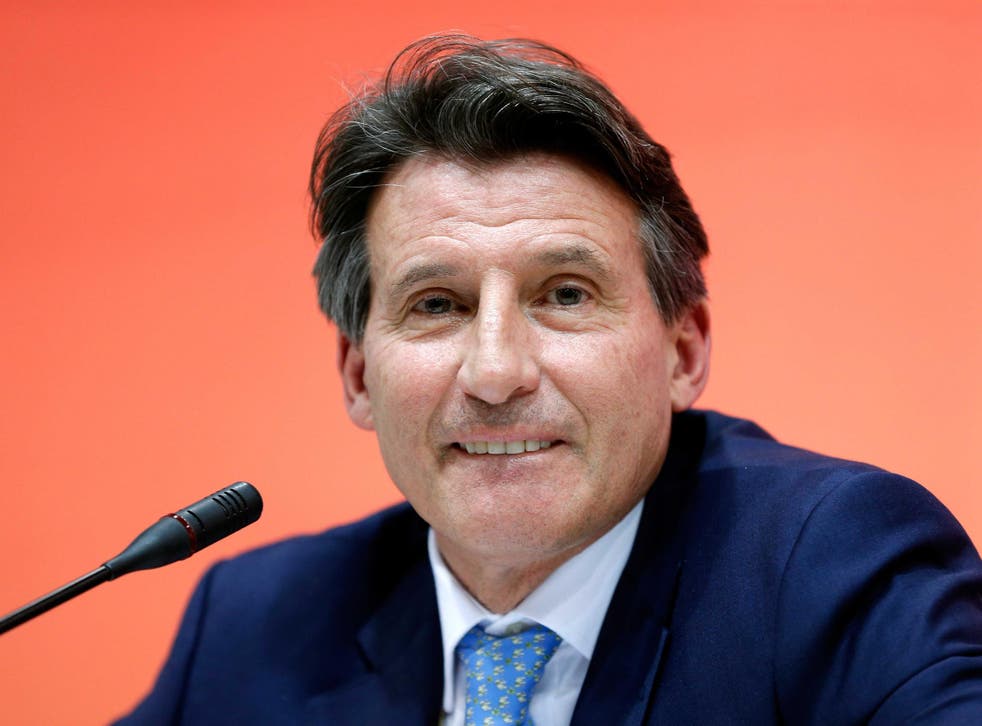 You were looking for some sign that Sebastian Coe felt what we felt: an inner rage that Russia, with its malign "second laboratory" in Moscow and its intelligence service officers infiltrating anti-doping work, had stolen in on our sport – our London Olympics – and cheated us. The "inexplicably lax" organisation Coe now leads had contributed to the felony – taking as long as 25 months to trigger investigations into anti-doping rule violations, allowing the cheats all the time they needed to prepare and compete in London, where Russia took 17 track-and-field medals.
But it seems that Coe did not feel what we feel. There was no sense behind his eyes on the darkest day athletics has known that he was ready to be radical. This, despite the World Anti-Doping Agency report: a devastating 323-page indictment of the "contempt for law" among those at the top of sport who consider themselves "too powerful to be held to account," as the shadow sports minister Clive Efford rightly defined it.
An initial weasel statement from Coe, issued by his International Associations of Athletics Federation, stretched to 104 words. And when he was asked about London he did not seem ready to admit to any failing. "If any of our anti-doping processes have failed, or our internal governance has failed, then I will fix it," he said.
Coe's statement asked for "time to properly digest and understand". His words included "total assurances… urgent steps... we will fix… full co-operation… rebuild trust…" You get the drift. And he said he would be "seeking approval" from his fellow IAAF members to "consider sanctions" against the Russian Athletics Federation. As if discussions could not have taken place in advance, allowing the IAAF to provide a sense that it will be dynamic and seek to convince the world immediately that its custodianship of athletics is credible. We are supposed to believe it did not know what was coming? The outcome of the report has been an open secret for months.
If it was credibility Coe wanted, then he would have acknowledged the work of Hajo Seppelt, the journalist whose film for German broadcaster ARD triggered Wada's investigation. Such a gesture would have been as welcome as it would be wise, because Seppelt's findings, let's remember, were what Coe described as a "declaration of war" on athletics, this summer. The credit for the journalist did not materialise, of course. Neither did any kind of acknowledgement that the IAAF would do what Dick Pound had urged: appoint, with utmost urgency, both an anti-doping chief compliance officer and an ombudsperson – independent of Coe's body but paid for by it, to whom athletes could go for advice. Not a squeak on any of that.
The timing of Wada's investigations into Lamine Diack actually served Coe well, as it turned out. A swathe of the report's findings on the IAAF was removed, pending French police inquiries. But he still found himself in a very inauspicious place for a man who wants us to believe that the fight for the salvation of world athletics is safe in his hands.
He called only last week for "engagement" with Russia. Now he is asking his organisation for a conversation about banning them. It's a week or so since Coe undertook his first "official visit" to Russia as IAAF president, opening the annual congress of the All-Russian Athletics Federation – whose cover-ups, Wada says, allowed cheats to compete at London and which, as of June 2015, was still presiding over "widespread doping".
The IAAF website was last week leading its news section with an image of Coe, clutching his spectacles and standing like royalty beneath a picture of himself, in what the IAAF calls its "regional development centre" in Moscow. It includes Coe talking of appreciating "the openness, passion for our sport, appetite for change" among Russian "athletes, coaches and officials". There did not seem to be much of that in his response last night to the work of Pound and his team. The Russian Track and Field Federation immediately accused them of circumventing established protocols for dealing with drugs. The Russians are not having this.
That Moscow trip of Coe's was a horrific error of judgement, given what was already known about the thrust of the allegations about to come out. And though Pound also spared Coe embarrassment – declaring that the IAAF's faults preceded his presidency – everywhere you look we are seeing questionable judgement in an individual who needs more than any to be uncompromised.
Still he takes a healthy six-figure salary as a Nike ambassador, at a time when the work of Alberto Salazar at the firm's Oregon base is under question. In an interview with the Financial Times last month, Coe also announced his intention, as executive chairman of the sports division of Chime Communications, to allot "hundreds of millions" of pounds at the company's disposal, to win contracts telling countries and cities how to host big sporting events. It was six months ago that he refused the request of Amnesty International to use his IAAF position to highlight human rights abuses in Azerbaijan – one of the countries wanting the profile attached to one of those big events, the European Games. Asked about a conflict of interest, he replied: "You tell me anybody currently in international sport where every interest they have is recorded." In the hyper-scrutinised sport of football, you would not get away with that. Martin Glenn resigned his Chime non-executive directorship when he became chairman of the Football Association.
With the very notion of sport's ability to self-govern drowning, it is clear that the task of expunging the Russians from international athletics, and specifically the Rio Olympics, must coincide with a drive to tackle the orchestrated doping which is present in very many other countries, too. That entails a wholesale reordering of the hierarchy of organisations to ensure that Wada is financially independent and has the resources to fight doping. Arguably the most significant recommendation in this report is Pound's call for greater Wada funding. Its budget is a miniscule $30m (£19.8m) a year, with Russia's immediate threat to withdraw its funding – a laughable £604,000 – illustrating the farcical ordering of spending priorities. No mention of that from Coe, either.
The IAAF's official response reveals an organisation in defence mode. Responding on its website to a series of "frequently asked questions" in "an effort to be as transparent as possible" IAAF replies include: "Not true"' and: "We have no knowledge."
If this is the kind of leadership the sport is relying on to build its credibility, God help athletics. It was a tweet from Jenny Meadows, denied multiple medals by Russian cheats, which seemed to scream out for something better. "Always suspected it," she said. "But final confirmation that the Russian Athletics Federation have denied me [the] finest moments of my career."
Register for free to continue reading
Registration is a free and easy way to support our truly independent journalism
By registering, you will also enjoy limited access to Premium articles, exclusive newsletters, commenting, and virtual events with our leading journalists
Already have an account? sign in
Join our new commenting forum
Join thought-provoking conversations, follow other Independent readers and see their replies