Birmingham Grand Prix: Sprint stars attempt to outrun the cloud over Jamaican success
Shelly-Ann Fraser-Pryce and Nesta Carter race in Birmingham still dogged by compatriots' drug hearings
Matt Majendie
Saturday 15 February 2014 00:05 Comments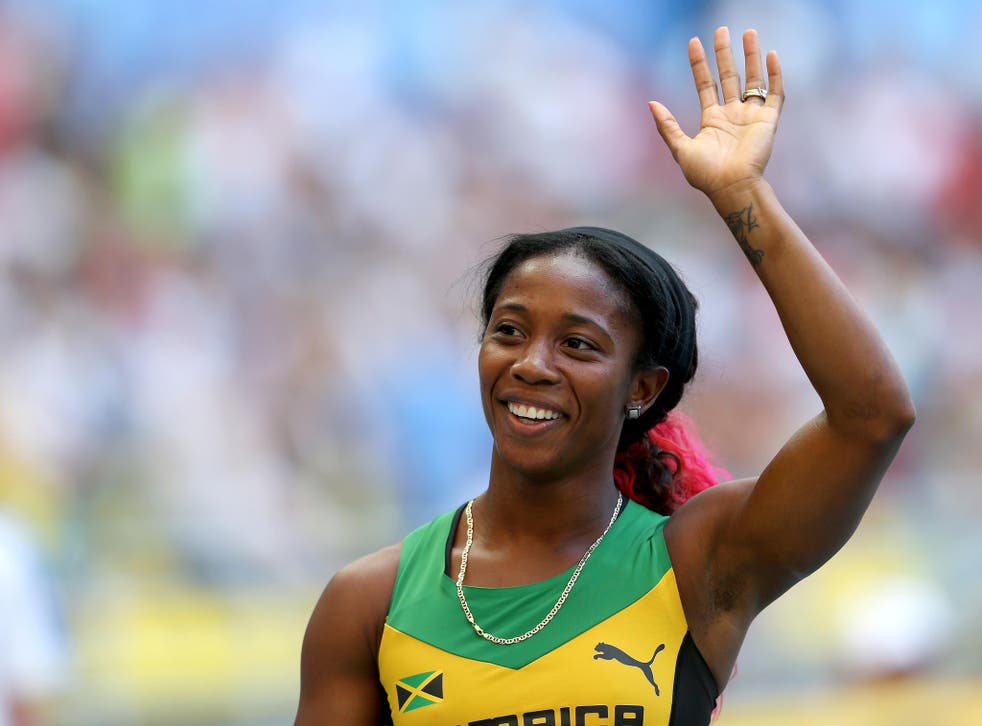 The storm clouds enveloping Birmingham today for the Sainsbury's Indoor Grand Prix act as a fitting portent for the state of athletics in Jamaica.
Rightly or wrongly, suspicion still hangs over the sport on the Caribbean island with the recent drug hearings for sprinters Asafa Powell and Sherone Simpson, as well as an emergency visit from the World Anti-Doping Agency and criticism of the drug-testing facilities there.
Fingers have been pointed and accusations made at the world's sprinting powerhouse but some 5,000 miles away and some 20 degrees cooler, Jamaica's athletes will make their first international bow of the season in the Midlands.
Just four months ago, Shelly-Ann Fraser-Pryce was threatening to go on strike for a perceived lack of support from the Jamaica Athletics Administrative Authority but yesterday the trademark smile had returned, the triple world champion from Moscow adamant things have improved in the ensuing months.
"Some things as an athlete are very important for us," she said. "Representing our country for us is important. If you represent our country it should represent us. It's supposed to be a two-way thing but we live and we learn and it's getting better. We are making strides in educating our athletes. Education is paramount in light of so many things that are out there."
For now, though, it seems like little more than an uneasy peace reigns. The results of the hearing into Powell, who tested positive for the banned stimulant oxilofrine following the 100m at the Jamaican national championships last June, are expected to be announced in two weeks' time.
Powell's defence is that he unknowingly took the substance in a supplement given to him by a personal trainer. For Nesta Carter, the other leading Jamaican athlete in action in Birmingham today in the 60 metres, the failed tests of his countrymen have certainly made him more vigilant regarding what he ingests.
"You have to learn who to trust and how to go about things and what to read up on when you are going to take something that is new to you to put in your body," he said. "It is a wake-up to a lot of people."
However, Carter, the fifth fastest man of all time (three of the four above him have failed drugs tests in the past), insisted the whole issue of doping in Jamaican athletics had been "blown up too much".
He added: "Track and field continues, you try and take the positive out of everything that happened and try and help you in everyday life. You can't dwell on the past, you only focus on what is to come."
More immediately for Carter is a duel against British duo James Dasaolu and Dwain Chambers at Birmingham's National Indoor Arena, as well as French pairing Christophe Lemaitre and Jimmy Vicaut, the defending European indoor champion.
While victory is on the immediate agenda for both Carter and Fraser-Pryce, the main goals in 2014 are next month's World Indoors and the Commonwealth Games this summer, with conjecture still rife about whether Usain Bolt will be on the start line.
Carter, for some time, has been forced to run in the shadows of both Bolt and Yohan Blake; all his major championship medals, bar his bronze in the 100m in Moscow last year, have come in the sprint relays. But the 28-year-old, with a 100m best of 9.78 seconds, is confident Jamaica can sweep the board in Glasgow. "We've been sweeping the medals across the championships, so I don't think the Commonwealth Games will be any different," he said. "Most of us are going for the Commonwealths so I think we will be sweeping whether Usain is there or not."
Neither Carter nor Fraser-Pryce has competed at the Commonwealths before and the latter admitted she was unlikely to double up in the 100m and 200m as she had done at London 2012 and again at last year's World Championships, and said she was veering towards the longer distance in Glasgow.
After her annus mirabilis last year, it is difficult to see how the 27-year-old, effectively the Bolt of women's sprinting, can follow suit this year. She said: "Oh my God, I thought I did so well last year, how do I top that this year, how do I go into 2014 season after coming off a season like that? But I try to approach things with no pressure, no fear, just work hard and stay committed.
"When I won the World Championships in Moscow when I came back that was it. I tried not to be, 'oh yes I won the World Championships', I forgot about that totally. When I started training in October I was like 'OK, I've never won the World Indoors or the Commonwealth Games before'. It's a different focus, a different motivation, so it gets me pumped for that."
The day after Valentine's Day, a day Fraser-Pryce admitted she does not celebrate, the 5ft pocket rocket is keen to bring the romance back to Jamaican athletics.
* The Government has announced international athletes competing at the Sainsbury's Glasgow Grand Prix this summer will be exempt from income tax. The likes of triple London 2012 Olympic champion Usain Bolt has previously limited his appearances in Britain owing to rules which mean he is taxed on global sponsorship and endorsement earnings as well as any appearance fee.
Indoor fireworks: Four events to watch at Birmingham Grand Prix
Men's 60m
James Dasaolu will be targeting a hat-trick of wins over Dwain Chambers this season, while Jamaica's Nesta Carter hopes to upset the home crowd.
Women's two miles
Genzebe Dibaba has been in scintillating indoor form this season and is aiming for her third indoor world record in the space of just two weeks.
Men's 3,000m
Mo Farah is absent but talent abounds including Ethiopia's Dejen Gebremeskel and World Championship bronze medallist Isiah Koech, of Kenya.
Men's long jump
There is a certain frisson between Britons Greg Rutherford and Chris Tomlinson. The Olympic champion Aleksandr Menkov is likely to win.
Register for free to continue reading
Registration is a free and easy way to support our truly independent journalism
By registering, you will also enjoy limited access to Premium articles, exclusive newsletters, commenting, and virtual events with our leading journalists
Already have an account? sign in
Join our new commenting forum
Join thought-provoking conversations, follow other Independent readers and see their replies