Chambers win could lead to legal fight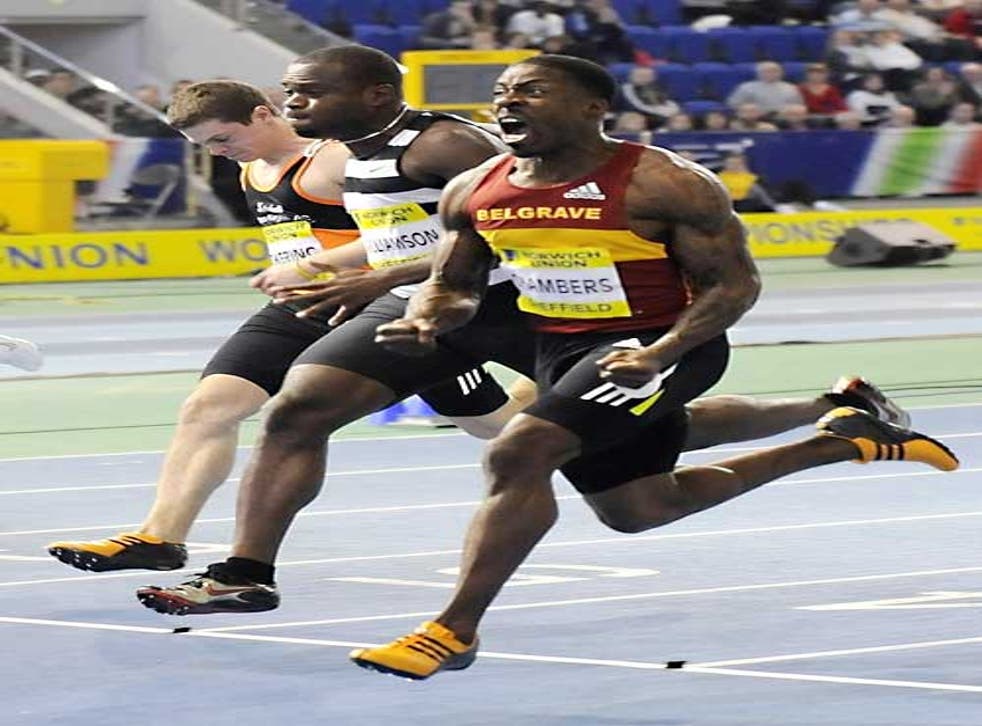 Dwain Chambers laid claim to a place at next month's World Indoor Championships here yesterday with a 60 metres victory in 6.56sec, the second fastest time of the year. All the worst fears of UK Athletics are thus realised; and its selectors, who meet today, will face an almighty legal battle if they fail to confirm the sprinter's place in Valencia by next weekend's deadline. The only possible room for manoeuvre is contained in the catch-all selectorial phrase "exceptional circumstances".
As the 29-year-old sprinter cavorted on the infield at the Norwich Union World Trials he had placed himself literally and metaphorically at the centre of his domestic sport, where efforts to prevent him making a second comeback on the grounds that he had not been on the UK Sport anti-doping register for the required period of 12 months were "reluctantly" abandoned this week by the UKA chief executive, Niels de Vos.
The stance adopted by De Vos was a moral one which is not backed up by the laws of the sport. The International Association of Athletics Federations confirmed last week that Chambers – who made a first return to the sport in 2006 after a two-year doping ban – had not asked to be dropped from the register, even though UK Athletics had assumed he had retired to pursue a career in American Football. Accordingly, Chambers' solicitors threatened UKA with a High Court injunction to ensure his continuing participation. While the selectors ponder their choices, the bookies have already revised the odds on Chambers winning in Valencia from 16-1 to 8-1.
To judge by some of the more intemperate comments which had been made about Chambers' controversial appearance – both Athletics Weekly and Dave Bedford, international race director for the Flora London Marathon, recommended that the crowd booed – the sprinter himself might have been expected to arrive in the compact English Institute of Sport arena accompanied by a flash of lightning and a whiff of sulphur.
The spectators, however, decided against playing their part in a pantomime as Chambers won heat, semi-final and final, shifting from cautious enthusiasm to outright acclaim. Some of his opponents, too, congratulated him in victory, notably his childhood friend Christian Malcolm, who was fourth in 6.69.
"I'm not here to be the bad guy," said Chambers after defeating a field that included his main rival Craig Pickering – bitterly disappointed with fifth place – and finishing 0.05sec clear of Simeon Williamson. "I've shown today I'm good enough to be a possible medallist in Valencia. It means I'm a step further up the ladder."
The indications were that Chambers would be allowed to complete that step up, although De Vos, having looked on uncomfortably from the stands, did not confirm his participation at the Championships which take place from 7 to 9 March.
"He's guaranteed to be considered for selection in the same way as any other athlete," said De Vos, who added that if Chambers were to win the 60 metres gold medal, he, personally, wouldn't celebrate.
"I believe that the involvement of doping offenders is very damaging to the sport and it's something we need to get out of the sport," he said. "I'm not going to do anything that puts my sport on the wrong side of the law because that would also be very damaging. But every governing body should have the ability to select what it feels is the best for its sport both in terms of performance and reputation."
It is hard to avoid the conclusion that Chambers has been singled out by UK Athletics not for what he had done, but for what he has said. Certainly his comment last May that anyone taking drugs would have to be having a bad day not to beat a clean athlete aroused widespread anger, and there is also a sense that, whatever the legal position, it is not correct that the former European 100m champion should be lining up alongside athletes who have subjected themselves to the daily possibility of being tested for the last year.
Chambers, though, expressed bewilderment. "I don't understand what the problem is," he said. "I've made my mistake. Everybody makes mistakes in life. Why should UKA try to stop me running when I'm trying to do something for them? I'm going to let my legs do the walking and my lawyers do the talking."
Jessica Ennis let her legs do some eloquent talking in Karlsruhe yesterday with an indoor personal best of 1.92m in the high jump and third place in the 60m hurdles – an event which saw a new world record of 7.68sec by Susanna Kallur.
Join our new commenting forum
Join thought-provoking conversations, follow other Independent readers and see their replies