Commonwealth Games 2014: Sibling rivalry spurs athletes on to new levels of success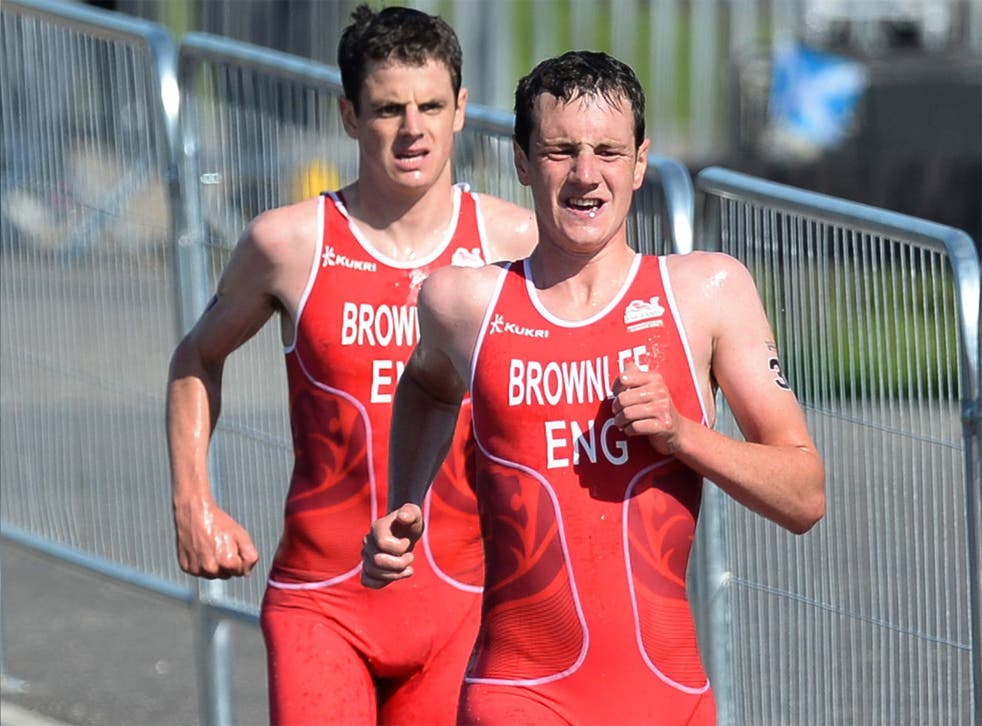 It is a unique bond they share: both fierce opponent and closest confidante. Yet forget the tragic curse of Cain and Abel, sibling rivalry appears to be spurring athletes on to new levels of success at the Commonwealth Games.
According to experts it is not their urge to fight that has seen repeated podium finishes for brothers and sisters in Glasgow 2014 but instead the ability to work together which is giving them the edge over their opponents.
More than a dozen family pairings are competing in this summer's Games from swimming to athletics, cycling to gymnastics, badminton to bowls.
Some – England's Brownlee brothers, the Renicks sisters from Scotland and Australia's pair of wonder siblings Cate and Bronte Campbell and Alex and Annette Edmondson – have already struck gold.
Others include identical Scots wrestling twins Donna and Fiona Robertson, Julene and Aimee van Rooyen in the rhythmic gymnastics and Zane and Jake Robertson, another set of twins who competed together for New Zealand in the final of the 5000m.
Sports psychologist Steven Sylvester said these pairs can have a unique advantage over their rivals.
"If you are both from the same family unit you have a deeper resolve and greater sense of commitment to the task. This joint shared purpose fosters a greater level of togetherness and collective excellence that stimulates each sibling to go even further in their pursuit of becoming the best in the world," he explained.
Athletes benefit from what psychologists call the "power of two" which allows them to share the high pressures associated with top-level sport. A younger sibling can also rise dizzyingly fast in the slipstream of their trailblazing elder. But not all families reap the dividends.
"In most families sibling rivalry is so high it is difficult to make collective excellence possible. However, if siblings are raised in a strong family structure they can learn to give more to each other and as a result they become less egotistical and more giving towards each other," Mr Sylvester added.
In pictures: Five great double acts

Show all 5
Dr Keith Brownlee has described the unique way that the triathlon brothers work as a team, living and training together for much of their career despite an intense competitiveness which extended from everything from boyhood Monopoly competitions to who could empty the dishwasher the fastest
But the relationships are complex. The Campbell sisters have described how despite their closeness, which extends to sharing a headset in the marshaling area, once they get poolside the other "ceases to exist".
"I don't love her any less, but she just becomes another competitor that I have to beat," explained the older Cate – who like Alistair Brownlee – remains the dominant athlete of the pair. Bronte insists that repeatedly losing to her sister does not make her a failure. "I think it's always a really stupid thing to base your achievement on someone else," she said recently.
Marie Bamber, 31, sister of England wrestlers Michael and Sarah Grundy, said their relationship had been central to their development as athletes.
"They are so close. Michael has done it from a very young age and can show Sarah all his technique and give her support. He has travelled a lot and could encourage and show her what to eat and how to train," she said.
Often, as if the case of the Renicks or the Grundys, children choose a sport already excelled in by their parents who already have the contacts and knowhow to give their offspring a headstart.
In the case of the Edmondson family it was the appliance of science by South Australian Institute of Sport testers which found the right sport for Annette and when she excelled decided to sign up her brother too.
But Dr Camilla Knight of the University of Swansea said success does not always follow in the gens although physical prowess can play its part.
"It would be great to say that if you have one person in the family that is successful it guarantees that the next one is going to be too. But we know that is not the case. You have to get into the right sport you need the support from the family, the right coaches and to enter the right competitions."
"It is often said there is more chance of being struck by lightning than being an elite athlete so having two in the same family you are looking at pretty impressive odds."
Five great double acts
1 Alistair and Jonny Brownlee, aged 26 and 24
England's triathlon brothers took gold and silver in the individual race before adding a team gold to the nation's medal tally.
2 Kimberley and Louise Renicks, aged 26 and 31
The Coatbridge judokos both won gold on the opening day of Glasgow 2014, sealing a triumphant start to the Games for the host nation.
3 Bronte and Cate Campbell, aged 20 and 22
They took one-two for Australia in the 100m freestyle when the elder sister pipped her younger sibling.
4 Annette and Alex Edmondson, aged 22 and 20
Sister and brother from South Australia both won gold and silver in Commonwealth cycling at the velodrome.
5 Zane and Jake Robertson, aged 24
The New Zealand twins worked together to challenge the might of the Kenyans in the final of the 5,000m, helping Zane to a bronze medal.
Register for free to continue reading
Registration is a free and easy way to support our truly independent journalism
By registering, you will also enjoy limited access to Premium articles, exclusive newsletters, commenting, and virtual events with our leading journalists
Already have an account? sign in
Register for free to continue reading
Registration is a free and easy way to support our truly independent journalism
By registering, you will also enjoy limited access to Premium articles, exclusive newsletters, commenting, and virtual events with our leading journalists
Already have an account? sign in
Join our new commenting forum
Join thought-provoking conversations, follow other Independent readers and see their replies