Dick Pound report to expose IAAF's 'unbelievable' corruption levels
Governing body braced for damning findings from second Wada publication on Thursday
Matt Majendie
Athletics Correspondent
Wednesday 13 January 2016 21:43 Comments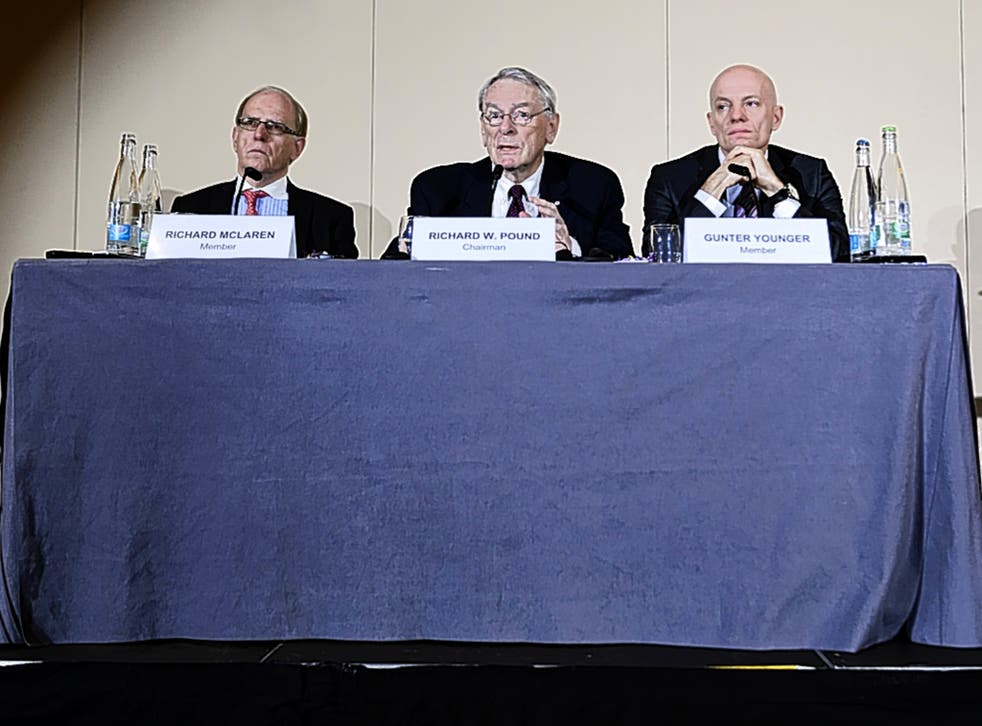 The chief investigator behind the World Anti-Doping Agency independent commission's second report to be published today has labelled the level of corruption involved as "unbelievable".
In Munich today, the commission chairman Dick Pound will reveal the findings of the investigation into corruption at the International Association of Athletics Federations and the leaked blood tests from the organisation. Pound has promised a "wow factor" with its publication.
His sentiments were backed by Günter Younger, head of the Bavarian Cybercrime Division. The press conference will be held in his home town.Younger told The Independent: "For me, there will be a wow factor that this could happen in this way. This for me is really unbelievable."
The first commission report, unveiled in Geneva in November, led to Russian athletes being banned from international competition.
As for the second report, Younger said: "In November, no one really expected that so I don't think this is going to be as big a surprise because a lot of it has been discussed in the media. But there will be some surprises and I expect another big wave of media. The main thing is that it's going to be a good result."
Younger began his investigation in February last year but halted enquiries into IAAF corruption in June before interviewing Gabriel Dollé, the IAAF's former anti-doping chief who was last week banned from athletics for five years, and Habib Cissé, a lawyer for ex-IAAF president Lamine Diack, in order to pass on the findings to French criminal authorities.
Younger and commission co-authors Pound and Richard McLaren will be joined in Munich by French prosecutor Éliane Houlette to give an update into the bribery, corruption and laundering charges against Diack, Dollé and Cissé.
The German police officer said his own report, which is expected to unveil doping practices in Morocco and Turkey among other countries, would still be interlinked to Russia.
"What's been interesting with this is that some of the secret recordings didn't make sense before but by carrying on with this investigation we've got to a point where we've found answers and explanations," he said.
IAAF president Sebastian Coe, although not accused of wrongdoing, is expected to find himself under pressure once more following another damning day of revelations.
Coe has been criticised for the five months of his tenure but told CNN: "One of the accusations is that I don't sort of get the seriousness of this issue – I do. I'm dealing with it every day and I have been dealing with this since effectively the first day I took over the role as president.
"Don't run away with the idea that I don't know that these are dark days, of course they're dark days. There is no cover-up here. The crisis was probably two or three years ago when what we're having to deal with was taking place. Our responsibility now is to make those changes and to take the sport into safe territory."
Meanwhile, European Athletics chiefs have backed UK Athletics' proposals on Monday and warned that it could be ready to rip up the continent's record books and push for more stringent punishment for cheats.
The European Athletics president, Svein Arne Hansen, said in a statement called "Integrity in Athletics" that the current four-year ban for doping offences was insufficient. "The penalty for a serious doping offence should make it highly unlikely a guilty athlete can return to an elite career even if lifetime bans are not legally sustainable," said Hansen.
The Norwegian is keen to set up a team to investigate "a new approach to records in Europe" in a bid to restore the public's faith.
He added: "Our policy will not be one of quick fixes but rather we will take a deliberate and systematic approach. The credibility, trust and respect our sport requires will take time and great effort to rebuild."
Register for free to continue reading
Registration is a free and easy way to support our truly independent journalism
By registering, you will also enjoy limited access to Premium articles, exclusive newsletters, commenting, and virtual events with our leading journalists
Already have an account? sign in
Join our new commenting forum
Join thought-provoking conversations, follow other Independent readers and see their replies