Eliud Kipchoge runs fastest ever marathon but doesn't break world record during Nike Breaking2 race
The Olympic marathon champion looked on course to run a sub-two hour race only to drop off the pace late on at Italy's famous Monza race circuit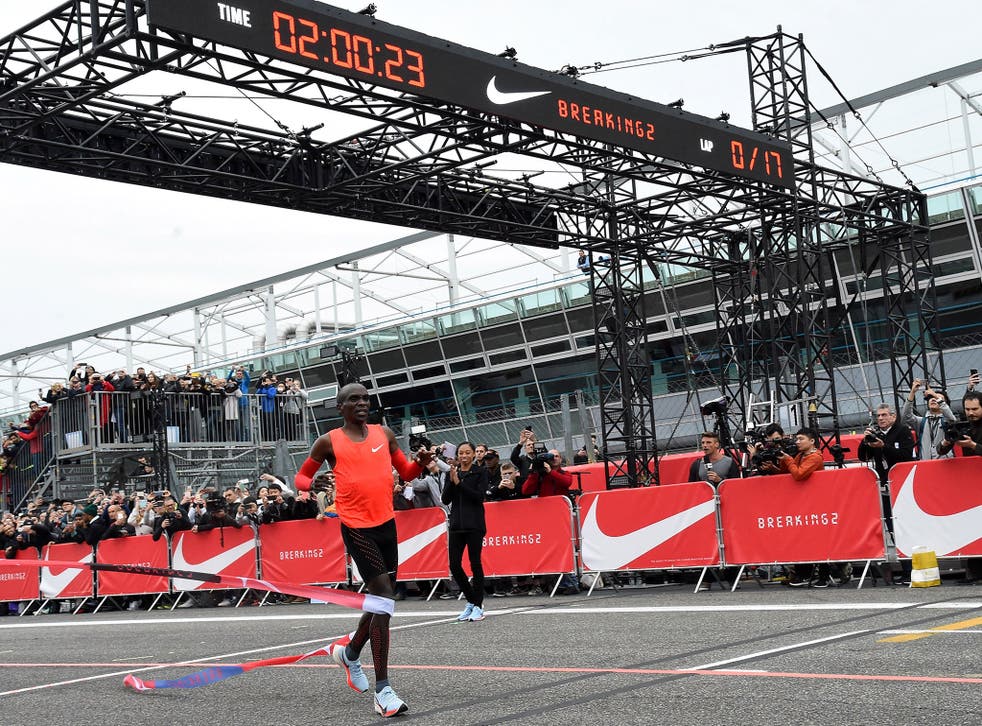 Olympic marathon champion Eliud Kipchoge has failed in his bid to complete the first sub-two hour marathon by an agonising 25 seconds in Italy.
The 32-year-old Kenyan - along with fellow elite African athletes, Lelisa Desisa and Zersenay Tadese - was hoping to break the barrier exactly 63 years after Roger Bannister became the first person to run a four-minute mile.
The trio were running as part of the Breaking2 project from sportswear giant Nike at the Monza F1 track in Milan and Kipchoge broke away from the other two runners with a chance of making history but - despite his determination throughout - he crossed the line after a gruelling 26.2 miles in two hours and 24 seconds.
Kipchoge can take inspiration from the fact that he took over two-and-a-half minutes off compatriot Dennis Kimetto's world record of 2hrs 02mins 57secs, set at the 2014 Berlin Marathon, in Saturday's unofficial world record attempt.
Three-time Boston Marathon winner Desisa, from Ethiopia, and Eritrean half-marathon world-record holder Tadese dropped off the pace to leave Kipchoge crossing the line alone at the end of the 17-and-a-half trips around the 1.5-mile loop circuit.
Kipchoge admits he was just focused on breaking the two-hour barrier as the last lap approached but vowed to come back.
He told Nike's #Breaking2 LIVE Twitter feed: "My mind fully was focused on the two hours but in the last seconds I was a bit behind.
"This journey has been good. It's been hard. It's been a long journey...it's taken seven good months of preparation.
"I'm happy to have done it.
"With the race I felt good, I'm a happy man to run a marathon in two hours. Now it is just 25 seconds (I need to lose).
"I believe in good preparation and planning and if I stick to that the 25 seconds will come."
Kipchoge and the event's only other competitors, Eritrean Tadese and Ethiopian Desisaran, ran behind an arrow-head of pace-setters, to reduce drag, and a car beaming a green line on the road behind it to show the required speed for the sub-two hours target.
Amid deep scepticism, Nike pitched the attempt as sport's "moon shot", with a keen eye on sales of its running shoes. It designed a lightweight shoe, Zoom Vaporfly Elite, with carbon-fibre in-sole as part of the meticulous preparations.
Nike's arch rival, German firm Adidas, also has its own 'Sub2' project, also with a new shoe.
In 2014, Runners World magazine predicted a sub-two under normal race conditions would not happen until 2075, based on analysis of more than 10,000 top marathon performances.
The race began in pre-dawn gloom at a brutal pace behind pacemakers who were world class runners in their own right, including former world champion middle distance runner Bernard Lagat of the United States.
The Monza track was chosen for its wide, sweeping curves, lack of undulation and cool, low-wind environment.
The sub-two hour mark required a pace below four minutes and 35 seconds per mile, which the determined Kipchoge managed to stick to until falling behind the pace car in the last two laps of the 2.4 km circuit.
The youngest competitor, 26-year-old Desisa, fell off the pace first and finished in 2:14:10, followed by the oldest, 35-year-old Tadese (2:06:51), the half-marathon world record holder.
PA and Reuter
Join our new commenting forum
Join thought-provoking conversations, follow other Independent readers and see their replies