Hurricane Hannah Cockroft builds momentum
Paralympic gold medallist Cockroft returns to the talent camp where her sporting career began to inspire the next generation of world-class British athletes, writes Simon Turnbull
Simon Turnbull
Monday 07 January 2013 00:27 Comments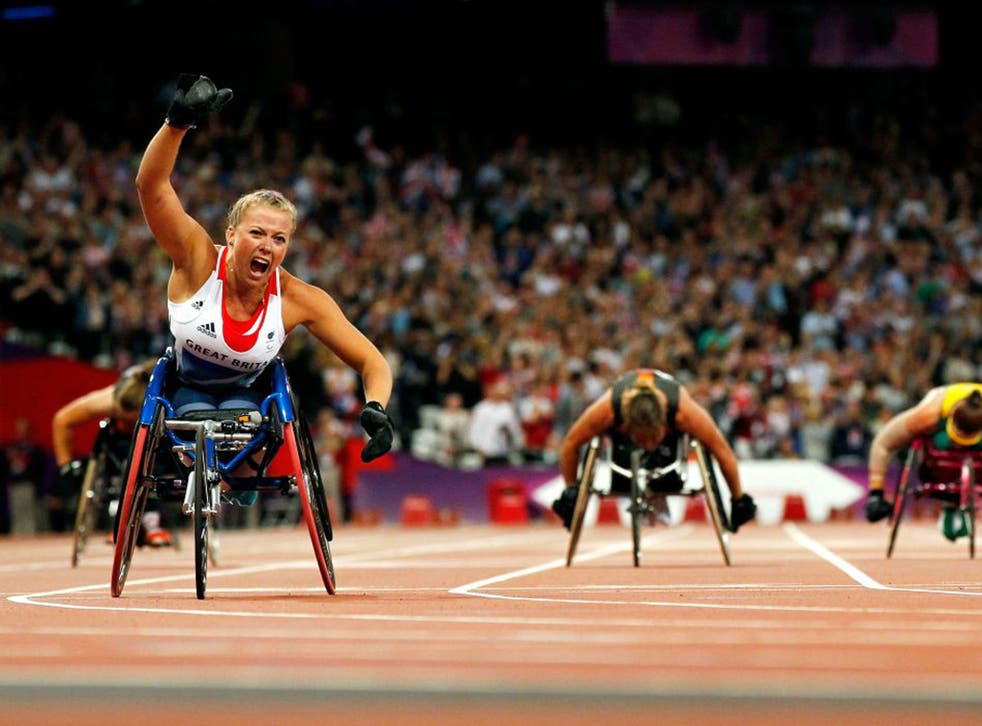 The centre court at the Dan Maskell Tennis Centre is already filling up with budding wheelchair basketball players when "Hurricane Hannah" breezes in. There is something different about her. With her neat leather jacket and designer glasses, she does not look so fearsome as the chariot-borne, British vest wearing, force of nature that stormed to Paralympic 100m and 200m victories at the 2012 Olympic Stadium in September. Back then, roared on by 80,000 flag-waving Britons, she seemed like a latter day Boudica.
Still, there is something more than familiar about the setting and the occasion to Hannah Cockroft. She is at Loughborough University for the Youth Sport Trust's annual National Talent Camp, a four-day gathering in which 90 of the country's most talented teenagers are given an insight into the demands of high performance sport. It was here, at one of these camps, and at the UK School Games, also run by the Youth Sport Trust, that Cockroft first got noticed as a potential sporting phenomenon.
"Yeah," the 20-year-old Yorkshirewoman reflects, parking herself and her chariot next to the seated area in the corridor. "Loughborough was the place where I first tried wheelchair racing and the UK School Games was where I got talent-spotted for the Great Britain team, so kind of my whole history has been made within what is happening here this weekend.
"I don't know if the children and the guys in there realise what a massive opportunity they have and what an amazing experience it's all going to be.
"The camp is for 13 to 18 year olds and they're getting the opportunity to live the life of an athlete and see what it takes to become the best that you can be.
"Talking to some of them today, they were like, 'We were up for training at six this morning.' And I was like, 'Yeah, welcome to my life.'
"I went to the UK School Games three times and it set me up with some fantastic experience for what turned out to be pretty much what the Paralympic Games were about. So I think it's amazing that they're getting to experience this and getting to meet people who have experienced it themselves."
Cockroft recalls how she felt about first meeting Dame Tanni Grey-Thompson at a talent camp here. "That was back in 2007," she says. "It sounds pretty stupid saying it now, but I actually started crying when I met her.
"It seems weird to think that some of these kids might feel the same about meeting me. I'm trying to explain to them: 'I started where you did and look where you can go...'
"I'm a little bit jealous. I want to do all that bit again. It's so much fun. It is hard work but you meet some of the most amazing people. Two of the best friends I have I first met at the UK School Games.
"You make some of the best relationships and you just get to really understand what life is about if you choose this path. I do and I want to do it all again."
It is not as if the Hurricane has blown herself out as a sporting force. She does not turn 21 until 30 July, the day after the main event for Cockroft and the rest of the trail-blazing British Paralympic track and field team in 2013 – the IPC World Championships – draws to a close in the French city of Lyon.
Only just out of her teens, Cockroft already has two world titles, as well as her two Paralympic T34 gold medals, and she has broken 21 world records. She was born with cerebral palsy and says her parents were told that she would "never be able to do anything my whole life".
How proud the Cockrofts must feel that their daughter has helped to usher in a wind of change in the public perception of the so-called disabled.
"I think the Paralympics have changed public perceptions," said Cockroft. "We still have a long way to go. There are still the ignorant people out there. You read things online – people are still referring to us as 'freak shows' and whatever.
"But the majority of people, especially in Britain, have finally realised that we train just as hard, if not harder, than the Olympians – and that everything we do is just as much an achievement as what the Olympians do.
"That's something that we've been fighting for. To be on a level playing field. I think we kind of stepped out of the shadow of the Olympics in 2012. People are recognising us in our own right as elite athletes, that we're not just 'having a go' kind of thing.
"Someone said to me after the Games that when they watched us race, any of us, they forgot that we had our disability. And that's something fantastic because they were concentrating on what we were doing rather than the things that we can't do. They weren't looking at us and being like: 'Oh, she can't walk, that's so cute that she's having a go.' They're like: 'Wow, she really looks fast!'
"It's cool that people are finally waking up and realising that actually we haven't just been asleep for the past 40 years. We've been training every single day, twice a day to be the best in the world."
It's also pretty cool that the host nation's Paralympic heroes and heroines are still receiving daily reminders of their hard-won place in the affections of the British public. "It's settled down in Halifax," Cockroft says. "There was a week of kind of, 'Oh my god; well done!' But now everyone is just used to me being there. You know: 'It's just Hannah. She lives here.'
"The strangest place for me is still London. I can go round London – not in any kit, just in my normal clothes – doing shopping or whatever and I still get recognised.
"London's the fastest moving city in the world. People forget in five seconds who they've just met and four months down the line people are still recognising your face and congratulating you on what you did. It's absolutely amazing."
Cockroft spends most of her time training "in the wind and the rain" in Halifax but visits the UK Athletics High Performance Centre in Loughborough every two weeks.
She was originally coached by Ian Thompson, Tanni's husband, but was guided from 2009 by Peter Eriksson, the Swede who masterminded the British team's unprecedented track and field success at the London Paralympics (11 golds, seven silvers and 11 bronzes).
Now that Eriksson has been appointed Olympic head coach by UK Athletics, Cockroft is about to link up with a new coach, the Australian, Jenni Banks. She also has a date at Buckingham Palace in the offing, having been awarded an MBE in the New Year's honours list.
"I don't know when the ceremony is going to be yet," Cockroft says.
"I am waiting to hear. My grandad has got an MBE – he's got some kind of high-up job in the meat industry – so he's kind of been telling me what's going to happen. Apparently, they do it in alphabetical order, so I'll be one of the first to get mine."
There has, of course, been a degree of criticism that Britain's Paralympians have not been honoured as equally as the nation's Olympians.
"There's always going to be somebody somewhere kicking up a fuss, isn't there?" added Cockcroft.
"Obviously David Weir's my team-mate. I think he really deserved a knighthood, but he's still going to race and be involved so he's got four more years left in which he could get one.
"But it's an individual sport and I am massively honoured to get an MBE. A Paralympic gold medal is what I went out to get. Anything else after that it just a big bonus really."
Cockroft's winning of the 100m T34 at the Paralympics gave Great Britain their first track and field gold of the 2012 Games. They won 10 more.
Queen of the track: Cockroft's career
* Born 30 July, 1992, Halifax
* Left with cerebral damage due to two cardiac arrests after birth. Parents told she would not be able to walk or talk or live past her teenage years.
* Competed in swimming, seated discus, and wheelchair basketball and rugby at secondary school, with her welder father building her first racing chair.
* Began wheelchair racing in 2007 and holds world records in 100m, 200m, 400m, 800m.
* After winning two golds at the World Junior Championships, Cockroft went on to win 100m and 200m gold at the 2011 IPC World Athletics Championships on her senior international debut. Won 100m and 200m T34 gold at the 2012 Paralympic Games in London.
* Remains in full-time education at Calderdale College and has a place deferred at Leeds Metropolitan.
* Was awarded an MBE in the New Year's honours list last month.
EWEN LYALL
Register for free to continue reading
Registration is a free and easy way to support our truly independent journalism
By registering, you will also enjoy limited access to Premium articles, exclusive newsletters, commenting, and virtual events with our leading journalists
Already have an account? sign in
Join our new commenting forum
Join thought-provoking conversations, follow other Independent readers and see their replies