Jamaican sprinters Yohan Blake and Usain Bolt refuse to race head-to-head
The world's two fastest men won't face each other until next summer at the earliest, Simon Turnbull hears. And it's not all to do with money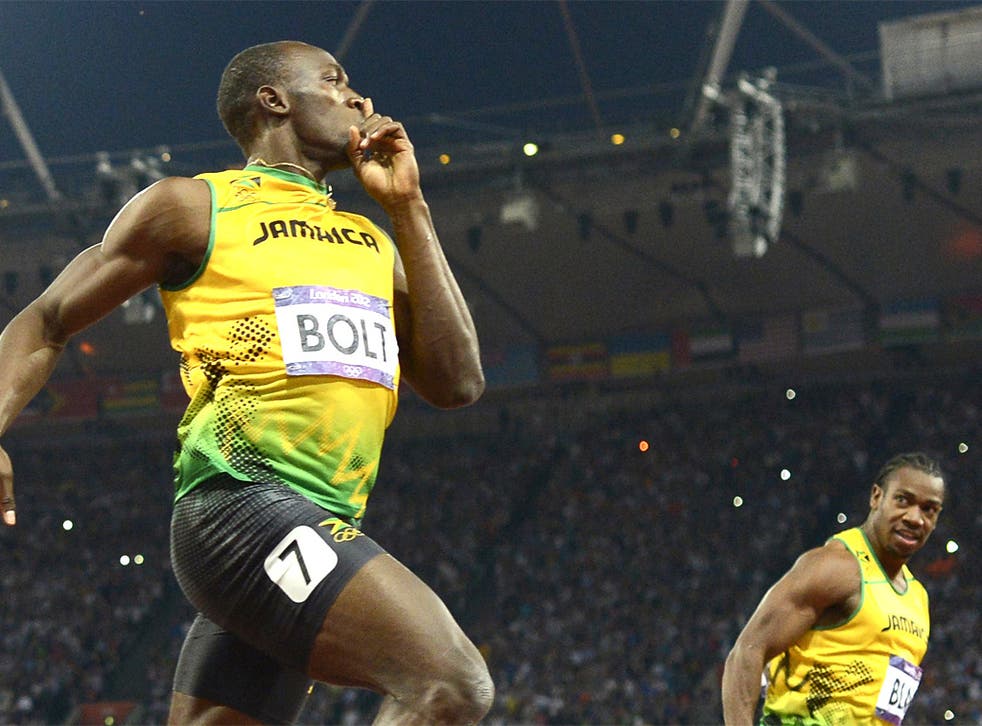 As in Lausanne last Thursday, Usain Bolt and Yohan Blake will be chasing the trackside clock instead of each other when it comes to the penultimate meeting on the IAAF Diamond League circuit in Zurich this evening. The annual Weltklasse Meeting, first held in 1928, is often referred to as "the one-day Olympics" but there will be no repeat of the two head-to-head sprint clashes that gripped the attention at London 2012.
Bolt runs in the 200m and Blake in the 100m, as in Lausanne a week ago. In the Diamond League finale in Brussels a week tomorrow Bolt runs in the 100m and Blake the 200m. The Jamaican team-mates and training partners are done with their high-speed duelling for the year.
Last week Blake won the 100m in 9.69sec, a time that only Bolt has beaten. Bolt holds the world record at 9.58sec. Asked about the prospect of another head-to-head, Blake said: "I'd love to race against him but you'd have to talk big money."
As things stand, however, there is no race planned between the pair ahead of the World Championships in Moscow in August next year, although the chances are they will meet in the Jamaican Championships in Kingston in June or July, as they did in what doubled as the national Olympic trials earlier this summer. They raced in the 100m and 200m in the Jamaican capital, as they did at the Olympics in London, for free – with no appearance fees or prize-money involved.
Bolt and Blake could also be tempted by a big financial offer to meet outside of national or global championship competition in 2013 but Bolt's long-time manager, Ricky Simms, is not in favour of the kind of boxing-style, head-to-head sprint promotion that has been tried before – and generally flopped.
"Athletics is a different sport," Simms told The Independent. "It's not like boxing. You have to train all year to peak on a certain day and that's what these guys are aiming for. You can't peak on 15 May and 15 June and 15 July and 15 August. It doesn't work like that.
"The people who are always thinking there should be head-to-heads nine months of the year don't really understand athletics. The athletes have to use races to get into shape for the major championships. They will very rarely have big head-to-heads before the major championships.
"It makes the major championships even more valuable. That's why the Olympics is so special. If we do this every week it will devalue the big day." Even doing one-off spectaculars has not exactly paid off in the past. The big rematch between Ben Johnson and Carl Lewis in Lille in 1991, after the former's return following a doping suspension, turned into a non-event. Both men were beaten by Dennis Mitchell.
At least Linford Christie won his 100m showdown with Carl Lewis at Gateshead in 1993, but his rival hardly put up much of a fight, finishing a distant third behind the Briton and fellow American Jon Drummond. Organisers of the $1m 150m race between Michael Johnson and Donovan Bailey in Toronto in 1997 may have thought they had removed a potential spanner from the works by making it a straight head-to-head but only one man reached the finish line, Johnson pulling up injured after 110m.
"If Usain and Yohan meet outside the World Championships next year I think it's more likely to be on the circuit than in any kind of one-off spectacular," Simms said. "It's not a question of money. It's just a question of physically what the guys need to do to run 9.5sec or 19.3sec.
"The thing is they put so much energy into the Olympic Games. The times were exceptional in the 100 and the 200. I think Tyson Gay summed it up best. He said, 'These guys have to dig so deep to run those very fast times. If they did it every week there would be arms and legs falling off. They would be getting injured all the time.'
"The Olympics was the most important thing for them. There's no real motivation for them to race against each other now. Usain won two gold medals, three with the relay, so he's pretty happy with where he is."
The 26-year-old had to work hard this summer to get in shape to turn the tables on Blake in the 100m and 200m in London after losing to him at both distances in the Jamaican trials.
The head-to-head record between the two training partners now stands at 4-3 in Bolt's favour. They have raced each other seven times over the past three summers, which happens to be exactly as many times as the Great British middle-distance runners Steve Ovett and Sebastian Coe clashed in an arm's-length rivalry that stretched to more than a decade.
Blake v Bolt: The story so far
8 July 2010
Lausanne Diamond League 100m: 1. Bolt 9.82, 2. Blake 9.96
16 July 2010
Paris D League 100m: 1. Bolt 9.84, 3. Blake 9.95
28 August 2011
World Champs Daegu 100m final: 1. Blake 9.92, Bolt DQ
29 June 2012
Jamaican Trials 100m: 1. Blake 9.75, 2. Bolt 9.86
1 July 2012
Jamaican Trials, Kingston. 100m: 1. Blake 9.75, 2. Bolt 9.86
5 August 2012
Olympics, London 100m final: 1. Bolt 9.63, 2. Blake 9.75
9 August 2012
Olympics, London 200m final: 1. Bolt 19.32, 2. Blake 19.44
Overall Bolt wins: 4; Blake wins: 3
Join our new commenting forum
Join thought-provoking conversations, follow other Independent readers and see their replies