The Independent's journalism is supported by our readers. When you purchase through links on our site, we may earn commission.
James Lawton on Asafa Powell and Tyson Gay: The life-and-death fight against drugs has always been athletics' phoney war
James Lawton looks at athletics' history with drug scandals in the wake of dark week that yet again tarnishes the sport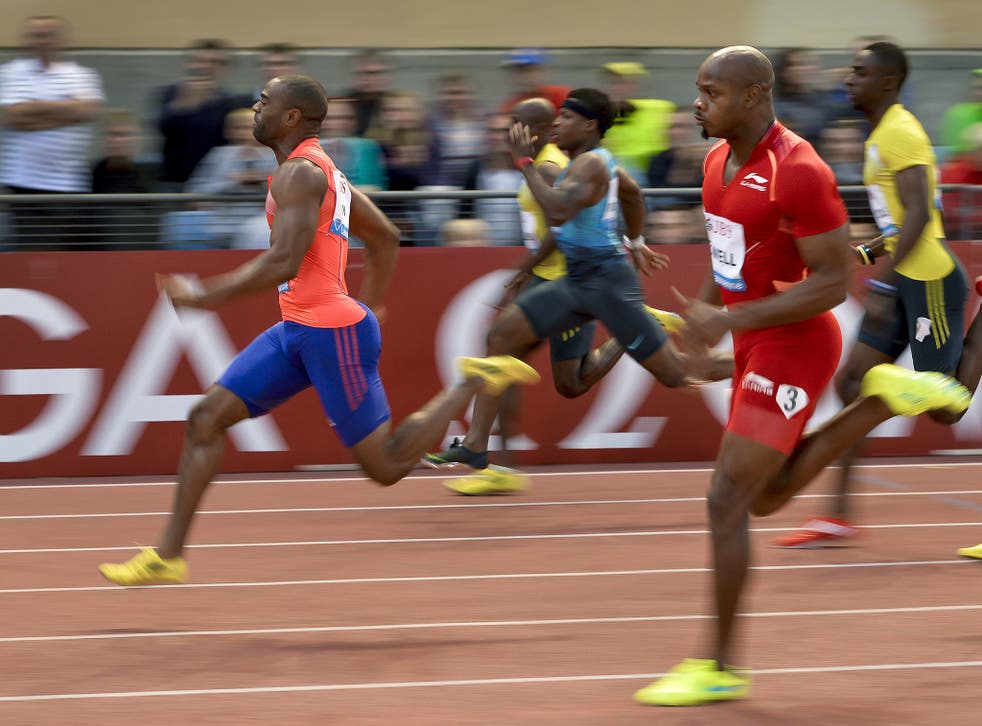 The power to shock has dwindled somewhat since that grey, milky dawn in Seoul in 1988 when we learnt that Ben Johnson, having carried us to the stars, had just 48 hours later left us scrabbling in the dirt.
More fools us, of course, for believing something Carl Lewis, who was not exactly free of suspicion himself, plainly didn't when he came in, wide-eyed with shock, behind Johnson in the world record-shattering dash for 100m Olympic gold.
These, after all, were the Olympics which were preceded by the claim of the head of the British Olympic Association, Arthur Gold, that more than half of all competitors had at the very least experimented with performance-enhancing drugs. But then we still wanted to believe, even if the new sensation had tell-tale rheumy, yellow-tinged eyes, rough skin and an accelerating performance that was nothing less than stupendous.
Now the news that the world's current fastest men Tyson Gay and Asafa Powell have tested positive – a quarter of a century after the president of the International Olympic Committee, Juan Antonio Samaranch, climbed up on a podium and  announced that all of sport was engaged in a fight to the death – lands with a dull, albeit sickening, thud.
A fight to the end, with the life and the integrity of sport at risk, did the old power-broking Spanish aristo say?
Yes, he did. His voice rang around a shocked world but the battle has been waged less resolutely than he promised.
The sports authorities have come up with a thousand promises, and more bromides, but when the United States Anti-Doping agency finally nailed Lance Armstrong, and made a mockery of the efforts of the cycling authorities, we finally had a guide to the degree of the collective failure.
Talking about fighting drugs to the death was an emotive phrase but the reality is that sport has never been involved in anything resembling hand-to-hand conflict. The challenge has been to shift at least some of the doubt, to make great victories on the track and on the mountain passes and in the boxing rings attract a little less of the most profound ambivalence.
Today doubt is once again rampant as it seeps into every corner of athletics and beyond. If the authorities have prosecuted their idea of war, the crooked chemists and their clients have not exactly sued for peace. They have ducked and dived in pursuit of better masking agents, more convincing ways of dealing with testing procedures which have – we discover yet again – never begun convincingly to close the door on the wrongdoers.
It is almost a year since the world elected to make another act of faith when accepting that the great and beguiling Usain Bolt had maybe ushered in a new, thrilling and, who knew, maybe clean epoch of track and field.
Bolt was indignant at the London Olympics when someone pointed out how hard it was to shed decades of accumulated cynicism, as was Sir Bradley Wiggins, but what, they were asked, did they seriously expect? Some kind of brain-deadened amnesty, perhaps, a willingness to say that one day there came to us a whole new generation of pristine Corinthians pledged to a new age of decency?
Yesterday Chris Froome was also angry after doubts were cast following a brilliant ascent that poleaxed the Tour de France field. Bolt, Wiggins and Froome insist on their innocence, of course, but can they not understand that all the admiration in the world for the bravest deeds can no longer expunge a wisp of doubt?
Along with Powell, five other members of Bolt's Jamaica team failed drug tests at the recent national trials and on the lips of some of the exposed the explanations are so familiar it is as though they are plucked from a formula of confession which moves so swiftly from the high ground of innocence to the glum concession of a fair cop.
Gay sailed up the easy winner of this bleak competition, saying: "I don't have any lies. I don't have anything to say to make this seem like a mistake. I don't have any of those stories. I basically put my trust in someone and I was let down. I know exactly what went on but I can't discuss it." So did he have a story – or just something he will marshal in his defence some time later?
In 2008 Gay volunteered for extra drug tests as part of a programme with a title now guaranteed to churn an iron stomach, Project Believe. Gay also said, "I compete clean because I really believe in fairness and, besides that, my mother would kill me." So what was it, an implicit belief in decent values or a vengeful Mom? It was neither, of course. It was another stretching of the people's credibility.
Both Gay and Powell have been loud in their criticism of drug cheats, the latter suggesting that they should be thrown into jail. Yet the corrosion grows, like rust in a car junkyard, and if there is still anger there is also a bone-deep weariness. How many more betrayals will we know before the war is won or lost? It is impossible to say and this is maybe especially so if you were on top of one of the most murderous climbs of the Tour de France, l'A lpe d'Huez, 10 years before the disgrace of Johnson.
There, the Belgian rider Michel Pollentier was welcomed as one of the great heroes of the Tour. His ascent had been ferocious and won him the yellow jersey. The crowd pressed the mountain road, sending their cheers across the valley. Then he was discovered with a rubber bulb in his armpit as he attempted to pass clean urine down a tube running into his shorts.
The truth emerging once again is that sport has been trailing down the mountain more or less ever since.
Register for free to continue reading
Registration is a free and easy way to support our truly independent journalism
By registering, you will also enjoy limited access to Premium articles, exclusive newsletters, commenting, and virtual events with our leading journalists
Already have an account? sign in
Register for free to continue reading
Registration is a free and easy way to support our truly independent journalism
By registering, you will also enjoy limited access to Premium articles, exclusive newsletters, commenting, and virtual events with our leading journalists
Already have an account? sign in
Join our new commenting forum
Join thought-provoking conversations, follow other Independent readers and see their replies