Jessica Ennis on track – now with a young pretender chasing her
World No 1 heptathlete hails Olympic standard of Liverpool teenager Johnson-Thompson
Simon Turnbull
Monday 11 June 2012 12:29 Comments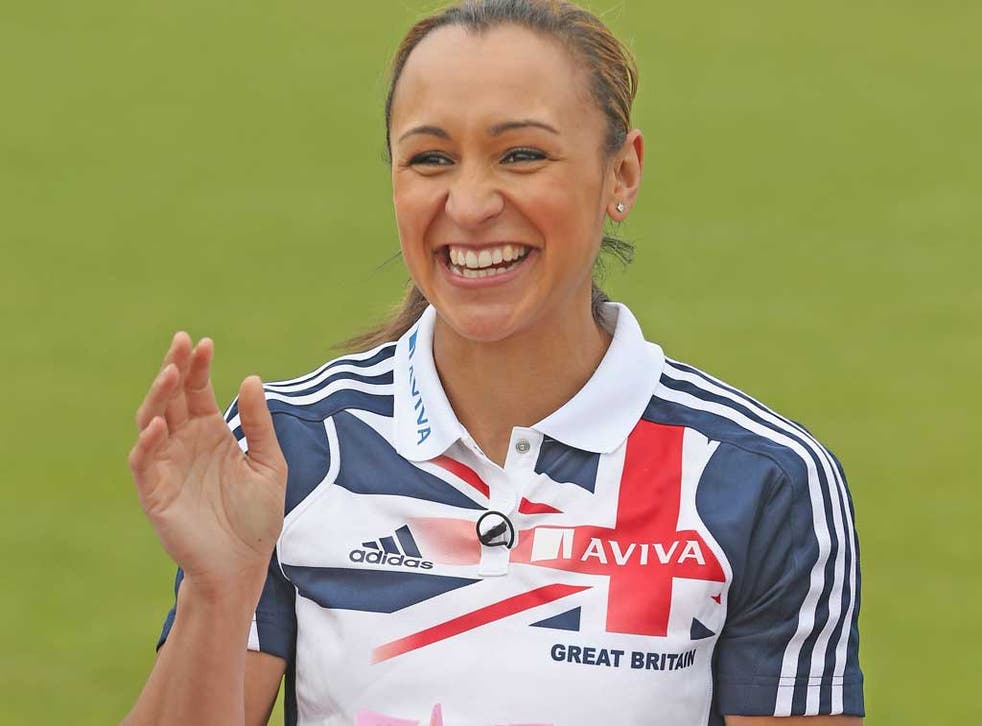 Jessica Ennis was looking eagerly ahead rather than glancing nervously over her shoulder after completing a double shift in the Bedford International Games yesterday. "I want it to just start now – I'd happily do it tomorrow," the world's top-ranked heptathlete of 2012 said, seven weeks out from her date with Olympic destiny down the A1 in east London.
Still, after keeping the form book ticking over with solid but unspectacular performances in the long jump and javelin, Britain's greatest all-round female athlete acknowledged that a potentially superior model is rolling out along on the national heptathlon production line.
With news from the Czech Republic that Katarina Johnson-Thompson had achieved an Olympic A standard qualifying score with 6,248 points, as runner-up to Eliska Klucinova in the TNT Fortuna heptathlon at Kladno, the 26-year-old from Sheffield was asked about the 19-year-old Liverpudlian being touted as "the next Jess Ennis". "I'm sure she will be," the original replied, before adding for good measure: "She'll be better."
At the start of last month Ennis was in the books as Britain's best-ever junior in the seven-event heptathlon, holder of the UK under-20 record tally of 5,910 points. At Desenzano in Italy six weeks ago Johnson-Thompson racked up 6,007 points.
Now the burgeoning young Merseysider has maintained her momentum with an improvement of 241 points, having reeled off six personal bests out of seven in Kladno – 13.62sec in the 100m hurdles, 1.86m in the high jump, 11.83m in the shot put, 23.88sec in the 200m, 38.68m in the javelin and 2min 14.56sec in the 800m.
"Do you really think she'll be better than you?" Ennis was asked. "Probably, yeah," the European champion replied. "She beat my junior record. She's a tall, strong girl. Her scores in her individual events are looking really good. She's got a great coach in Mike Holmes.
"I think it's great that she's qualified for the Olympics. It'll be brilliant for her to go there. I'm sure she'll do really well. But I think it'll be in the next couple of years that she'll start getting closer and closer ... I'll probably retire then."
For the time being at least, Ennis is not just the British but the world No 1 . At Gotzis in Austria a fortnight ago she turned the tables on her 2011 World Championship conqueror Tatyana Chernova of Russia and in front of a sparse crowd on home ground yesterday she leapt 6.40m in the long jump and threw 46.34m in the javelin, both on-par performances.
She probably could have achieved a longer distance in the javelin but withdrew from the competition after three throws. "I was just a little bit tight in my calf, so I didn't want to push it," Ennis said. "There's no point. It's a big year. I didn't want to cause any damage."
It was a good afternoon for Perri Shakes-Drayton. The European 400m hurdles bronze medallist won the flat 400m in 51.26sec, slicing 0.21sec from her personal best. There was also a storming anchor leg from Adam Gemili for the British junior team in the 4x100m relay.
The 18-year-old Gemili, who tops the UK senior 100m rankings with 10.08sec, confirmed that he will contest the World Junior Championship trials here next weekend, then decide whether to compete at the Olympic trials in Birmingham a week later.
Register for free to continue reading
Registration is a free and easy way to support our truly independent journalism
By registering, you will also enjoy limited access to Premium articles, exclusive newsletters, commenting, and virtual events with our leading journalists
Already have an account? sign in
Join our new commenting forum
Join thought-provoking conversations, follow other Independent readers and see their replies