Jessica Ennis-Hill: Achilles injury sidelines athlete and raises concerns over Olympics
Ennis-Hill will miss the entire indoor season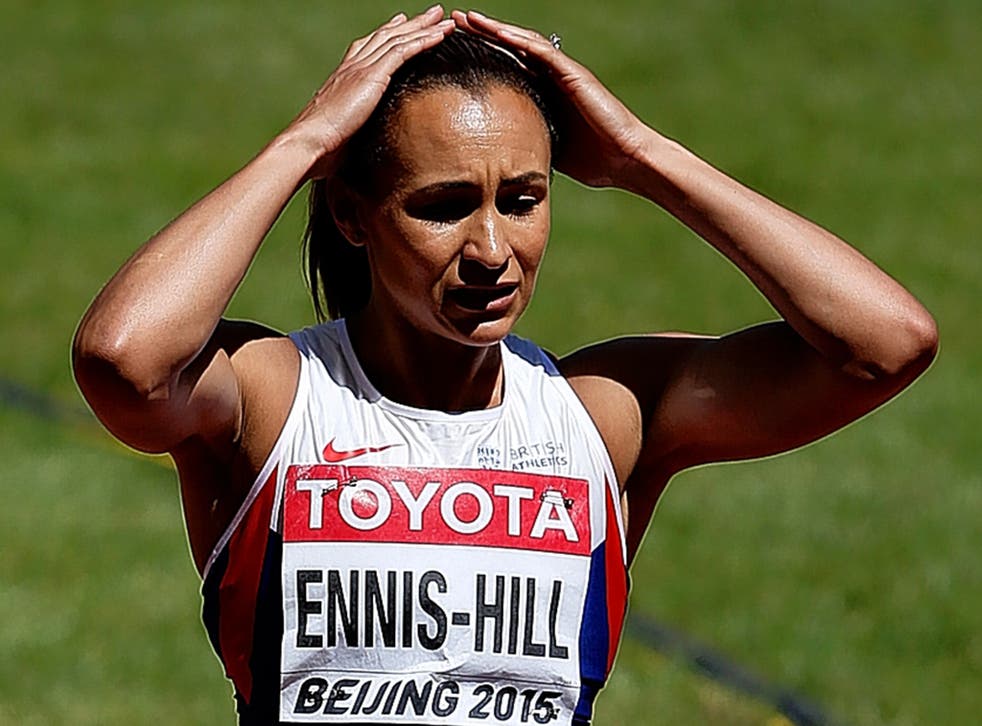 Jessica Ennis-Hill will miss the entire indoor season following another problem with her right Achilles.
Friday's news is a blow to the Olympic heptathlon champion as she bids to defend that title in Rio de Janeiro in six months' time.
This time last year, Ennis-Hill was struggling to return to training following the birth of her son because of consistent problems with her Achilles.
This latest setback represents something of a repeat, but the 30-year-old believes she can rectify the problem and emulate last season's success when she bounced back from a double Achilles problem to be crowned world champion for the second time in her career.
Quite what the extent of the injury is remains unclear but it means Ennis-Hill, who was scheduled to make her 2016 debut at the Glasgow Indoor Grand Prix later this month, will instead be on the sidelines.
Just two weeks ago, the Sheffield athlete had hinted she was even contemplating going to the World Indoor Championships in Portland, Oregon next month so smoothly had winter training been going.But Ennis-Hill is now unlikely to appear until the beginning of May just a few weeks before her opening outdoor heptathlon of the season at the Hypo-Meeting in Götzis where she is expected to come up against her Olympic rivals Katarina Johnson-Thompson and Briane Theisen-Eaton.
"Training over the winter has been great but in the last two weeks my right Achilles has been sore," said Ennis-Hill of the injury. "I am waiting on guidance from my medical team after having a scan but, with just two weeks to my first race, my coach and I have made the decision to skip the indoors and keep the focus on Rio.
"My training schedule and the appropriate care is being developed now with the outdoor season as the focus. My priority has always been Rio and I don't want to take any risks in the short term.
"I am understandably frustrated but know this is the right approach. I am sorry not to be competing in Glasgow - it is such a great meet and the crowds so supportive."
Ennis-Hill said she was hopeful that the injury would not curtail her Games ambitions adding that, "we're still in February and there's a lot of time before the Olympics".
She added: "I'll now be going away and sitting down with the medical team to go through everything. Hopefully, it won't impact on my summer. Maybe a little rest is not such a bad thing."
However, the news will pile further pressure on the athlete, ahead of the Olympics, which she has previously hinted could be her final event before retiring from the sport for good.
Ennis-Hill is no stranger to injuries. She was forced to miss the Beijing Olympics in 2008 with a stress fracture in her right foot, while her post-2012 return to action was curtailed by an ankle injury, which brought a premature end to her season before taking time off for her pregnancy and the birth of Reggie.
Her coach, Toni Minichiello, tried to play down the seriousness of the latest injury in the build-up to a potential swansong in Brazil. "Its not that serious but it's serious enough to take this precaution during an Olympic preparation year," he said. "So the sensible decision is to miss the indoor season and let it settle, ready for outdoors."
Join our new commenting forum
Join thought-provoking conversations, follow other Independent readers and see their replies