Katarina Johnson-Thompson: 'It can be a blessing in disguise – but does not feel like it now'
Injury has robbed Katarina Johnson-Thompson of a golden summer but she tells Matt Majendie the Worlds are her next target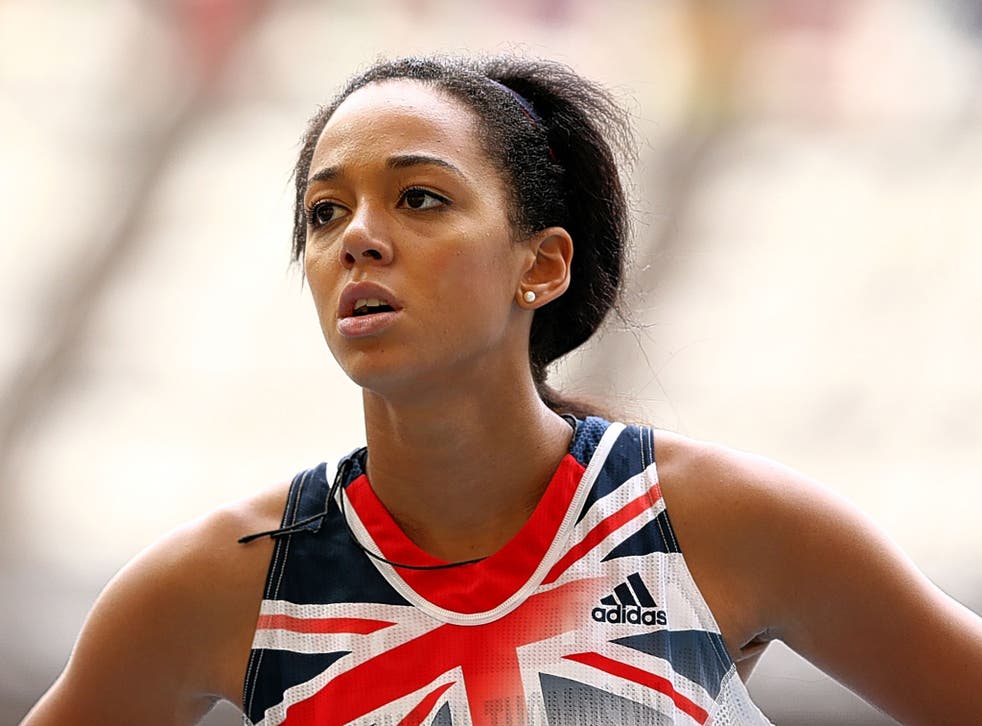 It was supposed to be a summer of gold; instead it has proved a season of tears shed at the missed opportunities and pondering what might have been.
The pain of the foot injury that forced Katarina Johnson-Thompson to miss both the Commonwealth Games and the European Championships has subsided but the mental hurt is still raw.
"I've been in tears, I even welled up in an interview the other day," says an athlete who usually radiates such positivity it is hard to imagine her at anything other than her bubbly best. "That welling up turned into me crying to a journalist over the phone but I'm just about holding it together today."
Johnson-Thompson's current holiday to Thailand was originally scheduled to allow a potential personal gold rush in the heptathlon in Glasgow and Zurich first. Of course, that did not happen, a stress fracture denying her the chance to compete at either.
What was all the more galling was that the tally of 6,682 points she recorded to win the prestigious Götzis Hypo Meeting earlier in the summer would have been enough for Commonwealth gold, Canada's Brianne Theisen-Eaton taking the title with 6,597 points.
Equally frustrating was the knowledge that the long jump personal best of 6.92 metres achieved in the Diamond League meeting at Hampden Park at the start of July, her last appearance of the season, would comfortably have seen her crowned European champion if, as scheduled, she had competed in the event in Zurich. France's Éloyse Lesueur took gold with a leap of 6.85m.
"Everything was going too well," she says ruefully. "I didn't realise it at the time but I was taking the results for granted. It took the injury to make me realise how happy I should have been getting those wins, medals and PBs."
There had been rumours some weeks before about a problem with Johnson-Thompson's take-off foot. Scans showed a slight stress fracture and her second duel of the summer with Theisen-Eaton in Glasgow was cancelled. But she still clung to the hope that she might make the trip to Zurich.
"I could enjoy watching the Commonwealth Games and seeing my training partner Jess Taylor win the bronze," she recalls, "because at that point the feeling was that I could make the Europeans. But then I got the call to say the foot hadn't been healing as expected and that chance was gone too. It was like a second punch to the stomach. It really affected me."
As Johnson-Thompson sat at home unable to train, let alone compete, she could not bring herself to ride the crest of a wave with her British team-mates as they picked up a record 12 golds and 23 medals in all in Zurich.
"I'm so happy for all the British athletes that won medals but I just couldn't watch it," she admits. "It was just too hard to watch. At the time, I couldn't even speak about it without welling up. Now all the competitions are over, it's getting better."
Had the injury been on the other foot, she admits that she and her coach Mike Holmes might have taken the risk to compete but, in events such as the long jump and high jump, it was too great a risk so early in the 21-year-old's career.
"We couldn't mess around with it so there was no choice but that didn't make the decision any easier," she says. "It's been very hard for me, even more so as ever since day two of the injury I've not really felt any pain. It's been a waiting game of six to eight weeks just to let it heal.
"It's a simple injury, unlike the tendinopathy I had in my knee in 2010. This needs time to heal and then I'll be back fine again to train and compete."
She will do some light training before a return to full training for the multi-eventer next month, her unflappable coach tasked with reining in an athlete desperate to push herself to the limit once more.
"We're on a mission and I definitely have the hunger," she says. "I can't wait to get back but Mike will keeping telling me, 'Don't try to go crazy', and we just have to set little and then bigger goals for training and the season ahead."
The ultimate goal is the Bird's Nest in Beijing for next August's World Championships when Johnson-Thompson, a year wiser and hopefully fitter, will be among the favourites for heptathlon gold.
"With that in mind, this might be a blessing in disguise for the body but it doesn't feel like that right now," she adds. "Gold is, hopefully, the goal in Beijing. I want to do well at the World Championships and at the Olympics the following year. You have to experience the lows before the highs."
As she sits by the pool or on the beach in Thailand this week, Johnson-Thompson will do well to remember there were highs this year as she beat the world's best heptathletes to win in Götzis, but also took long jump silver at the World Indoors in Sopot despite being an effective part-timer in the event.
"If someone had told me at the start of the year, I'd win Götzis and have got the medal in Sopot, I would have taken it but, as things go well, you just want more, don't you?"
It was still the season of her young life, albeit cut short as she approached the potential golden end. There is a sense she is far from being the finished article in her seven events. Gold will surely follow.
The Sainsbury's 2014 School Games are supported by National Lottery funding from Sport England and delivered by the Youth Sport Trust
Register for free to continue reading
Registration is a free and easy way to support our truly independent journalism
By registering, you will also enjoy limited access to Premium articles, exclusive newsletters, commenting, and virtual events with our leading journalists
Already have an account? sign in
Register for free to continue reading
Registration is a free and easy way to support our truly independent journalism
By registering, you will also enjoy limited access to Premium articles, exclusive newsletters, commenting, and virtual events with our leading journalists
Already have an account? sign in
Join our new commenting forum
Join thought-provoking conversations, follow other Independent readers and see their replies