Tearful Sophie Hitchon admits she blew her big chance after her World Championships hammer disappointment
Hitchon threw 72.32 metres but was over five metres behind winner, Poland's Anita Wlodarczyk, and admitted she should have done better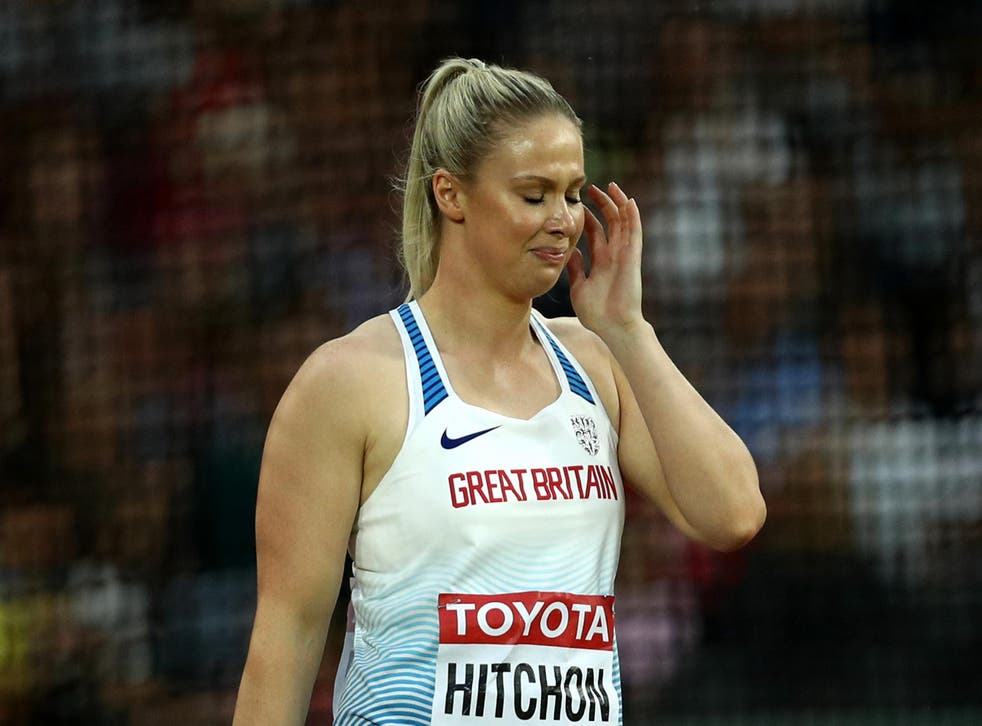 A tearful Sophie Hitchon admits she blew her big chance after her World Championships hammer failure.
The 26-year-old, who won bronze at the Rio Olympics last year, could only finish seventh in London on Monday.
It left her in tears on the field after she was expected to challenge for a medal on another sobering night for British hopes.
Hitchon threw 72.32 metres but was over five metres behind winner, Poland's Anita Wlodarczyk, and admitted she should have done better.
She said: "I felt like I was in better shape and if i had the rhythm I had in qualification you don't know what could have happened.
"Of course I am (going to beat myself up about the result). That's part of my personality, maybe it comes out in me a little more and some athletes do better to hide it but I'm just really disappointed.
"I showed in qualification I was definitely in better shape. It wasn't what I wanted, I'm just sorry I couldn't produce something better.
"I don't really know why, you can speculate things here and there. We'll go back to the drawing board and start again for next year.
"I feel pressure but it's more the pressure I put on myself. I'm definitely capable of more, my coach thinks so."
But there was success for Britain's 200m sprint trio as Danny Talbot, Zharnel Hughes and Nethaneel Mitchell-Blake reached Wednesday's semi-finals.
It came after the struggles of their 100m colleagues, where only Reece Prescod reached the final.
Talbot ran a personal best of 20.16 seconds, level with Olympic champion Wayde van Niekerk in the third heat - although Van Niekerk slowed considerably in the final 20 metres.
Talbot said: "I think I'm in the best shape of my life so I'm just trying to go with it. I'm very grateful to be in the position I am.
"It's definitely the best season I've ever had and to be able to have that going into a home World Championships is something you can only dream of.
"It's not over yet, I try and stay in the present as much as possible. My next focus is the semi-finals - I'll try and win that then go from there.
"For me the only thing that's important right now is getting the best recovery possible then I'll take it from there."
Mitchell-Blake ran 20.08secs to win his heat after Canada's Aaron Brown was disqualified and Hughes, selected ahead of Adam Gemili for the individual race, finished fourth in his heat in 20.43.
Yohan Blake and Sani Brown qualified comfortably but Van Niekerk, who won 400m Olympic gold in Rio, is the strong favourite for the title.
Talbot added: "He's great. I grew up racing him in the juniors and I've known him for seven years. We're good friends. To see someone like that do so well inspires you. I still want to beat him so we'll see what happens.
"He's a great guy, great athlete and great to be on the track with these guys, but at the same time you want to beat them. Hopefully I can do that."
British Athletics captain Eilidh Doyle qualified for the 400m hurdles semi-final along with Meghan Beesley but Jess Turner missed out.
Doyle added: "It's been nerve wracking getting out there - I just wanted to get the first round out of the way and get that secure qualification.
"I spent the last few days just watching everybody and it's made me hungry to get out and have my own shot."
Nathan Fox also failed to reach the men's triple jump final with a best leap of 16.49m, well below the 17m qualifying mark, while Jack Green did not progress past the 800m semi-final.
Zoey Clark also bowed out at the semi-final stage in the women's 400m.
Register for free to continue reading
Registration is a free and easy way to support our truly independent journalism
By registering, you will also enjoy limited access to Premium articles, exclusive newsletters, commenting, and virtual events with our leading journalists
Already have an account? sign in
Register for free to continue reading
Registration is a free and easy way to support our truly independent journalism
By registering, you will also enjoy limited access to Premium articles, exclusive newsletters, commenting, and virtual events with our leading journalists
Already have an account? sign in
Join our new commenting forum
Join thought-provoking conversations, follow other Independent readers and see their replies