London Marathon 2015: Kenya's brothers in arms Wilson Kipsang and Dennis Kimetto ready to take on world
Last year Kipsang had his marathon record taken off him by training partner and friend Kimetto. They talk to Matt Majendie about facing off in London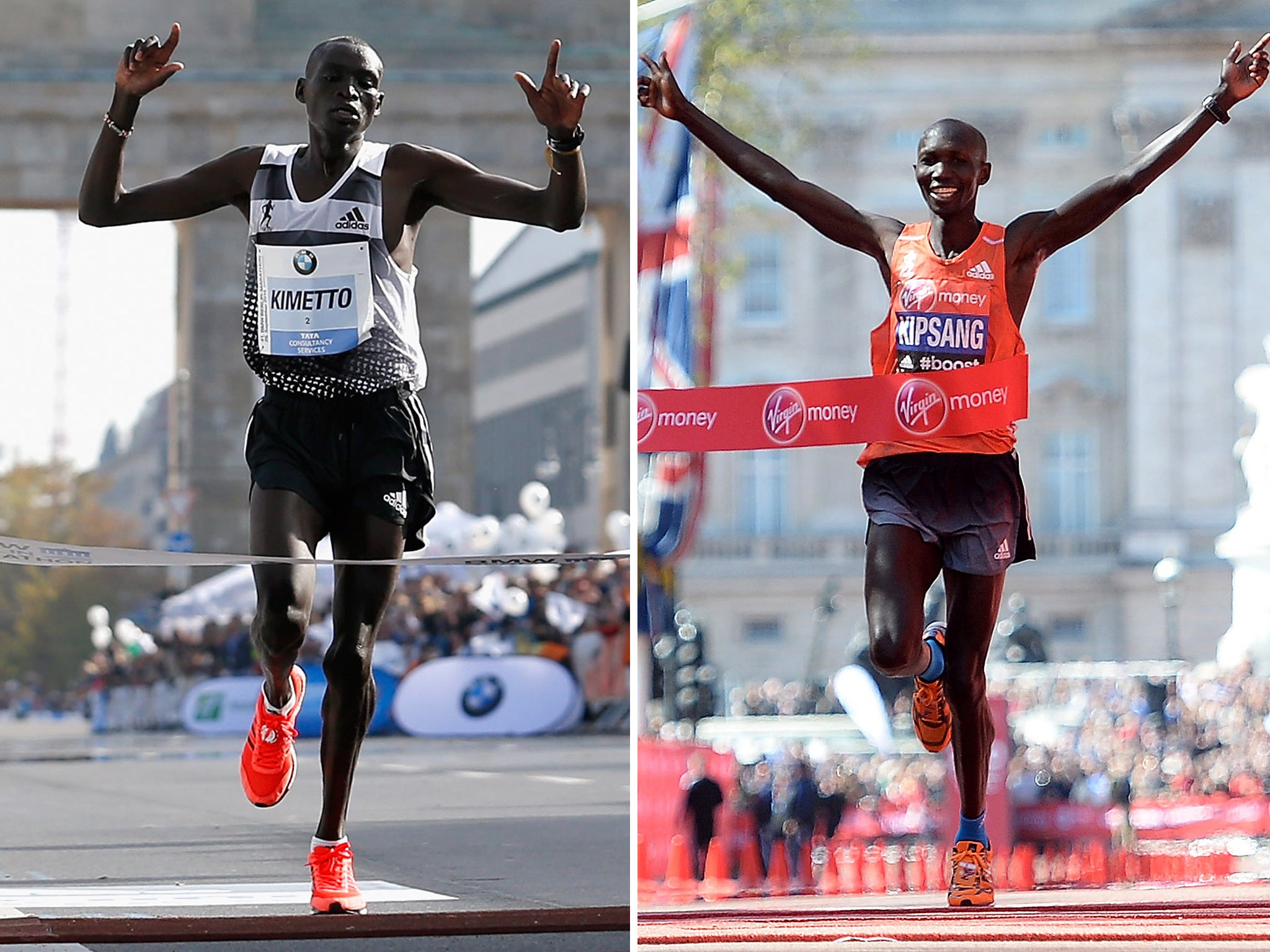 It is a rivalry that traces its origins to the orange-baked surfaces of Iten in Kenya.
In a smallholding, Dennis Kimetto would tend to his maize and a few cattle, while Wilson Kipsang would get on his bicycle each morning, the vehicle overflowing with fruit and vegetables to sell at the local market. That the pair are now arguably the greatest runners of their generation slightly defies belief and shows how much things have changed for the Kenyan pair.
Kipsang now owns his own hotel in that same town, while Kimetto, originally too poor to take time away from the land even to consider running full-time, pocketed £50,000 last year for winning the Berlin Marathon and breaking Kipsang's world record.
Sunday's London Marathon is being labelled the "Clash of Champions" between the two in what is billed as the greatest marathon field ever – but the rivalry could hardly be less fierce in many respects.
"We are friends all the time even in the race," says the softly spoken Kimetto, 31, a latecomer to the sport who made his marathon debut only in 2012.
A chance encounter with Geoffrey Mutai (also racing on Sunday), who persuaded the unheralded athlete to join his training group back in 2008, has completely transformed Kimetto's life. He continues to train with Mutai and also Kipsang, who owing to his success has, in effect, become the leader and spokesman of the group.
The London Marathon 2014
Show all 10
"It's possible to be rivals and friends," says Kipsang. "We'll shake hands, see each other on the line and then it's, 'Let's go'."
Even with the continuous smiles the pair flash in conversation, their rivalry is still fundamentally competitive. In every training run that competition is never-ending, as simple as the first around the track in Eldoret or the first to the finish point of a long run.
It is abundantly clear that Kipsang has taken the more inexperienced Kimetto under his wing, dictating his training and passing on every nugget of information he can. But in some ways it has come at a price, the pupil famously overtaking the master with his epic run of 2hr 2min 57sec to win in Berlin last year.
"I train with him, we'll eat out, go to functions, share family friends," says Kipsang, "and with how much we train together it's automatic someone will get to know things. But it is not too much advice – it is good."
The ideal for the friends would be to come down The Mall on Sunday with that world record in sight, both vying for the victory. "We are very committed together," adds Kimetto, so painfully shy he speaks almost in a whisper. "It would be good to see us come in together. I love to run with him and working with him in training. He tells me to do this or that, go to speed work, a long run. He's taught me a lot, it is not just in this race. And he is my friend."
The affection between them is genuine, Kimetto looking up to Kipsang, the latter in awe of how quickly his training partner has progressed, although there is no great secret to it.
"Dennis is a very talented athlete," says the defending marathon champion. "He's good, listens, understands it and does it well. If you tell him something in training, he'll do the right thing. If it's technique and how to do something, he does it. He's one of the very few guys that can do that. It just shows that if you train like this you can achieve all this."
But what of Kimetto as a person? "He is somebody quiet because he's not used to public speaking. It's a learning process but give him two or three years, he'll be one of the best and talking all the time."
Having spent hours running at home, surely they know which one is in the best shape, which one is more likely to come out on top on Sunday?
Not so, claims Kipsang, arguing that translating what they do in training into a race is not directly possible, plus he makes the point there are many other runners to look out for.
They are coming to be defined by their records, Kimetto simply calling his special, while Kipsang waxes lyrical: "Running a world record is something so special – the fastest time all over the world. Very few people have done a world record but there are so many Olympic and world champions. When I did it I was like, 'Wow, I really did it'.
The weather – rain and wind are forecast – could yet scupper any aspirations of beating the fastest time in the world seven months after it was last set. Regardless of the conditions, Kipsang is adamant the time will be quick, not surprising perhaps with five out of seven of the quickest marathon runners in history in the field.
Whether it manifests itself as a Kipsang v Kimetto battle is another matter. They have run against each other over half-distance, enjoying a win apiece. Over 26.2 miles, it is a different prospect altogether.
Kipsang says fellow Kenyans are exploited
Kenya's athletes are being led astray by coaches and being undone by ignorance rather than deliberate cheating, according to Wilson Kipsang, the favourite for the London Marathon.
The former world record holder and defending champion believes Kenya's runners are getting an unfair rap over doping allegations and says that the crowds in the capital can believe in Kenya's runners in Sunday's race and beyond.
Kipsang, who has been tested six times this year, said: "Very few people understand what is going on, especially the Kenyans. We have people taking advantage of the ignorance of some guys, mainly to kill the sport. It happens so much. If we are not on good terms with you, it is very easy for you to take advantage of the ignorance of an athlete. Many people trust others and find that the other person messes up, especially when they are new to the sport."
When asked to clarify who he thought was taking advantage of the athletes, he added: "Mainly the coaches".
Kipsang, 33, has called for greater education for athletes on the subject and said the number of athletes intentionally doping was "less than 1 per cent. Many athletes have taken tests and they are very clean." Matt Majendie
Wilson Kipsang and Dennis Kimetto will be running VMLM 2015 in the adidas adizero adios Boost, the choice of the world's fastest marathon runners. Share your marathon stories using #boostlondon
Join our commenting forum
Join thought-provoking conversations, follow other Independent readers and see their replies