London Marathon 2015: Together again, the hand-in-hand co-winners of historic first race
Simonsen and Beardsley relive the spontaneous moment that defined London's inaugural marathon
Matt Majendie
Friday 24 April 2015 19:48 Comments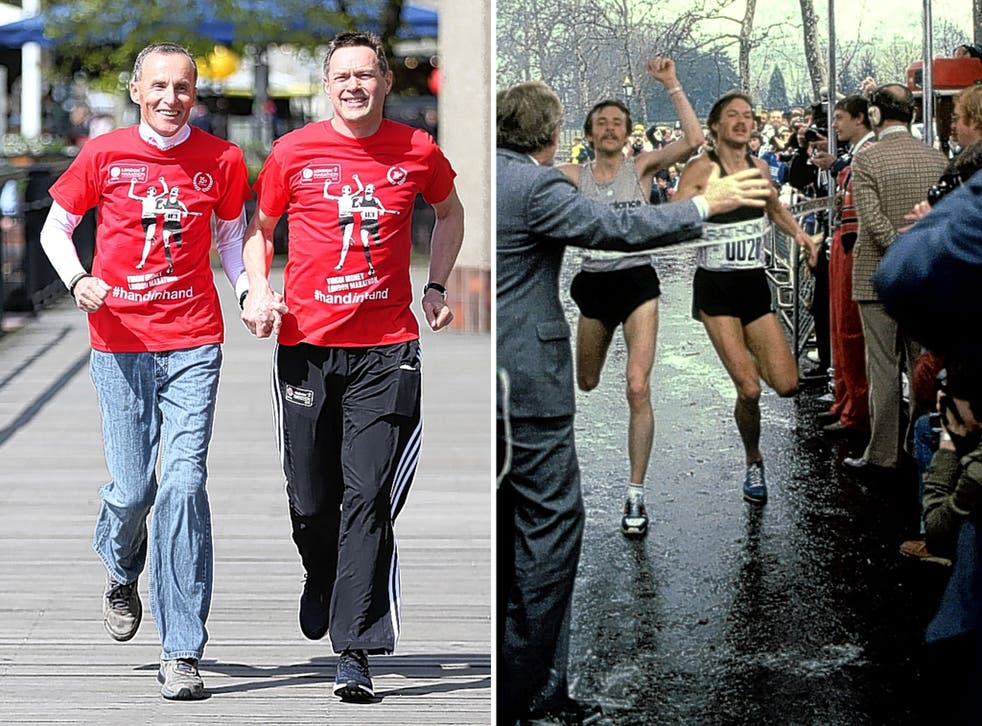 They had never met, not even exchanged a single word as they turned towards The Mall for the finish of the inaugural London Marathon. American Dick Beardsley and Norway's Inge Simonsen had each tried to pull away from the other, to make him crack, at various points over the 26.2-mile course. But in a race-defining moment, Beardsley turned to Simonsen to suggest they share the spoils and, although initially silent, Simonsen agreed to the gesture and the pair crossed the line hand-in-hand to share the victory.
Sunday marks the 35th running of the race and the pair – along with the first female winner, Joyce Smith – will act as race starters. But Simonsen admits his and Beardsley's iconic moment very nearly didn't happen at all: "I don't think I would have suggested it but, when he asked me, I thought, 'Why not?' I never thought about doing that before or after."
The latter sentiment applies equally to Beardsley: "When we went into that race that year, it's not like we saw each other before and said, 'Hey, if we're up there at the end let's make it a tie.' I went in there trying to win, Inge went in there trying to win. I remember surging and trying to break him. I'm all for giving it your best and trying to win.
"It's funny, because people have asked over the years, 'Were you afraid to lose?' and I was like 'no'. Inge could have said, 'Forget you, buddy', and we wouldn't be sitting here talking. So it wasn't about the idea of not winning, it just happened."
Beardsley and Simonsen now live some 4,000 miles apart but they keep in contact on Facebook and have been reunited four times by the London Marathon organisers: at the 10th anniversary, the 20th, 25th and again this year. Remarkably, neither man has a photograph of that career-defining finish.
London Marathon 2014: The elite races in pictures

Show all 10
To mark this particular milestone, organisers have launched the hashtag "handinhand" to encourage tomorrow's runners to emulate the first pair over the line when they too make it to the finish.
Among those planning to cross the line in that manner are Beardsley's wife, Jill, who will be dressed in a Cinderella dress complete with a hooped frame base, and their son Christopher, a 19-year-old running his first marathon.
In the aftermath of 1981, Beardsley and Simonsen were both revered at home. Simonsen, 61, who went on to run seven more marathons before retiring because of bursitis, which affects the joints, was greeted with "a big celebration in Norway".
Beardsley recalls: "I remember when I got home people were talking about the two of us coming over the finish line and the sportsmanship of the day as much as the win. That tie opened a lot of doors to me – I got invited to parts of the world that I wouldn't have been if it hadn't been for London."
For Beardsley, 59, many of the intervening years have been agonising. Eight years after that shared win, he nearly died in a farmyard accident when his leg became trapped– he had taken over a dairy farm in retirement – and he later spent five months in hospital. In 1992 another driver went through a "stop" sign and hit the side of the Beardsley family car; the following year he was injured in a hit-and-run collision while out running.
The accidents led to an addiction to painkillers – at its worst he was taking 80 to 90 pills a day – and his eventual arrest in 1996 for forging prescriptions. But moments such as 1981 helped him through.
"I got into some bad scrapes but the hardest part was the recovery and getting the use of everything back," he says. "I look back on training and running that helped me to get back to work hard again, to walking and using my limbs.
"Without a doubt, being able to look back at the London Marathon and other races and training in brutal Minnesota winters helped me to recover from many of the accidents and all the stuff that followed me around for a while."
Ironically, were the pair to repeat the finish today, the win would not be shared. Beardsley adds: "Now I believe the IAAF have rules that if we did that for the win we'd be disqualified." Or, as Simonsen interjects: "There'd be a photo finish. You can't come across the line like that. What happened all those years ago will never happen again."
Register for free to continue reading
Registration is a free and easy way to support our truly independent journalism
By registering, you will also enjoy limited access to Premium articles, exclusive newsletters, commenting, and virtual events with our leading journalists
Already have an account? sign in
Join our new commenting forum
Join thought-provoking conversations, follow other Independent readers and see their replies