Mo Farah: Breaking marathon world record excites me
With training for his first race in London in full swing, double Olympic champion tells Matt Majendie he is aiming high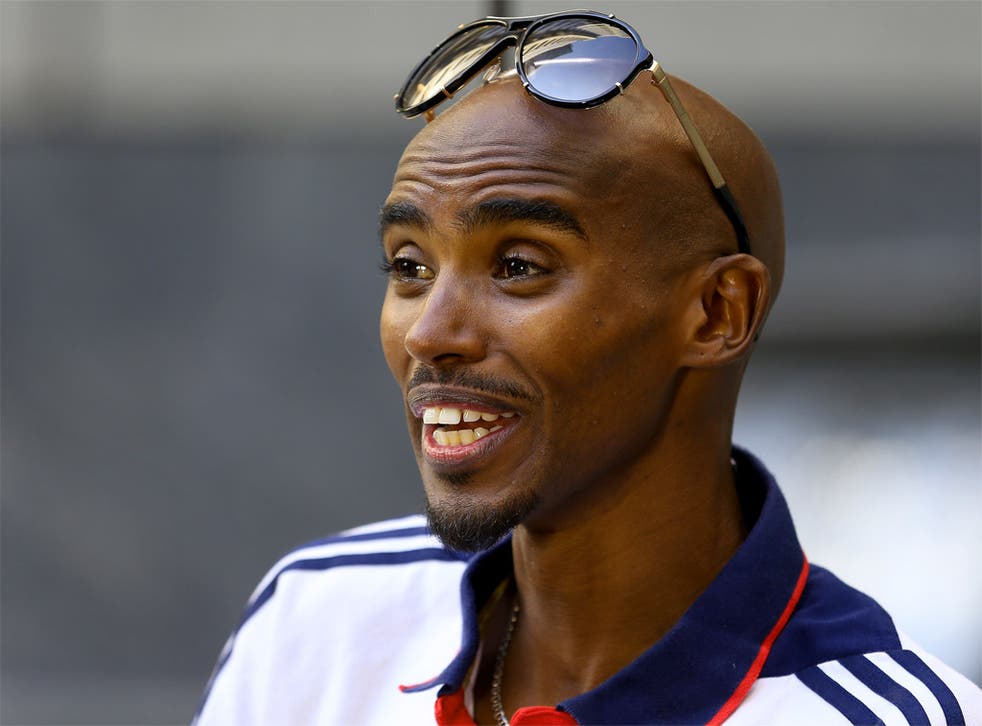 The image is endearing: Mo Farah's gangly frame slicing through the water – unsuccessfully at first – on a pair of waterskis in the sea surrounding Richard Branson's Necker Island.
The British public could be forgiven for expecting Farah to walk on the crystal Caribbean waters, such has been his sporting infallibility over the last two seasons. In that time, he has been crowned double Olympic and double world champion over 5,000 metres and 10,000m.
To call such distances his comfort zone would be to downplay the magnitude of his achievements and his dominance but Farah is clearly heading outside his comfort zone into choppier waters with a first foray at the marathon next year.
Expectation is high – how can it not be after the wonders of London and Moscow? – but it is worth noting that Farah is a novice at the 26.2-mile distance, twice as far as he has ever run in competition. Trying somewhat to dampen those expectations on the streets of London for the capital's marathon in April, he says: "I've never done the marathon before."
But as with everything that Farah and his coach Alberto Salazar plot, everything has been planned out meticulously from the moment Farah's Necker Island holiday and attempts at waterskiing ended in September.
Currently, he is averaging more than 120 miles a week in training – the equivalent of about four and a half marathons, a noticeable increase in distance compared with when preparing for the track.
His somewhat understated assessment of training so far is, "It's going all right" before adding, "I'm feeling more tired than ever".
Looking ahead to the London Marathon, he says: "Well, it's not long at all. The hard training has already started, I'm training every day and getting more miles. It's getting there."
As well as more distance, it has also entailed him starting winter training earlier than in seasons past, and the suggestion from Salazar that his technique would need fine-tuning, his stride thought not to be perfectly suited to the rigours of the marathon.
Such nuances, however, do not unduly trouble the laid-back Farah, who insists he will be fine "as long as you have the right equipment". The key piece of equipment is a reported wonder shoe Nike is working on. Salazar has suggested the improved technology will save Farah a few minutes over the course of a marathon.
Of his coach's claim, Farah says: "It could do but it's also about getting the right training, about getting the race right, to study up. As long as you're training well for it, that's the key.
"In the marathon, you have to save as much energy as you can, and not get excited. Nike are still working on the shoe. I can't give away too much but they're shoes that work for me. Everyone's different. I don't know exactly but it will definitely help me move forward."
Farah has partially studied the marathon course, having run half the race in London last April. So can he realistically aspire to win on his first outing over the distance?
"It just depends on the race," he says. "It depends on what [race director] Dave Bedford does. It depends on the field. It's likely to be as hard as the World Championships or Olympics. It would be nice to go out there and do a first marathon and do well. But at the moment, I have to respect it. It will probably take me three or four times to get it right."
As well as victory, one day the aim is to aspire to the world record of Kenya's Wilson Kipsang, set in Berlin just a month after Farah's Moscow heroics. Rather than be daunted by Kipsang's time of two hours, three minutes and 23 seconds, Farah insists it "excites me".
The pair know each other well, having spent time together in Kenya's Rift Valley during winter training. To date, Farah has not been one for world records, instead focusing on the major championships. It is the one caveat that his peers mention when discussing his greatness as a distance runner. So could the Londoner one day aspire to be the world's fastest man on the road?
"I'll get an idea after this one and a feel for it," he says. "Every athlete is different. I'll see how I feel and whether it suits me. I can be a good marathon runner or not."
While the road will be the No 1 aspiration of next year, the track – and that of Moscow's Luzhniki Stadium in particular – has been the abiding memory of 2013. The double double has led to him being nominated for BBC Sports Personality of the Year for a second successive year.
Farah admits, "I'm voting for Andy Murray," as, it would appear, is the rest of the general public following his Wimbledon singles triumph. Farah, who was in the royal box to watch part of Murray's passage to the final in a rare break from training, says of his Sports Personality rival: "He's a great lad and what he's achieved is great. I like him and I've watched him with great interest in the past year.
"For me, it would be nice to win but at the moment it's out of your control. What I do best is run and train hard. It's nice to have a title but it is what it is."
Regardless of where Farah places in Sunday's voting, his popularity in the general British psyche is cemented, to the extent he does not worry about a change of perception should the marathon prove a struggle.
Asked if he fears a drop in support should his road results be poor, he says: "No, I love the British public. No one's going to hate you or dislike you if you have a bad race or a bad year."
Even with a change of sights, such is the crest of a wave that Farah is travelling along a bad year looks highly unlikely.
Join our new commenting forum
Join thought-provoking conversations, follow other Independent readers and see their replies