Mo Farah 'wouldn't change a thing' after signing off home track career with Birmingham win
Farah will retire from the track after the Diamond League final in Zurich on Thursday to focus on marathon racing
Nick Mashiter
Monday 21 August 2017 08:22 Comments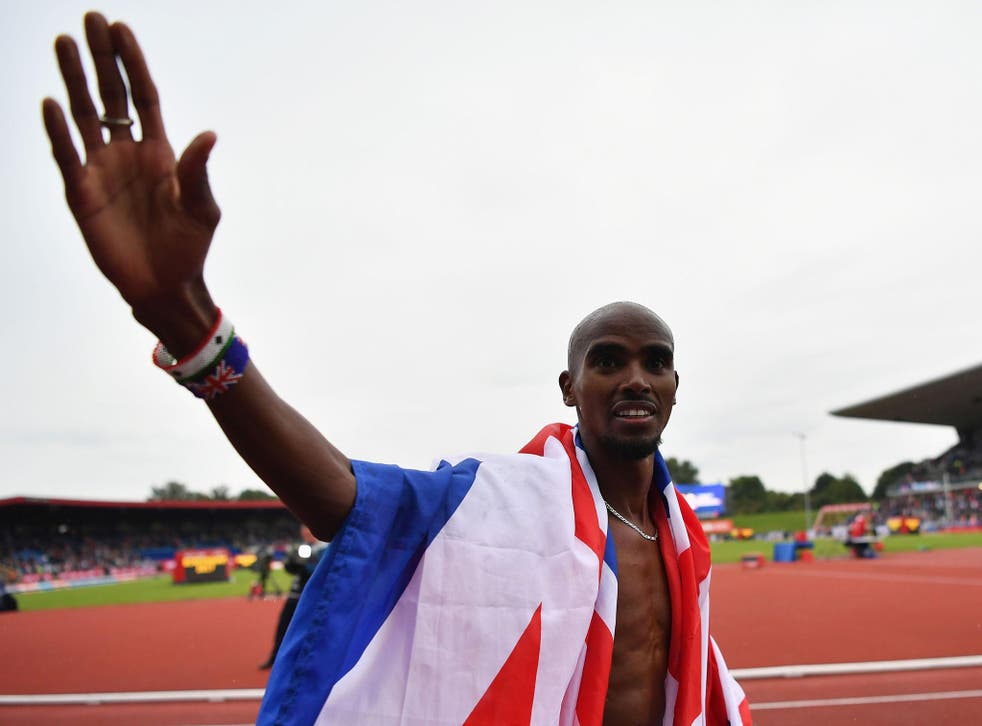 Sir Mo Farah insists he has fulfilled his dreams after winning his final track race on home soil.
The four-time Olympic champion took victory in the 3,000 metres at the Diamond League in Birmingham in seven minutes 38.64 seconds on Sunday.
He will retire from the track after the Diamond League final in Zurich on Thursday to focus on marathon racing.
Farah has conceded there are no guarantees he will wear a Great Britain vest again as he feels it will take him two years to get to grips with the marathon. But after his final UK race before switching to the road Farah, who has won 10 global titles, said he has achieved his goals.
He said: "All I ever wanted to do as an athlete is run for Great Britain. I remember when I did the mini marathon as a kid, I got interviewed and asked what I wanted to do, I said I want to run for Great Britain. It's like wow, and then you compete in the world juniors and stuff. It's been amazing. It's been incredible.
"Now it's finally done, I won't be taking part. It feels a bit sad. Obviously I think I will feel it more when I watch it on TV and see the guys, athletes I train with and people I have been in the circle with, I think it might detach me a little bit. But at the same time it has been an honour, I wouldn't change any part of my career, what I've done. It's been a great experience to learn from the Kenyans and continue on."
Farah gave his shirt to Andrew Butchart, who came fourth, and urged him to fill his shoes. Butchart, 25, finished sixth in the 5,000m Olympic final last year - which Farah won - and came eighth in the final at the World Championships earlier this month.
He said: "He (Farah) just said, 'It's up to you now, do your best, it's your time to shine.' I don't know (what to do with the vest) but it is such a great gesture for him to give it to me. I'll definitely look after it and cherish it."
Register for free to continue reading
Registration is a free and easy way to support our truly independent journalism
By registering, you will also enjoy limited access to Premium articles, exclusive newsletters, commenting, and virtual events with our leading journalists
Already have an account? sign in
Join our new commenting forum
Join thought-provoking conversations, follow other Independent readers and see their replies