Mo Farah is 'shocked and hurt' by Marathon greed claims
Double gold winner says he's running half-race as preparation for next year's full event not for financial gain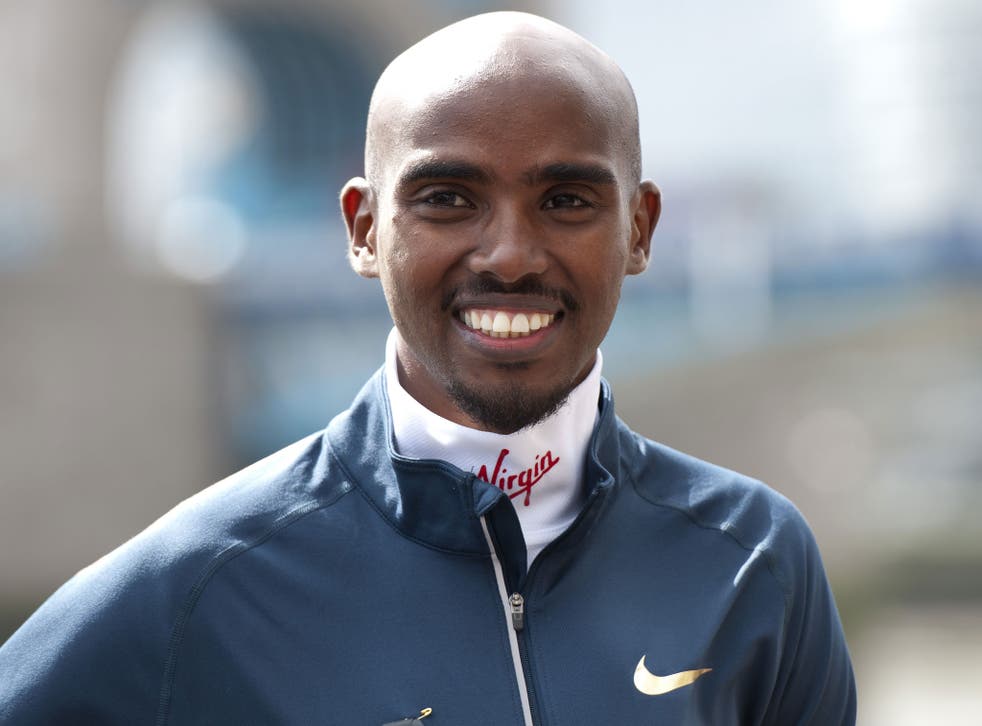 Mo Farah issued a forthright rejection of allegations that cashing in on his spectacular Olympic success has become a motivating factor and insists he will respect the race and the rest of the field when he makes his first appearance in the London Marathon on Sunday.
The day after arriving back in his home city from his US base in Oregon, Farah said being accused of becoming focused on the financial rewards that have followed his two gold medals at the London Olympics have "hurt" him.
"When you become Olympic champion, yes there are rewards," he said. "But for someone to say 'he's only doing it for those rewards'... every race I do, am I only doing it for rewards? I'm here to do well."
The Briton denied he is running because of the appearance fee he will receive for completing half the race on Sunday – he will drop out after 13 miles – and then making his full Marathon debut here in 2014. Farah will earn a six-figure fee for both races.
"This race is in my heart, I'm here to learn about the course, learn about everything else, use it as a learning curve, and get ready for next year," he said. "It wasn't 'Yes I'm getting so and so [money], I'm going to do it!' If I did that it would be wrong. And that's one of the things that hurts. I genuinely enjoy my athletics. It's something I did as a kid. It was a hobby which became my job. To turn up just for this and that would be the wrong reasons. It's not nice but all the people who know who I am know I'm not the sort of person who would do that."
Farah refused to speak to one national newspaper over some of the claims they made about his post-Olympic career. The criticism directed his way has, he said, surprised him.
"It has come as a bit of a shock to me," he said. "It is what it is. You can't be worried about other people. If I was to worry about all those peripheral things I don't think I would have won [at the Olympics]. I've got a manager and coach to take care of the other stuff. I just run. That's all I do."
It will be Farah's first race in London since his Olympic triumphs and he will be the centre of most of the spectators' attention during the first half of the race – he is adamant he will go no further than halfway. Wilson Kipsang, the defending champion, and others among the elite field have welcomed his partial participation. "I don't want to destroy the race for the normal runners by being at the front and surging and then dropping back and then picking up the pace again," said Farah.
"You have to respect the guys who are out here."
Farah says Sunday's race is solely about beginning to learn the long-distance ropes for his planned switch to full-time marathon running after August's world championships in Moscow, where he will seek to repeat his 10,000m/5,000m double of last summer's Olympics.
Farah never contemplated pulling out of Sunday's race in the wake of the Boston bombings. "Not at all," he said. "This is home, it's where I grew up. Obviously, it is terrible news. It's wrong what's happened but we have to carry on, as the people who got hurt would want us to."
The London Marathon announced that it would donate £2 for every finisher in Sunday's race to The One Fund Boston set up to raise money for victims of the bombings. It is estimated that at least £70,000 will be raised.
Register for free to continue reading
Registration is a free and easy way to support our truly independent journalism
By registering, you will also enjoy limited access to Premium articles, exclusive newsletters, commenting, and virtual events with our leading journalists
Already have an account? sign in
Register for free to continue reading
Registration is a free and easy way to support our truly independent journalism
By registering, you will also enjoy limited access to Premium articles, exclusive newsletters, commenting, and virtual events with our leading journalists
Already have an account? sign in
Join our new commenting forum
Join thought-provoking conversations, follow other Independent readers and see their replies