Paula Radcliffe critical of 'heavy-handed' proposals to re-write world records
World marathon record holder Radcliffe - whose mark of two hours 15 minutes 25 seconds, set in 2003, would be wiped out under the proposals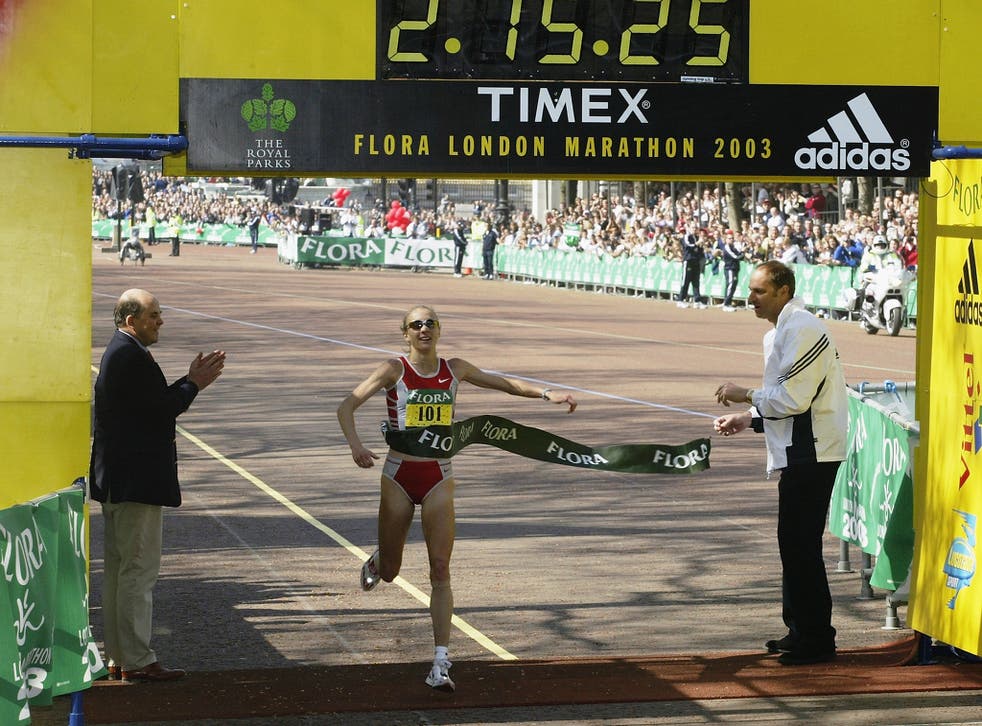 Paula Radcliffe has accused European Athletics of acting in a "heavy-handed" manner after they revealed new proposals which could lead to the sport's world records being rewritten.
The governing body announced on Monday that its ruling council had accepted a project team's recommendations to overhaul the record lists and eliminate any doping doubts surrounding performances.
European Athletics said it would now forward them to world governing body the IAAF "with the recommendation that the two organisations coordinate the implementation of new record ratification rules".
World marathon record holder Radcliffe - whose mark of two hours 15 minutes 25 seconds, set in 2003, would be wiped out under the proposals - took to Twitter on Monday evening to brand the plans "cowardly".
She wrote: "Although we are moving forward, I don't believe we are yet at the point where we have a testing procedure capable of catching every cheat out there, so why reset at this point? Do we really believe a record set in 2015 is totally clean and one in 1995 not?
"I am hurt and do feel this damages my reputation and dignity. It is a heavy-handed way to wipe out some really suspicious records in a cowardly way by simply sweeping all aside instead of having the guts to take the legal plunge and wipe any record that would be found in a court of law to have been illegally assisted."
The new proposal "calls for higher technical standards, increased doping control measures and new personal integrity requirements for record holders", the European governing body said. The idea is to make record-breaking performances as credible as possible, at a time of ultra-scepticism.
European Athletics president Svein Arne Hansen said: "Performance records that show the limits of human capabilities are one of the great strengths of our sport, but they are meaningless if people don't really believe them.
"What we are proposing is revolutionary, not just because most world and European records will have to be replaced, but because we want to change the concept of a record and raise the standards for recognition to a point where everyone can be confident that everything is fair and above board."
Under the new standards, a world record would only be recognised if it met three key criteria: it was achieved at a competition on a list of approved international events where the highest standards of officiating and technical equipment can be guaranteed; the athlete had been subject to an agreed number of doping control tests in the months leading up to it; and the doping control sample taken after the record was stored and available for re-testing for 10 years.
The IAAF has only stored blood and urine samples since 2005, leaving Jonathan Edwards' triple jump world record of 18.29 metres - set in 1995 - also in danger of being erased.
The project team also recommended that a performance be wiped from the record books if the athlete involved "commits a doping or integrity violation, even if it does not directly impact the record performance".
Current records not meeting the criteria would remain on the all-time list but no longer be officially recognised as records.
Hansen added: "It's a radical solution for sure, but those of us who love athletics are tired of the cloud of doubt and innuendo that has hung over our records for too long. We need decisive action to restore credibility and trust."
Hansen said he would encourage the IAAF to adopt the proposal at its council meeting in August and in the mean time would be checking the recommendations were legally robust.
IAAF president Lord Coe, who attended the final session of the European Athletics Council meeting on Sunday, said: "I like this because it underlines that we (the governing bodies) have put into place doping control systems and technology that are more robust and safer than 15 or even 10 years ago.
"Of course, for this to be adopted for world records by the IAAF it needs global approval from all area associations.
"There will be athletes, current record holders, who will feel that the history we are recalibrating will take something away from them, but I think this is a step in the right direction and if organised and structured properly we have a good chance of winning back credibility in this area."
PA
Join our new commenting forum
Join thought-provoking conversations, follow other Independent readers and see their replies