Pete Reed: GB Olympic champion who nearly gave up because of two chihuahuas
Tests revealed Royal Navy officer Pete Reed (top row, second from right) had lost fitness because of an allergy to his pet dogs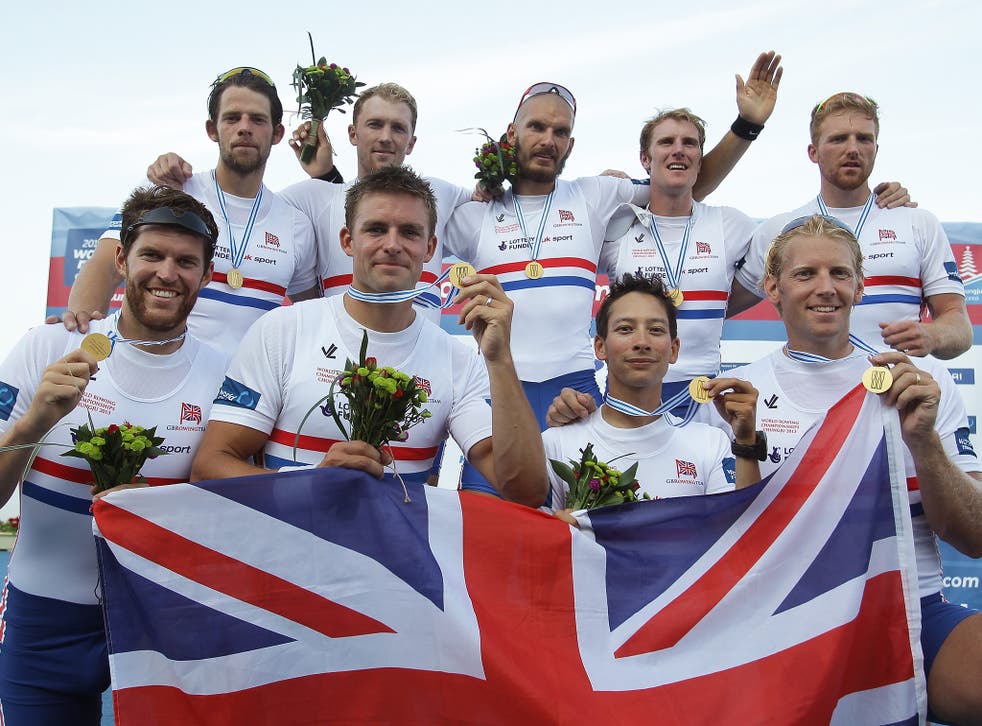 Pete Reed is a Royal Navy officer and 6ft 6in colossus who was felled by two tiny chihuahuas.
If that sounds like the makings of a comedy, it did in fact happen: an allergy to his two pet dogs nearly brought the two-time Olympic coxless four rowing champion's career to an abrupt finish.
It took Reed a while to discover the problem. He had always prided himself on being one of the strongest members of the squad.
But from November 2013, his performances dwindled. At first, the GB Rowing coaching staff thought he had overtrained and he was given time off over Christmas, but he was just as bad on his return.
"I had no answers to the messages that I was sending my muscles," he recalls of his dramatic slump in form. "Something wasn't quite right but it was very difficult to work out what was wrong.
"From December to May, every single session – three a day, six times a week – was hell on earth. I was struggling to find any answers why training was so laboured. I'd always liked staying in the front of the group and it was really embarrassing.
"I really could have stopped. You hear of star athletes getting burnt out. My body had always been good to me but I was left thinking 'maybe this is my time, maybe I'm an old athlete, maybe I've had enough'. You think to yourself 'what more can I do?'
"London 2012 seemed the obvious time to stop but the thing was I still loved the training and still had the support of the Royal Navy. But now I was hating the training and you think 'it's not worth it'."
All manner of tests were done and, after months of investigation, it was finally discovered that Reed was allergic to his and his wife's two pet chihuahuas, Massi – short for Maximus Decimus Meridius, Russell Crowe's character in Gladiator – and Sky.
But the news brought no relief, it just presented him and his wife Frauke, to whom he had proposed at the closing ceremony for those London Games, with a stark choice.
"I had to choose between the sport that I'd started to hate and the dogs that I loved," he says. "I think for my wife it was a toss-up between the dogs and me but I won that one!"
He immediately moved out of the marital home, the dogs were temporarily rehoused with his parents and Frauke went to work removing all traces of dog hair.
"It's ridiculous really but it got to a point where I'd been forced out of my own home and I was living out of a bag in my rowing club," he says.
"I know it sounds silly to anyone retelling it, that I'm a Naval officer and an Olympic champion and I'd been broken down by two dogs – and not even manly dogs. But I still think about them every single day and I know it sounds stupid."
The canine relocation to mum and dad's was only temporary and the Reeds eventually found a new home for them up in Scotland – a tearful journey but a handover that worked, as slowly but surely he got back to his best form and fitness.
It was not in sufficient time to force his way back into the A boat – the coxless four – and the one in which he had long established his place.
Instead, he was relocated to the eight, a journey that reached a climax with the world title at the end of last season as well as the accolade of being voted the leading male rower at the end-of-season awards.
"I'm back to my usual self," he says. "Actually by August, I felt like a machine again after 10 months of not having that feeling. It had been a long period of suffering."
Being out of the four has been hard and he makes no qualms of the fact he wants "to be in the best boat". But while he spoke to his former crew-mates, he adds: "I realised I had a job to do and they didn't want some knackered old has-been trying to cling to the project."
His first chance to return to the very top is today. The GB Rowing trials had been due to take place in Boston, Lincolnshire, but had to be relocated to the shorter course at the team's Caversham base because of a forecast of high winds.
And Reed is not afraid to admit he will be thinking of those two chihuahuas on the start line.
The British Rowing Indoor Championships take place in London's Olympic Velodrome on 8 February 2015. Enter now to take part alongside the GB Rowing team – http://indoorchamps.britishrowing.org
Register for free to continue reading
Registration is a free and easy way to support our truly independent journalism
By registering, you will also enjoy limited access to Premium articles, exclusive newsletters, commenting, and virtual events with our leading journalists
Already have an account? sign in
Register for free to continue reading
Registration is a free and easy way to support our truly independent journalism
By registering, you will also enjoy limited access to Premium articles, exclusive newsletters, commenting, and virtual events with our leading journalists
Already have an account? sign in
Join our new commenting forum
Join thought-provoking conversations, follow other Independent readers and see their replies