Richard Kilty's 60m charge proves critics wrong
'Fairy tale' as stand-in sprinter wins shock gold medal after being overlooked for London Games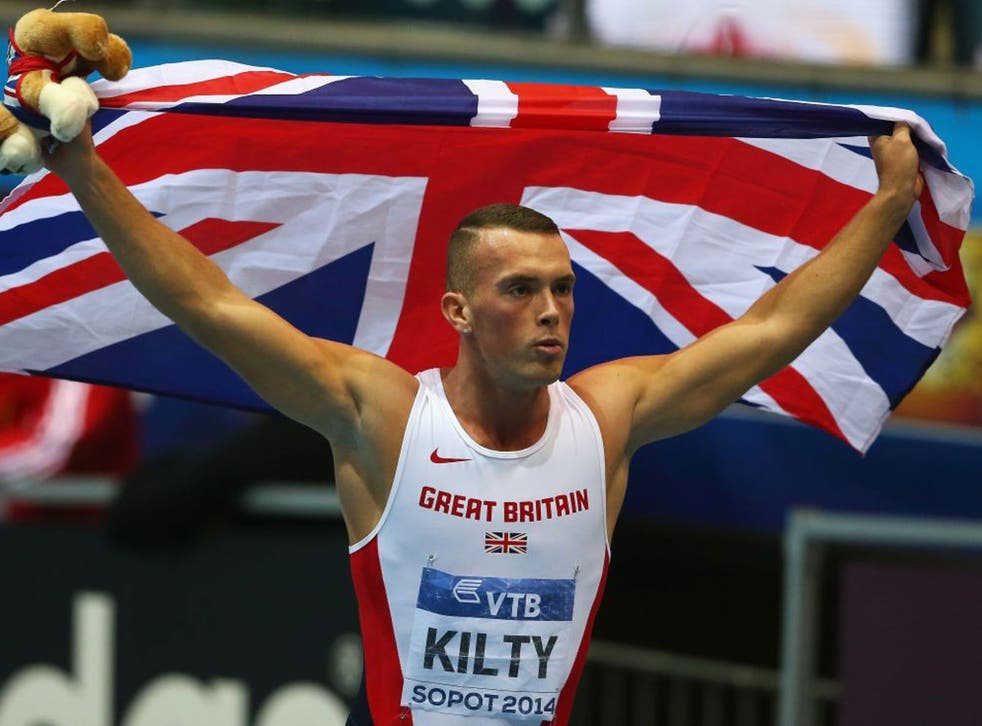 Richard Kilty was not supposed to be in Sopot and, had it not been for James Dasaolu's hamstring, he would have been watching from home. Now the self-style "Teesside Tornado" is world champion, an athlete previously overlooked by the British selectors pulling off one of the great surprises of these championships by winning the 60m. It was, he said, "a fairy tale".
To anyone that would listen, the 24-year-old, a 33-1 shot with bookmakers in the build-up, had said he could win and had a sub-6.50sec run within him, and so it proved as he became only the sixth British athlete to dip under the mark with a winning time of 6.49sec.
Previously, he had claimed to be let down by his dip for the line but it was that dip which won him gold from the American Marvin Bracy, the fastest man in the field on paper, with Femi Ogunode of Qatar taking the bronze.
Tiffany Porter pipped Kilty to Britain's first medal of these World Indoors with a bronze in the previous race, the 60m hurdles. But the night undeniably belonged to the previously unheralded Kilty.
The athlete had been overlooked for 200m selection at the London Olympics in 2012 despite achieving the A qualifying standard and again for the World Championships in Moscow last year. But when given his first individual senior chance he duly repaid the selectors' faith with the run of his career.
"I can't believe it. It's a dream come true," he said. "This is my boyhood dream. I told my dad four years ago I would be world champion and to think I've come out and done it, I feel like crying. It's unbelievable. I'm on top of the world.
"For the last four years all I've been is slated – by the media, from other people, from my home country. So to come out and win, I guess that's almost good sprinting!
"It was massive motivation. I just wanted to come here and prove people wrong. This proves the selectors got it wrong in 2012. They overlooked me. I'm not going to say it rubs it in their face – I'm over that now – but this proves I would have performed in 2012."
Kilty's route to being world champion has been a troubled one. For a time, he was removed from Lottery funding and was no longer able to afford his previous coach Linford Christie so had to be helped by his father Kevin, who persuaded him not to quit athletics. There was also a bizarre incident in which he was accused over an alleged baseball bat attack. He was cleared of any wrongdoing but he blamed the bad publicity for him losing his sponsors.
It proved a disappointing race for Dwain Chambers, ending his hopes of a fourth successive medal at the World Indoors. "I'm disappointed but Kilty did a very good job," said the 35-year-old. "He held his nerve and kept it together and ran a very quick time. I didn't see it coming, and it wasn't my day."
Porter's bronze medal was all the more remarkable considering the poor start she endured. But the 26-year-old kept her composure to close up on the leaders, edging third behind Nia Ali, who was a surprise winner over world and Olympic champion Sally Pearson.
"It's really bittersweet," said Porter. "I'm thrilled to have brought a medal home for Team GB but I know I gave up a lot in that start and it's very disappointing not to execute your best race. My best race would have been better."
Hopes were high of a third medal on the night with pole vault world record-holder Renaud Lavillenie missing from the championships, but Luke Cutts was struggling from the start of his warm-up.
The 26-year-old, who used to work 10-hour shifts overnight stocking delivery lorries, had twice jumped higher than the winning height of 5.80m this season. But he took three attempts to clear his opening height of 5.40m, two at 5.55 and another three at 5.65, continually changing his poles throughout.
"It's my first major championships back in the GB team in seven years," he said. "It's just a lack of experience in major championships."
Join our new commenting forum
Join thought-provoking conversations, follow other Independent readers and see their replies