Robbie Britton: Why I ran 230km through Arctic Sweden
Why would you run for five days through freezing arctic ice and snow? Ultrarunner Robbie Britton, bronze medallist at the 2015 World 24-hour championships, did it, in a 230km race in Sweden. He won the race, but apart from the glory, he gives a compelling reason for putting yourself through the hardship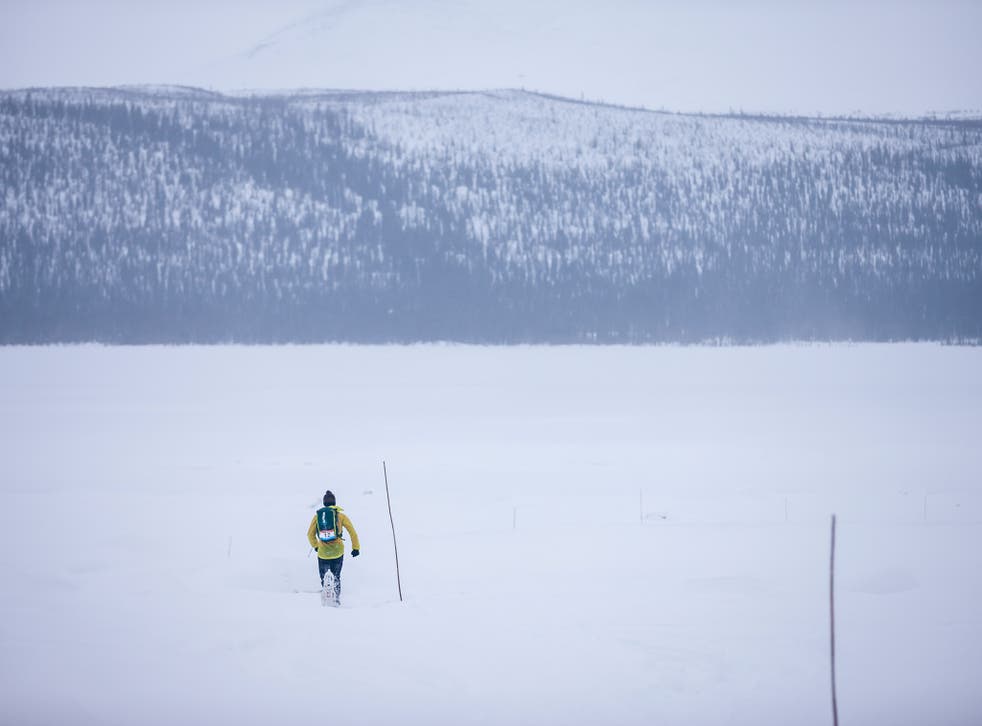 Running 230 kilometres through Arctic Sweden in February isn't everyone's idea of fun, even when it is an unseasonably warm minus six degrees. The Beyond the Ultimate Ice Ultra saw a group of intrepid/strange (delete as appropriate) individuals take on the challenge over five days, carrying all their own food and kit and staying in wooden cabins and teepees throughout. It was more an adventure than a race.
Some might see it as the kind of pastime that is only enjoyable when you look back on it, like hiking up a mountain in the rain just to make the pub lunch taste that much better afterwards, where as others are drawn to the challenge of pushing yourself in an environment that is normally just about survival.
When you get cold your body's reactions are to shiver, which is basically useless, and take the heat away from your extremities, otherwise known as your hands and feet. This isn't a useless adaptation, it's worse. Whilst it does keep you alive, trying to warm up again without the use of your hands and feet is rather troublesome.
The fantastic team of local Sami reindeer herdsmen and Exile Medics were there to keep the runners from an early end and the majority of injuries during the race actually came from the snow bikes used to transport the support teams about. One was even written off by a local on an unseen rock in the snow, sending him flying over the handlebars. Thankfully they're all hard as nails and he just brushed it off.
The days all started early, in the half light of an Arctic morning, before everyone ran through the shortened day into the night time, crossing vast frozen lakes, along winding forest trails and up and over exposed mountain plateaus. Only the first finisher actually avoided running in the dark, but there were rumours he had Performance Enhancing Reindeers helping him along.
The "warm weather" meant that a lot of the frozen lakes had about a foot of surface water,above the ice but just below the snow, that needed to be waded through by the runners. The watery slush then soaked trainers, covered everyone's snowshoes and promptly froze, thus ensuring there was the equivalent of lead weights attached to their ankles. At one point there was a block of ice under both of my feet the size of a pack of playing cards, just along for the ride.
Staying warm was a major concern going into the event, with daytimes temperatures potentially dropping to minus 30 or below, but come race week it was actually a job to avoid sweating whilst running along. If you sweat it freezes to you. A fine balance has to be found by creating enough heat to stay warm but not too warm. Basically it is a Arctic strip tease as the day goes on, until night time, when all the layers go back on to keep you alive.
Food becomes fuel for your body to burn for warmth and cold environments mean you will be burning more calories just to stay comfortable, without taking into account six hours or more of running in snowshoes. It was estimated that 6-7000 calories were burnt on the run each day but many only carried 2500-3000 to keep the weight of packs lower. Dietician Renee McGregor recommend I take at least 3500 and there was much scavenging done even with that much.
The last day saw a run into Jokkmokk, a Sami town and location of the all you can eat buffet that had occupied the runner's thoughts from day two. Well, maybe just mine. Local news reporters were on scene to ask all of the finishers "Why are you doing this" and "Why did you not take skis", both extremely valid questions. Skis were outside of the rules and everyone had different reasons for taking part, most about self-discovery, reaching limits and pushing yourself.
Philip Kirby, from the Wirral, actually entered as his first event longer than a half marathon because he wanted to see more of the world and thought Arctic Sweden was a good place to start. Whilst Phil didn't finish the entire event, he did run his first marathon in extremely testing conditions so hats off for courage. A bit more preparation next year and you might even enjoy it.
Mimi Anderson, record holder for many long distance challenges, such as running from John O'Groats to Land's End, is using the experience to build towards running across America this summer. Mimi intends to do this faster than any man or woman ever has before and you'd be brave to bet against such a determined woman.
Crossing the biggest frozen lake of the challenge, 20km of exposed wind, pan flat ice and mountains all around, there was the "Red Jersey Challenge" that saw Mimi and fellow competitor Caroline Richards battle the whole way across and only finish 90 seconds apart. Mimi was Queen of the Ice, first lady and 4th overall.
Lessons were learnt throughout by all, not least a hefty introduction to snowshoes. Most had only managed one long run in them, the winner had only used them to walk the dog in the snow before. Now everyone had travelled 200km in them, most keen never to see snowshoes again.
So if sub-zero days, vast frozen lakes, chasing reindeer and the Northern Lights sounds like your idea of fun, maybe you could be tough enough to undertake such a challenge? If not there's plenty of fun to be had in deserts, mountains and jungles, but there are loads more things that can eat you there. The bears were all asleep for us.
Join our new commenting forum
Join thought-provoking conversations, follow other Independent readers and see their replies