Sebastian Coe's PR firm could help with Russia's image, chief of staff Nick Davies suggested
Davies was sacked on Tuesday by the IAAF for lying about personal payments totalling 30,000 euros (£25,525) received from its Senegalese former president Lamine Diack
Ian Herbert
Chief Sports Writer
Wednesday 01 February 2017 20:10 Comments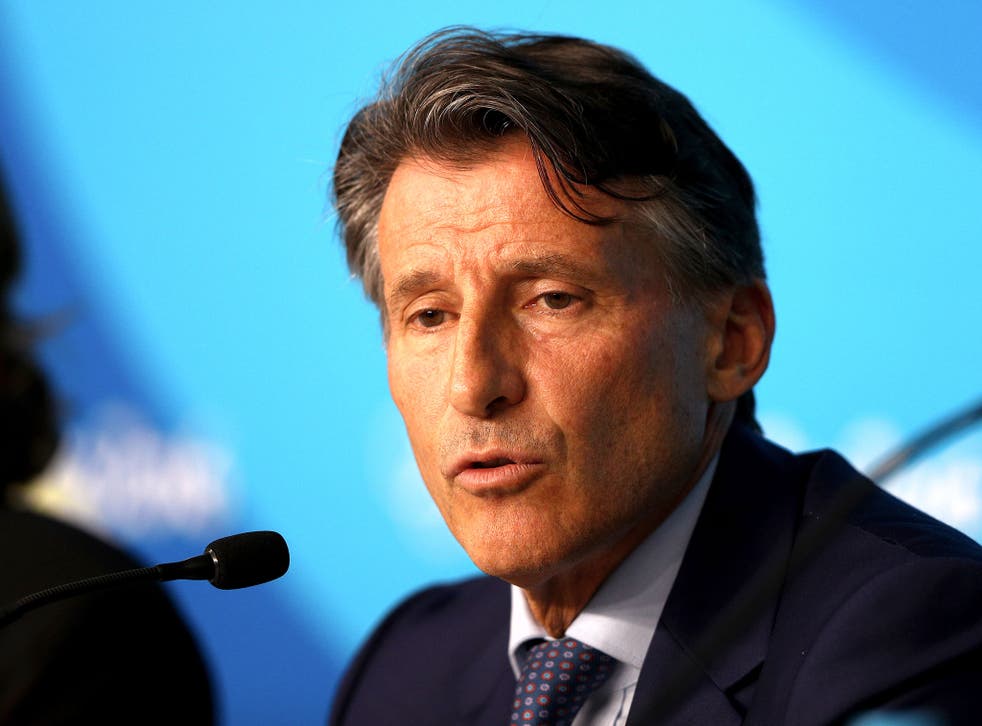 Sebastian Coe's PR firm was proposed by his former chief of staff as a useful vehicle for delivering an "unofficial PR campaign" which would prevent Russian athletics being mired in international scandal, the findings of an ethics board panel have revealed.
Nick Davies, who was on Tuesday sacked by the IAAF for lying about personal payments totalling 30,000 euros (£25,525) received from its Senegalese former president Lamine Diack, told Diack hours after receiving the money that he was "thinking of our PR company" to promote a positive image for Moscow's World Championships. He then emailed him to suggest that that CSM Sports and Leisure - of which Coe remains executive chairman – should be considered for the campaign. Coe's own "political influence in the UK" could also be used, Davies suggested to Diack, who is now under French police investigation for corruption.
"I believe that if we consider using CSM we can also benefit from Seb's political influence in the UK," Davies told Diack. "It is in his personal interest to ensure that the Moscow World Champs is a success and that people do not think that the media of his own country are trying to destroy it… We can work extremely hard in stopping any planned 'attacks' on Russia from the British press in the coming weeks."
In the final event, CSM was not used and Davies used his own "specialist PR skills" as he sought to kill negative stories about Russia. But the intention to use the company does raise the question of whether Coe's executive role within it represents a conflict of interest.
Coe's services were retained by the consultancy when it was sold to Chime Communications in October 2012, in a deal which it was reported at the time could net Coe £12m, with a £1.5m upfront payment in cash. CSM said that it would no longer bid for IAAF work, to prevent conflicts of interest. But it did promote a new athletics event this week – the London 10-mile – with supporting quotes from Coe in the accompanying publicity.
One of the most striking aspects of the ethics board document is the picture it paints of widespread awareness of Russian doping at the IAAF.
Davies' wife, Jane Boulter-Davies - who received $5,000 from Diack, via her husband, in an attempt to shut down the concerns she was expressing about Russia - told the panel: "I do not think that Nick was shocked that the Russians were trying to trick the system because everyone in athletics knew that Russia had a doping problem." Coe has told the culture media and sport select committee that he had no idea that state-sponsored Russian doping was going on until a TV documentary aired late in December 2014.
Committee chairman Collins told The Independent that the Davies panel documents are relevant to the investigation into doping which his group of MPs is carrying out. "It suggests a knowledge of what was going on, which was not just limited to the Diacks," Collins said. "It was known about by someone close to Coe and poses the question of whether Coe knew more than he is letting on."
Many in athletics are astonished that Davies – a close family friend of Coe whom the Olympian immediately appointed his chief of staff after his election as IAAF president in 2015 – remains free to work in athletics, despite telling what his wife described in her testimony as "an untruth."
The panel judgement reveals that Davies told the panel's appointed investigator Sir Anthony Hooper that he wanted to "make it abundantly clear" he had received no money from Diack, yet was later being forced to offer up his bank statements and then had to come clean. He then said: "I would like to apologise because I have not been truthful with you in reply to a key question in your investigation. He claimed he did so "in panic at being drawn into matters of such seriousness."
Davies also testified that he had no idea that a newspaper – the Mail on Sunday – had full details of the state-sponsored Russian doping until the World Anti-Doping Agency closed down a Moscow laboratory at the heart of the criminal operation. But Davies was provided with detailed evidence by the paper and for six months did not return its battery of calls on the story, seemingly thinking that the lack of response would kill it.
The ethics board report illustrates the extraordinary amounts of cash washing around the organisation. A total of $500,000 (£406,000) in cash was taken to the Beijing World Championships in 2015, to "reimburse expenses or costs incurred organising courses and projects" and also cover "meal allowance and per diems."
Davies told the panel that Diack's son - who has been given a lifetime athletics ban for his part in a Russian extortion racket - said Russia had supported the successful opposition party in Senegal during the country's presidential elections and that gave his father an added pressure to organise the best possible competition in Moscow.
An email to Diack from his son described the dual purpose of the Davies payment as "lobbying UK journalists" and calming down the potential whistle-blower Boulter-Davies.
Boulter-Davies said her husband had told her the 5,000 euro boost to their joint bank account money was recognition from Diack of the work he had done, especially for a "centenary gala" and that he had been asked "to work even harder" to make the Moscow event a success. "We were pleased to receive this bonus which I deposited in our joint bank account," Boulter-Davies told the panel. She returned to work on Wednesday in the IAAF's anti-doping department, the governing body has now announced.
Register for free to continue reading
Registration is a free and easy way to support our truly independent journalism
By registering, you will also enjoy limited access to Premium articles, exclusive newsletters, commenting, and virtual events with our leading journalists
Already have an account? sign in
Join our new commenting forum
Join thought-provoking conversations, follow other Independent readers and see their replies