Shirtless Mahiedine Mekhissi-Benabbad should have kept his gold
Frenchman had his medal stripped for celebration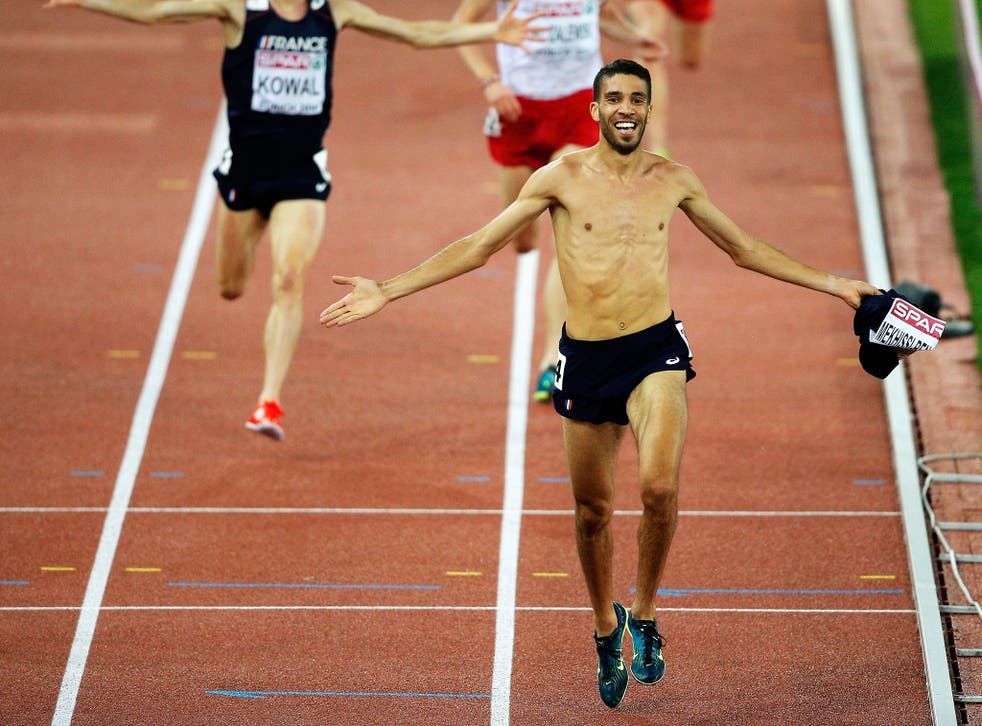 When European Championship steeplechaser Mahiedine Mekhissi-Benabbad, streets ahead of the rest of the field, entered the home straight then whipped off his shirt and whirled it in the air, before placing it in his mouth and hurdling the final obstacle to victory, the behaviour was disrespectful to his opponents – but worthy of stripping him of gold? Certainly not.
At first after Thursday's race the Frenchman was given a yellow card, effectively a warning for unsportsmanlike behaviour. But following an appeal by the Spanish team, whose athlete Angel Mullera had finished fourth, Mekhissi-Benabbad was stripped of a third European title. His disqualification had nothing to do with unsportsmanlike behaviour; it was merely a technicality, the athlete falling foul of competition rules 143.1 and 147.1 which state that an athlete must show his race number at all times. With his France vest in his mouth, he contravened that.
Rules are rules but it made a complete mockery of the competition. Mekhissi-Benabbad was streets better than anyone else and the deserving champion. Quite how Mullera can take home the bronze with any happiness, knowing full well he was only fourth best, is a mystery.
Even the new recipient of gold following the indiscretion, France team-mate Yoann Kowal, could see the ludicrous nature of the decision. He said: "What Mahiedine did with his vest was not disturbing or anything, nothing important."
Mekhissi-Benabbad was back on the track for the 1500m heats yesterday and said a simple: "Je ne regrette rien". He added: "I did not know I could be disqualified for such a thing. In every sport you can take your vest off, only in athletics you cannot.
"I went from big joy to immense sadness."
The truth is that his actions gave athletics, a sport crying out for an increased spotlight whenever possible, arguably more global media attention than anything else on the five nights of action to date.
Too often the sport relies on Usain Bolt for its headlines – the Jamaican was the star attraction in Zurich the other night simply by being in the stands watching the action – when other colourful characters perhaps could be embraced more.
That is not to say Mekhissi-Benabbad should be put on a pedestal. The 29-year-old's career highlights reel has not exactly been unblemished.
He has a penchant for the indefensible. When he last won European gold in 2012, he shoved a mascot for trying to offer him a gift. The mascot was a 14-year-old from Helsinki and, for that, he was understandably criticised.
The previous year, he briefly became a YouTube sensation when he traded blows with French team-mate Mehdi Baala at the end of a Diamond League race in Monaco. He got a five-month suspension for that.
Such behaviour was unacceptable; what happened on Thursday night was not. As Ghani Yalouzsa, technical director of the French athletics federation, said: "I find that the protest lodged by the Spaniards is anti fair play."
It hardly left Zurich 2014 shining in the spotlight.
Join our new commenting forum
Join thought-provoking conversations, follow other Independent readers and see their replies