Sir Chris Chataway: A boy's own hero who was truly one of a kind
Sir Chris Chataway, the former world-record runner, acted as pacemaker to help Roger Bannister break the four-minute mile barrier. And he achieved so much more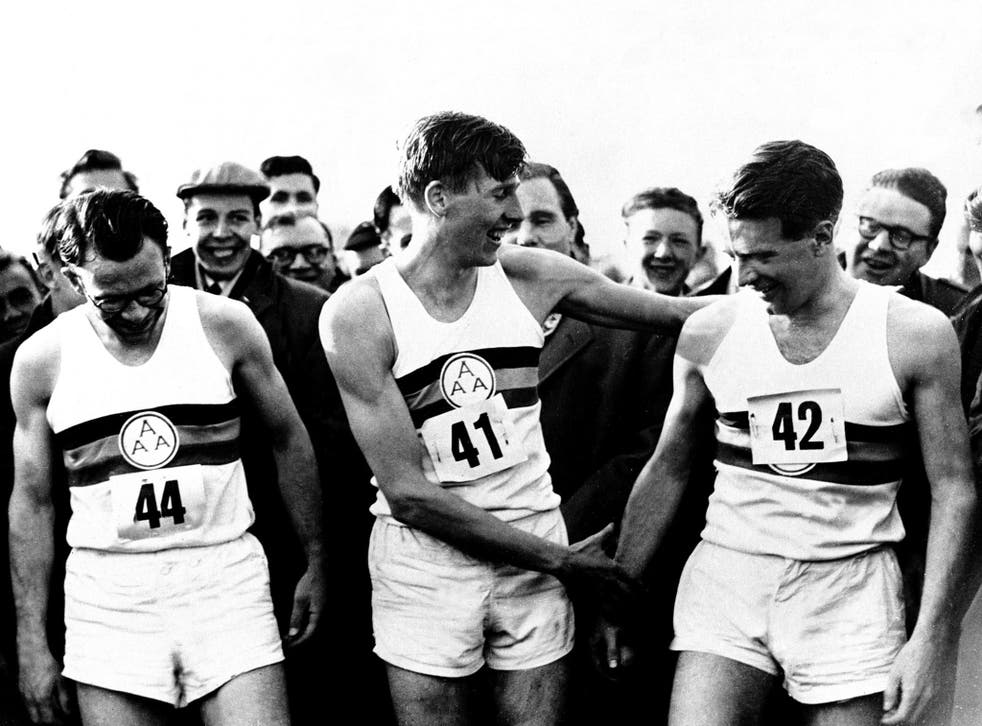 It was only in his later years, with the demands of competition stripped away, that Sir Chris Chataway, who died yesterday aged 82, found himself at peace with the sport that made his name and through which he won the inaugural BBC's Sports Personality of the Year.
Chataway, a successful politician, broadcaster and businessman as well as sportsman, was awarded the honour in 1954, at the end of his sporting year of years in which he helped Sir Roger Bannister break the four-minute barrier for the mile, won Commonwealth Games gold, European silver and then dramatically broke the world record in the 5,000m. That last feat secured him the BBC award, one which he expected to go to his great friend Bannister, and while he admitted taking pleasure from becoming the first to receive the distinctive trophy, he often found his actual athletic achievements brought relief rather than lasting satisfaction. He was prouder of his attempts to help repeal the law that made homosexuality illegal and his work for African charities.
Speaking to me in 2000 he recalled the night at White City where he took on Vladimir Kuts, a Soviet runner who had come from nowhere that year to dominate the event, and described his overwhelming memory as feeling "extremely uncomfortable" throughout.
He rarely seemed comfortable within his athletics' career, one that spanned five brief years before he moved into television and from there to the first of two spells as a Conservative MP.
After returning to running late in life – Brendan Foster persuaded him to take part in the Great North Run in his 70s – Chataway spoke revealingly, and with a turn of phrase that illustrated why he shone in broadcasting and politics, of what the sport at times represented to him. "I sometimes think that running, which was a sort of tormentor in my youth, has returned to be a friendly codger in my old age," he said. "That what was Joe Stalin has turned into Dixon of Dock Green."
Chataway died on Sunday morning in a London hospice. He had had cancer for two and a half years. Bannister, whose sporting fame was to overshadow Chataway's achievements despite the initial suggestion of the BBC award, paid warm tribute.
"He was gallant to the end," said Bannister. "Our friendship dated back more than half a century. We laughed, ran and commiserated together. People will always remember him for the great runner he was, but it shouldn't be forgotten that he had an extremely distinguished career off the track."
The Prime Minister David Cameron described him as "one of a kind" and "a great Briton".
Chataway was the first newsreader on Independent Television and then switched to the BBC where he worked as a reporter on Panorama. One of his assignments was to South Africa to explore the emergence of apartheid, a trip that left a lasting impression. After his election as MP for Lewisham North in 1959, Chataway stated in his maiden speech that England's cricketers should not tour South Africa because of apartheid. He served as a junior minister before losing his seat in 1966. Three years later he won a by-election in Chichester and before retiring in politics in 1974 he again held ministerial positions. After politics he worked in the city and later chaired the Civil Aviation Authority, a role for which he was knighted.
It was the track that came first though. Chataway had a distinctive lolloping style, tilting his head back as he neared the finish not unlike Eric Liddell, the flying Scotsman who won gold at the 1924 Olympics. Chataway competed at two Olympics, his career coinciding with the great Emile Zatopek, who dominated distance running in the early 1950s, including winning three gold medals at the 1952 Games, Chataway's first.
But it was that night at the old White City Stadium that defined his sporting career. In May he and Chris Brasher set Bannister up for his historic landmark. Come October the limelight was Chataway's alone. Live sport was still rare on television, athletics even more so. "It brought the sport of athletics into people's living rooms," said Foster. The race was run under lights – two spotlights trained on the runners as they lapped the track with the rest of the stadium in darkness.
Kuts had emerged out of the east to stun Zatopek and Chataway at that summer's European championships, finishing 12 seconds ahead of the second-placed Chataway and breaking the world record. The re-match in London excited huge interest and attracted a full house of 45,000. The two men matched each other stride for stride, the spotlights sweeping around the track, until the Briton inched ahead almost on the line, finishing in 13:51.6 to Kuts 13:51.7. It was a Cold War sporting epic with a happy – for the home audience – ending. Chataway's feat struck a chord with the public; here was a British victory over the Soviets not just over the clock. Ten days later Kuts took the record back but that could not dent Britain's admiration for its new sporting darling.
"He truly was," said Foster, "a boy's own hero".
Register for free to continue reading
Registration is a free and easy way to support our truly independent journalism
By registering, you will also enjoy limited access to Premium articles, exclusive newsletters, commenting, and virtual events with our leading journalists
Already have an account? sign in
Register for free to continue reading
Registration is a free and easy way to support our truly independent journalism
By registering, you will also enjoy limited access to Premium articles, exclusive newsletters, commenting, and virtual events with our leading journalists
Already have an account? sign in
Join our new commenting forum
Join thought-provoking conversations, follow other Independent readers and see their replies