Twell back on course after her sickening experience
Simon Turnbull
Sunday 06 January 2013 01:00 Comments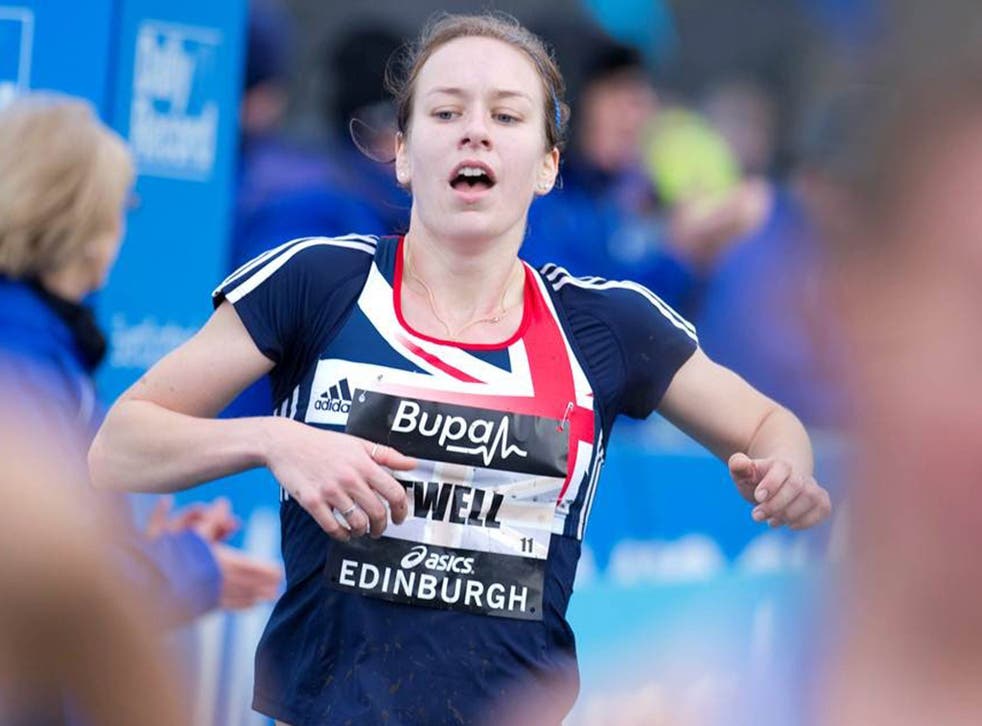 Five days on from London Olympic year, there was a Super Saturday of sorts for Steph Twell to savour. Perhaps it was not quite the kind of day that Jess Ennis, Greg Rutherford and Mo Farah enjoyed in the Olympic Stadium some 425 miles down the road from Scotland's capital on 3 August last year. But after the trauma that the Commonwealth 1500m runner endured in 2012, just being back in a Great Britain vest made yesterday a special occasion for the 23-year-old from the Aldershot, Farnham and District Athletics Club.
"I'm really happy that I'm back," said Twell, after finishing 13th in the women's 6km race in the Bupa Great Edinburgh Cross Country meeting, 52 seconds behind the victorious Fionnuala Britton from Ireland. "I'm slowly getting back to where I was… it's been a tough 12 months."
It has that. If Ennis was the pin-up girl for London 2012, Twell was the pin girl. For seven years, ever since the Games was awarded to London, she wore a pin badge bearing the logo attached to her vest, just to remind herself of the purpose of her daily toil in training and racing. When it came to the crunch last summer, though, with her right ankle already pinned together following a triple fracture in 2011, she suffered a stress fracture to the same foot and missed the selection boat.
Not that she missed out on the London 2012 experience. "I was actually there on Super Saturday," Twell said. "I got to see Jess, Greg and Mo. It was quite funny, because I'd had a Thai curry at the stadium and got food poisoning. I started feeling a bit queasy and faint.
"I saw Mo's first two laps in the 10,000m, then ran to the toilet and was literally puking up. When I came back I was standing in the gangway breathing into a sick-bag, watching Mo run the last five laps. I had to watch it – and it was electrifying. It was the highlight of the year."
It says much about the admirable individual Twell happens to be that she swallowed her disappointment and embraced the 2012 experience, sick-bag and all. Four years earlier she had competed aged 18 in the Olympic 1500m heats in Beijing.
After battling back from the triple ankle fracture, her selection hopes came to grief when she broke down while warming up for the 5,000m at the European Championships in Helsinki in June.
"It just wasn't meant to be," she said. "But I'm glad that it gave me an incentive and purpose for four years of my life, and I'm glad that I still got to celebrate the Games.
"I was in tears when I heard that [athletics captain] Dai Greene had mentioned me in his team speech. For him to use me as motivation for all those athletes… it made me feel like I was part of it in some way."
The former world junior 1500m champion is now a part-time athlete, and part-time worker with a children's fitness company, having been dropped from the Lottery funding list. She is not the type to do bitterness, but the decision did come as a jolt – as did the insistence of Charles van Commenee, the now former head coach of UK Athletics, that she ran a time trial before the European Championships, something which Twell feels exacerbated her ankle problem.
"It could have been managed a bit better," she said. "But there is nothing I can do about it now. It's not something I'm going to linger on. I'm just happy to be back in a GB vest and looking to the future."
Register for free to continue reading
Registration is a free and easy way to support our truly independent journalism
By registering, you will also enjoy limited access to Premium articles, exclusive newsletters, commenting, and virtual events with our leading journalists
Already have an account? sign in
Join our new commenting forum
Join thought-provoking conversations, follow other Independent readers and see their replies