The story of how Usain Bolt's fairy tale ending veered wildly off script in London
Humbled by his long-time rival Justin Gatlin before finding himself hamstrung in the relay, Bolt's storied career was not meant to end the way it did at his final World Championships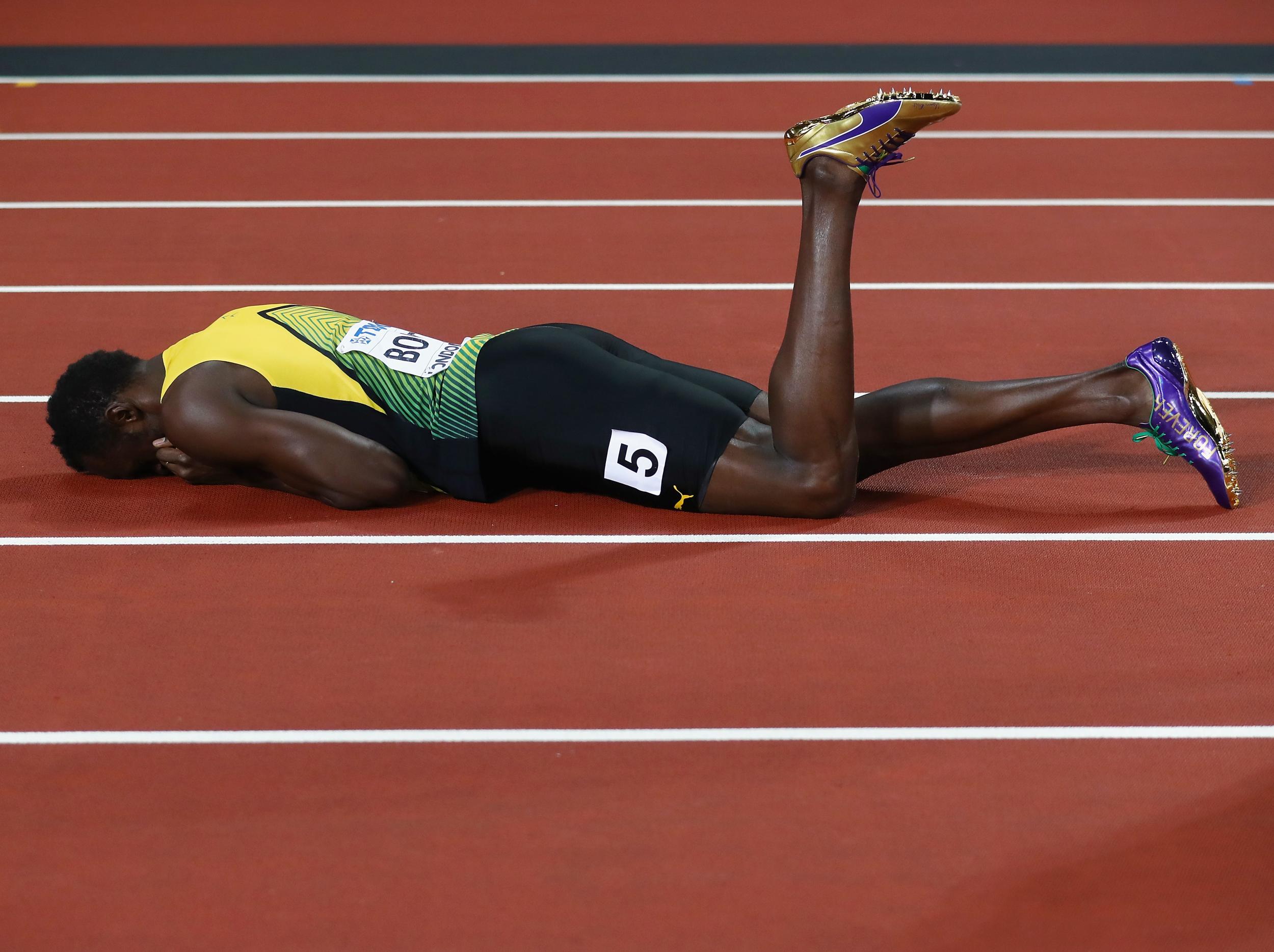 As fairytale endings go, this was one that certainly forgot to follow the script. For Usain Bolt, these World Championships had been touted as his farewell party; a chance for the eight-time Olympian to sign off his illustrious career in style. But much to the horror of the Jamaican's adoring masses, this was a send-off that ended with red wine on the carpet, smashed plates on the floor and thousands of pounds worth in damages.
Enter culprit No 1: Justin Gatlin. Living up to his villainous billing all too literally, the American gatecrashed the main event with a degree of impertinence that left a bitter aftertaste in the mouth.
With a single, admonishing finger raised to his lips, having just run the race of his life to claim a third world title and leave Bolt ruminating with bronze, the 35-year-old made a mockery of the sporting narrative that insists virtue and honesty will always triumph over the dark arts.
Edging to victory by the smallest of margins last weekend – 0.03 seconds to be precise – Gatlin momentarily reduced a deafening wall of noise to a stunned, stomach-turning silence as the home crowd registered what they had just witnessed.
Up next on the interloper line-up: Great Britain's very own men's relay team. Positioned in the outer lanes at the London Stadium, as Gatlin had been, it was now the turn of the hosts to rip up the script.
Putting together a well-executed combination of changeovers and sprints, GB stormed to victory in 37.47 seconds to claim the nation's first major gold since Athens 2004. It was a victory the British quartet earned and deserved - and not one borne out by the shortcomings of their rivals.
In contrast to the hostile reception it had put on for Gatlin seven days prior, the London crowd embraced its homegrown heroes with a frenzied, gold-induced euphoria.
As Nathaneel Mitchell-Blake roared with delight after confirmation of victory, London roared back. It had been the 23-year-old, born and raised in the capital, who anchored his team to victory, pipping USA to first place on the finishing line with a well-timed dip of the head. Making the most of their big night, Mitchell-Blake and his team-mates revelled in their new-found status as world champions, lapping up every moment of it.
Which brings us to the man himself. Having spent the last nine years in defiance of the stopwatch, it seems Father Time has finally caught up with the world's fastest man - as this evening all too painfully demonstrated.
Stretched out on the track, clutching his hamstring in agony, here was athletics' Goliath in a moment of rare vulnerability, caught like a rabbit in the bright lights of the London Stadium. Offset against the unexpected success of Great Britain's relay team, it was an image that added to the emotional overload of the evening. Struck down on the final straight with 50m to go, Bolt's farewell was brought to a close in agonising fashion.
His team-mates were left searching for an explanation, and eventually turned to the organisers themselves as they blamed a delay in proceedings for Bolt's injury. "I think they were holding us too long in the call room," Yohan Blake insisted. "Usain was really cold. In fact Usain said to me, 'Yohan, I think this is crazy'."
But the painful reality of the matter is that, ultimately, Bolt should never have competed at this year's Championships.
Usain Bolt's best moments
Show all 10
Make no doubt, the events of the past week barely scratch the surface of the Jamaican's glorious career. After all, this is a man whose charisma, affability and mind-boggling performances on the track injected new life into a sport that, prior to his arrival, was in desperate need of star-studded appeal. Those with the broadest shoulders carry the greatest weight, goes the saying, and Bolt embraced this responsibility with an air of boyish insouciance that has come to embody his career and persona over the years.
After the highs of Beijing, London and Rio, coupled with his dominance at the Worlds, the 30-year-old's legend and legacy had long been secured. Why, then, risk ending his career with the disappointment of a missed gold medal or, worse, the ignominy of an unfinished race?
As mosts athlete at the top of their game will attest to, the desire to compete and taste glory can prove infuriatingly addictive. "I live for competition," Bolt said earlier in his career. "I thrive on competition. I live to compete against the best."
But, in truth, the aim had in fact been to exit centre stage after Rio 2016. "That was the initial plan [to sign off after Rio]," he revealed in 2015. "But my sponsor has asked me to go on for another year; to 2017 and London. But I'll be doing one event, the 100m. I can concentrate on that, and on retiring on a winning note."
Bolt's admission may have come two years ago before the Beijing World Championships and Rio Games, but it's somewhat uncomfortable to hear that commercial pressure determined the Jamaican's retirement date.
Of course, Bolt was not to know that one year on after making these comments he would claim three more gold medals in Brazil - but that should have been the point at which the sprinter called it a day.
A victim of his own success, the truth is that the Jamaican didn't need these Championships. If anything, we needed him. An athlete without parallel in his discipline, and a sportsman who has drawn comparisons with the likes of Mohammed Ali and Pele, the 30-year-old had little to prove this summer.
Gatlin's gold may have shaken the sport, while GB's victory reaffirmed our love for it, but this past week will do nothing to diminish Bolt's legend - it was, instead, a timely reminder that he is human after all.
Join our commenting forum
Join thought-provoking conversations, follow other Independent readers and see their replies