World Athletics Championships 2015: Bronze medalist Martyn Rooney tempted to name his son Bird's Nest – or Wayne
Bronze medalist jokes about naming his son after triumphant display
Matt Majendie
Sunday 30 August 2015 19:02 Comments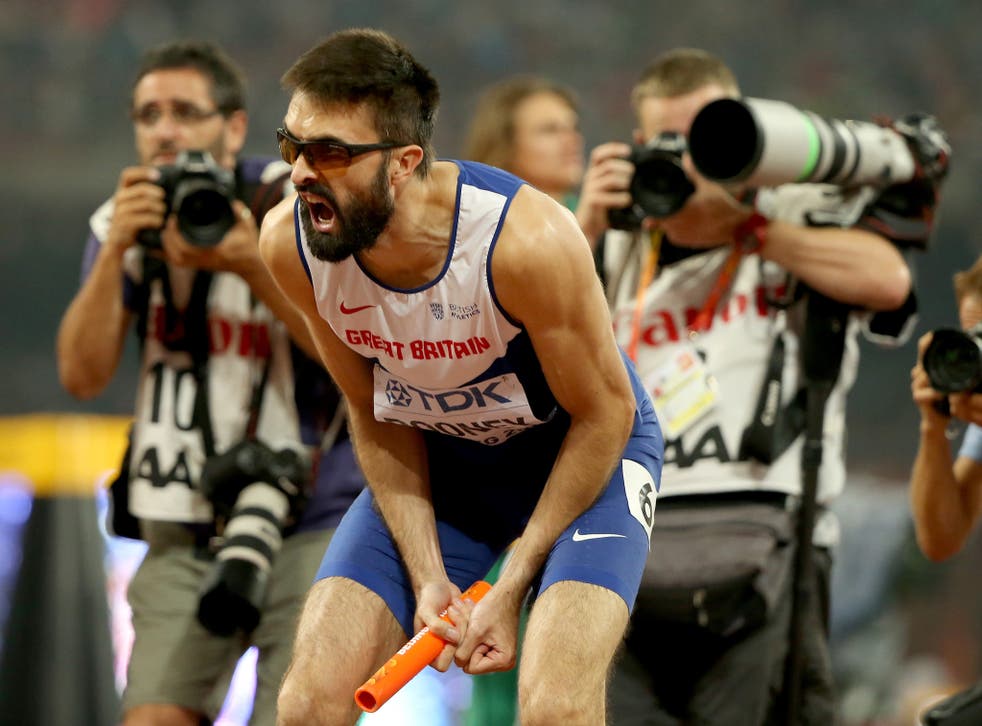 Martyn Rooney joked he was tempted to call his son Bird's Nest after anchoring home Britain to a bronze medal on a climactic final night at the World Championships here in Beijing yesterday.
Rooney missed the birth of his son, as yet unnamed, on Thursday to captain the British team – and the decision was repaid as he dramatically caught Jamaica's Javon Francis with his final stride to sneak a medal in the 4x400m relay.
It added to a previous bronze in the same event by the women's quartet, which took the medal tally to seven and left Britain fourth overall in the standings. Only twice in history have they won more medals at the Worlds – a record 10 in 1993 and eight in 1987 – and they have never won more golds than the four achieved in China.
Rooney's bronze in the final race of the championships was a fitting finale and ensured the team comfortably achieved the six to eight medal target set by UK Sport.
Rooney and his wife Kate, a pole vaulter, are currently mulling over names but Rooney joked he could yet turn to England football captain Wayne Rooney for inspiration
"Wayne's a great name but we haven't decided yet," he said. "There are lots of names being thrown at me. I'm thinking Bird's Nest but I can't wait to meet him.
"The baby, my first child, it's a special week for me. I couldn't go home without bringing something back to my wife. I'm proud of what she's done and hopefully she's proud of me."
His wife, meanwhile, tweeted that the couple had named their son: "It's official… Bronze Beijing Rooney. Just kidding guys."
Rabah Yousif, a finalist in the individual 400m event, opened the relay for Britain with Delano Williams and Jarryd Dunn completing a lap apiece before Rooney, who had missed out on the individual final, just pipped Francis on the line.
The United States won gold in that men's race but suffered a shock defeat to Jamaica in the women's event as the British line-up of Christine Ohuruogu, Eilidh Child, Anyika Onuora and Seren Bundy-Davies claimed the bronze.
For Ohuruogu, it was a redemption of sorts after the defending champion finished last in the individual final.
"After Thursday I'd had an autopsy of what went wrong because it was a tough one," she said. "I realise I didn't make the best judgement call. It was the first time in 10 years I've made such a fatal error and it cost me big time. It's a wake-up call for people to stop hanging medals around my neck beforehand."
Register for free to continue reading
Registration is a free and easy way to support our truly independent journalism
By registering, you will also enjoy limited access to Premium articles, exclusive newsletters, commenting, and virtual events with our leading journalists
Already have an account? sign in
Join our new commenting forum
Join thought-provoking conversations, follow other Independent readers and see their replies