Zharnel Hughes reveals hospital trip after completing sprint double
Hughes is the fastest man in the world this year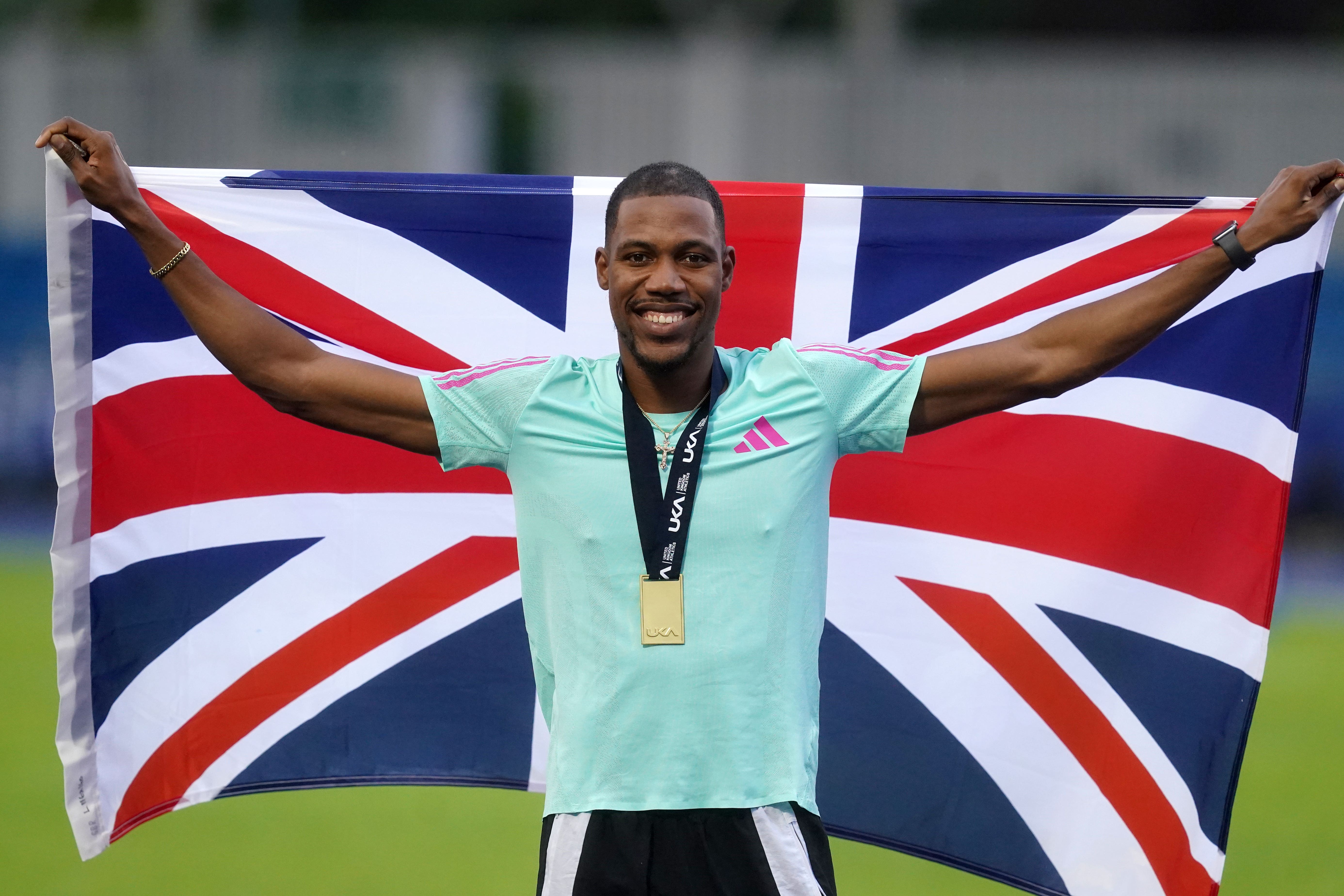 Zharnel Hughes revealed he has ended up in hospital in the pursuit of glory after underlining his World Championships credentials.
The 27-year-old is the fastest man in the world this year over 100m having clocked 9.83 seconds in New York last month.
That broke Linford Christie's 30-year national record and Hughes ran 19.77 seconds to win the 200m title at the British Championships on Sunday.
It completed the double after his 100m victory on Saturday. His time in the 200m was just a tenth of a second behind Noah Lyles' world lead but would not have counted because of the 2.3m/second wind.
But Hughes, who needed a trip to hospital in Jamaica earlier this year after a punishing training session, knows he is a contender for titles at next month's Worlds in Budapest.
"I am the fastest man in the world and it didn't happen overnight," he said, aiming to end the 20-year British medal drought in the men's 100m at the World Championships.
"It took a lot of hard work. If you were to see some of the clips of me training you will see why I'm so happy with the results.
"I push myself tirelessly. I ended up in hospital because I couldn't breathe, my sugar dropped a little bit but I'm here, excited and running fast. I was forcing myself to hit the times and the recovery times.
"That day was a difficult day for training. I over-exerted myself. I didn't pass out but I couldn't recover properly and every time I tried to get up I couldn't stand up for long.
"I'm grateful to see the rewards happening for the hard work. We still have time to go and I can get a lot faster. I know I'm in the shape to run 19 seconds, that's what is exciting. It can come again."
Meanwhile, Daryll Neita defended her 200m title in Manchester after opting to focus on the longer distance and not aim to retain last year's 100m crown.
She said: "I got my first ever individual medals last year, both were probably not as good as they should have been so I went into the winter and worked on so many things and my mindset has evolved.
"I'm not scared to beat people, I want to be number one. I also know where the ranks are, I know who is running 10.6 and 10.7 (in the 100m). I'm not there yet but I'm working towards it.
"I've done a lot of 100m, but not a lot of 200m. This week was getting more practice at the event. I'm not bothered about people's predictions, opinions or validations."
Laura Muir suffered a surprise 1500m defeat as she finished second to Katie Snowden. Having split with long-term coach Andy Young earlier this year she is training on her own in the lead up to Budapest.
"There's a lot going on at the moment," she said.
Keely Hodgkinson also threw down the gauntlet to her rivals and is ready to fight for global gold.
The 21-year-old is set for Budapest as she prepares to face Athing Mu and Mary Moraa.
The USA's Mu has beaten Hodgkinson to 800m gold at the Olympics and last year's World Championships in Eugene, with the Brit twice forced to settle for silver.
Kenya's Moraa beat Hodgkinson at the Lausanne Diamond League meet last month and came third in the States last year.
But Hodgkinson, who won the 800m at the British Championships on Sunday, is enjoying the battle and having a target on her back after her stunning rise since becoming the youngest ever women's 800m European indoor champion in 2021.
She said: "I do like it; I like the idea of give it all you've got – try to beat me today. Some days I'll lose but hopefully most of the time I'll win.
"They say getting to the top and maintaining it is the hardest part, I found that. There's a bit more of a target on your back but I enjoy it, I don't mind it.
"I'm looking forward to it, we'll race each other and see who comes out on top. I think this year will maybe be closer than previous years between all three of us
"It's hard because I don't race them very often. Every year is different, indoors I was beating Mary quite easily, now it's really hard. I don't know what can happen. Going into Budapest I'll run my race and no-one else's."
Katarina Johnson-Thompson threw 12.86m in the shot put before running 23.58 seconds to come third in her 200m heat as she prepares for the heptathlon in Hungary.
Join our commenting forum
Join thought-provoking conversations, follow other Independent readers and see their replies