Boxing, Frank Warren: Quarter of a century of fighting his corner
After 25 high-octane years, during which he has scuffled with Mike Tyson and survived an attempt on his life, Britain's lord of the rings is still promoting champions
The Brian Viner Interview
Friday 09 December 2005 01:00 Comments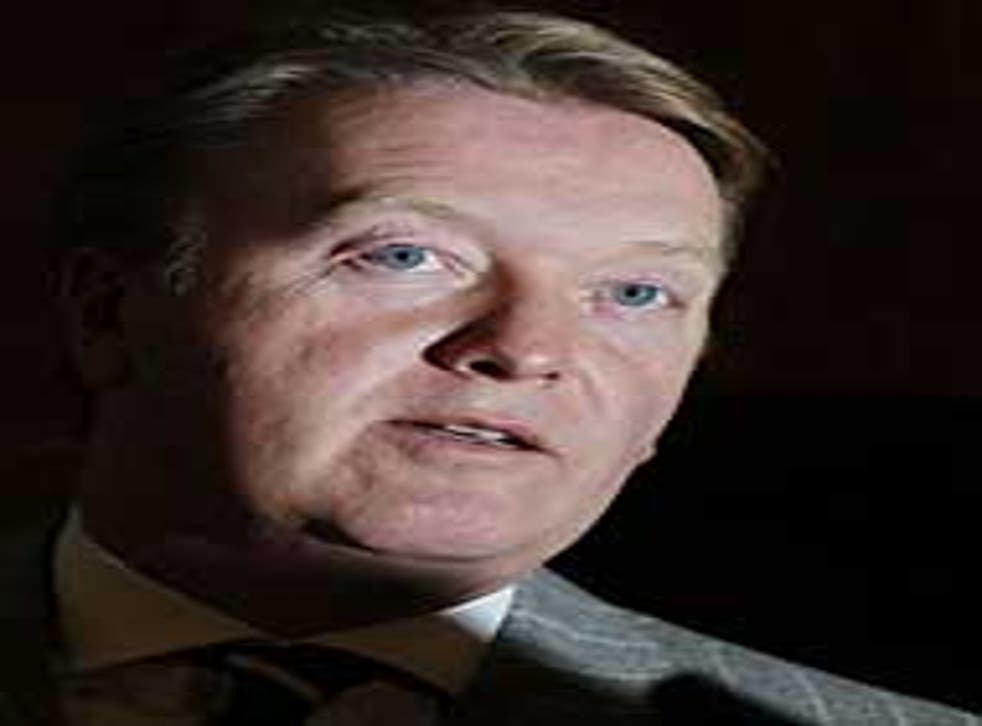 Tomorrow night's eagerly awaited fight between Danny Williams and Audley Harrison for the vacant Commonwealth heavyweight title is an intriguing prospect for a number of reasons, but nothing raises quite as much intrigue as the date.
It was on 10 December 1980, two days after John Lennon's murder, that Frank Warren, the man putting Williams in the ring with Harrison, promoted his first licensed show. It was a fight at the Bloomsbury Crest Hotel between two little-known American heavyweights, and Warren lost his shirt. He had arranged for the fight to be televised but found to his horror that the British Boxing Board of Control had regulations against first-time promoters setting up TV dates. Some £17,500 poorer, he then made it his business to understand the board's rules better than the board did.
Since that inauspicious first night, Warren's 25-year career has been almost laughably eventful. Boxing promoters do not in general lead dull lives, but here is a man who has gone toe-to-toe with the taxman, a gunman and a raging Mike Tyson. Who fought Don King in a £7m lawsuit and lost. Who would have been on the Pan-Am flight that exploded over Lockerbie, had he made it to the airport on time. Whose stable has included world champions Chris Eubank, Nigel Benn, Terry Marsh, Frank Bruno, Steve Collins, Naseem Hamed, Ricky Hatton and Joe Calzaghe. His is a silver jubilee with knobs on.
The anniversary was celebrated in lavish style last Monday night at The Dorchester, not bad for a lad who grew up in a fourth-floor council flat in Islington. The irresistible then-and-now contrast is made by everyone who interviews Warren, but journalists embroider it at their peril: he once successfully sued the Daily Mirror for a single sentence in what was generally a most complimentary article, but asserted that he had risen from the gutter. This is but one of many examples of his litigious inclinations, and he chuckles when I remind him of it.
"Ron Wills wrote that. A really nice bloke, and it was a nice piece, but that was an insult to my mum. I didn't live in a gutter. I lived in a council block of flats."
On Monday at The Dorchester, a group of Warren's pals from those Islington days stood up and raised a glass to him. At an adjacent table, so did Lord Coe of Ranmore. Across the room, so did Warren's Uncle Bob, who once served a prison sentence for attacking the gangster Jack Spot.
Whether he likes it or not, the life of Frank Warren continues to be defined by contrasts: between his ungutterlike but nevertheless humble childhood home and the grandeur with which he now lives in Hertfordshire; between some of his rough, tough old friends and some of the more genteel newer ones; between financial boom and bust; between boxing triumph and tragedy; between lying ashen-faced in a Barking street after being shot in the chest by a masked would-be assassin, and pink good health.
The Warren I meet is the healthy pink version, both physically and in business terms. He has just presided over a press conference above a restaurant in central London, called to announce a crackerjack of a fight next March between Calzaghe and the American Jeff Lacy. It is days like this, he says, when everything finally falls into place, that make it all worthwhile. A few years ago he insisted that he would be out of boxing by the age of 50. He is now 54. "But Amir Khan said he would retire when he's 25, and we all know he won't. I'm still enjoying it."
Khan is another of his fighters, another who was at The Dorchester, looking about as comfortable as you would expect of an 18-year-old in a wing collar. Yet when he raised a non-alcoholic glass to Warren, he looked as sincere as anybody there. He and his father, Shah, who beamed his way through the evening, know they are in good hands.
The world light-welterweight champion Hatton, however, decided he was not. Warren promoted Hatton's momentous fight against Kosta Tszyu, but since then there has been an acrimonious split.
Indeed, rather a lot of Warren's close relationships have ended in acrimony these past 25 years, and so I ask the question: is it boxing or is it him?
He smiles. "I wouldn't say a lot of close relationships have ended like that, just some high-profile ones. The Ricky Hatton thing recently annoys me. It's only about money. It's always about money. But fall-outs happen in all walks of life, and sport's a particularly high-octane business. Look at Roy Keane and Alex Ferguson. I had lunch last week with Naseem Hamed. He said that his brother had told him this or that, I said, 'Well, this is my version'.
"I had great fun in those early days with him. I remember going into his dressing-room before his first or second fight with me, and there was nobody in there. Within a few years there were more people in his dressing-room than there were in the hall. It happens. Sportsmen gain entourages. Nicolas Anelka was potentially a great footballer but his family got involved and it ended in tears."
Warren speaks generously of most people with whom he has traded verbal blows in public. Even Don King was invited to his bash. But there are some notable exceptions. One is Mike Tyson, with whom he famously had a "scuffle" after refusing to foot the bill for several hundred thousand pound's worth of jewellery that Tyson had chosen.
Warren's engaging candour tends to evaporate when the subject of the Tyson altercation comes up. "Obviously it wasn't a fist fight," he tells me. "If I'd been younger I would have got something and hit him over the head with it. There was a bit of scuffling and in the end it was resolved. He's very intelligent and very manipulative. You see him in press conferences and everyone thinks he's baring his soul. But he hasn't got a soul."
All the same, Warren retains a grudging respect for Tyson that is conspicuously absent when he is invited to discuss Terry Marsh, the former world light-welterweight champion who in 1990 was acquitted of attempting to murder him.
I ask Warren whether he has read Marsh's recently published autobiography, and for the first and only time in our conversation, his eyes narrow and his soft voice hardens. "I've heard about it. I'll maybe have a glance at it."
"Who cares about it? From what I gather it's mostly about me, but if I wrote a book he'd be a chapter, if that. He was another one who thought he was a megastar. He won a fight in Basildon in a 2,500-seat tent, and he thinks there were 6,000 in there. Please. In court he referred to my Uncle Bob. He said you don't choose who your family are. Well, I'd choose Bob to be my uncle any time. He's a tremendous man."
On the question of who shot him, Warren says that he knows who pulled the trigger. "Course I do. I'm 100 per cent sure. He was a coward, who couldn't even do that right, from six feet away.
"It cost me a lot [principally his Docklands venue, the London Arena, because a deal to secure its future fell through when the bank decided it would rather not do business with a man who had been attacked by a masked gunman] but it did me a favour, made me realise there's more to life than boxing. I had a young family at the time. When I got shot my wife was pregnant."
He has six children from his two marriages, and admits to anxiety as well as pride that the younger ones in particular have been raised amid the trappings of wealth; after all, a substantially less privileged start in life eventually led him to a standing ovation at The Dorchester.
"But they're level-headed kids," he says. "All you can do is try to instil in them a sense of fairness and decency, and I think they have that. And it's been good to give them what I never had. I still regret that I didn't go to university. I might still do it. I left school at 15 and trundled along. But I never went without. It was important where I came from that when you went out you had a good suit on and a few quid in your pocket."
The few quid became a few more when he saw the potential of becoming an unlicensed boxing promoter, arranging fights for his second cousin Lenny McLean, who later loomed large and ferocious in the film Lock, Stock and Two Smoking Barrels.
"He was a terrible bully, Lenny. One of the biggest bullies you will ever meet, always intimidating people. I had a couple of scrapes with him myself.
"He used to say he'd had 3,000 fights, which was crap. He had 15 fights and lost five. Anyway, he came to see me after one of them and said, 'Can you make a rematch?' He was seriously unfit, so I got him a trainer, a guy who'd looked after Chris Finnegan, and made the rematch at the Rainbow, Finsbury Park. Lenny won and that's how it all started."
There have been times since that night in Finsbury Park when he has fleetingly, and sometimes not so fleetingly, lost his zest for boxing. For example, he promoted the 1995 super-middleweight fight between Nigel Benn and Gerald McClellan, which ended with McClellan suffering a fatal subdural haematoma. Afterwards, Warren wondered whether to find something else to do for a living.
"I remember talking to the Board of Control medical officer, Adrian Whiteson, who said, 'Frank, boxing's going to go on whether you're in it or not'. And I thought I could do more good than harm. I did the Michael Watson benefit even though I'd never promoted him, and I paid for his MRI scans for two years. Not one other promoter paid a penny towards those MRI scans. I find that amazing. Here was an opportunity for the guys sitting on the safe side of ropes to do something."
It is indubitably true that Warren - while making a great deal of money for himself, of course - has in many ways been a force for good in boxing. But to some people that is an oxymoron: they maintain that there cannot be anything good about boxing because boxing is fundamentally wrong. And not only wrong, they say, but crooked.
This is the subject on which Warren is at his most passionate and eloquent. "Think about it," he says. "In all the years of serious tabloid journalism, not one boxer has ever sold a story saying he threw a fight. There's been matches fixed in cricket, and ball-tampering, and people breaking each other's legs in ice-skating, and football matches thrown, and all that nonsense with the Rooney transfer. And look how many jockeys and trainers have been done in racing, supposedly the sport of kings.
"It's the same in business. The dirty tricks campaign between Virgin and British Airways, I could go on and on. In boxing? There's been none of that, yet it's still an easy target. Yes, on rare occasions there are tragedies, but it is as well regulated as any sport."
Warren sits back and smiles, confident after 25 years that he knows the regulations better than anyone.
Register for free to continue reading
Registration is a free and easy way to support our truly independent journalism
By registering, you will also enjoy limited access to Premium articles, exclusive newsletters, commenting, and virtual events with our leading journalists
Already have an account? sign in
Join our new commenting forum
Join thought-provoking conversations, follow other Independent readers and see their replies