How the British Basketball funding crisis was brought to the fore by UK Sport's Winter Olympic outlay
In the inner-cities, where basketball flourishes, there's a growing feeling that the inexorable push for medals is having an impact on something far more fundamental
Wednesday 28 February 2018 15:16
comments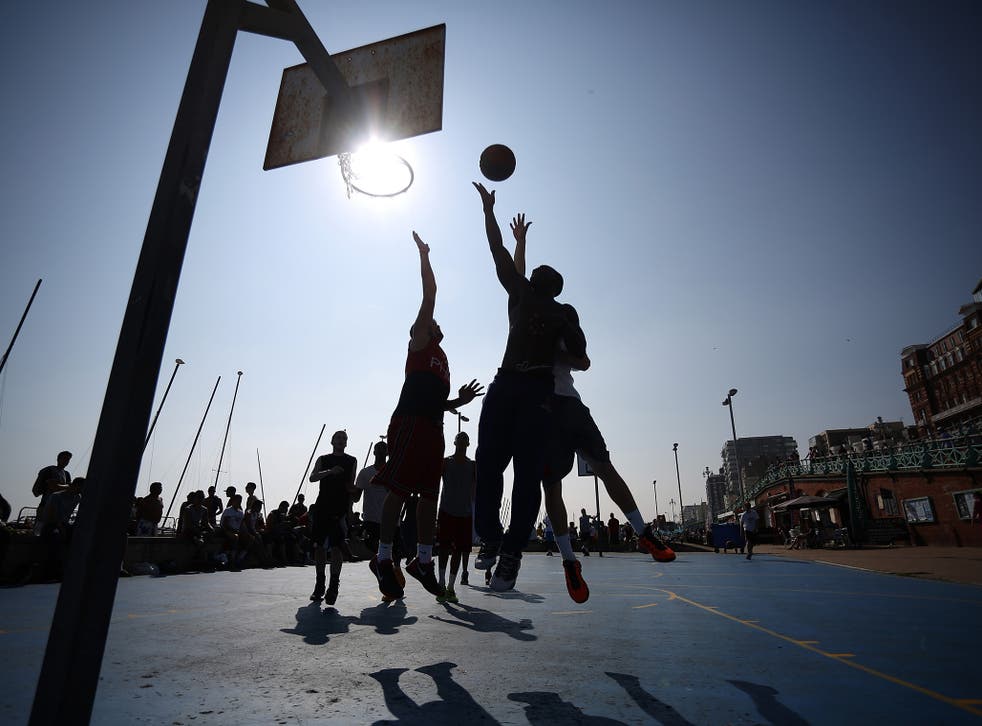 It's little wonder that Team GB's success in the Winter Olympics has received a frosty reception in some quarters.
A haul of five medals – one gold and four bronze – was a record haul for country that, despite the current freeze, is not known for its stunning Alpine vistas.
And in the inner-cities - far away from the rarefied surroundings of the University of Bath, the base of the British Bobsleigh & Skeleton Association – there's a growing feeling that the inexorable push for medals is having an impact on something far more fundamental.
The need for young people to stay active and be given the opportunity aspire towards something achievable, like representing Great Britain in a sport like basketball or volleyball.
As it stands, and as reported exclusively by Independent Sport, British Basketball may have no international team to speak of by the time the time the first shoots of spring are clearly visible through currently frozen ground.
For a sport that remains the second largest participation team sport for teenagers in the country behind football, that's surely a reason for the government and the sporting authorities under its auspices to hang their heads in shame.
Lisa Wainwright, the CEO of British Basketball, is keen to emphasise that she's in no mood to pour cold water on the success of our Winter Olympic athletes – athletes who, undeniably, have worked incredibly hard and against considerable odds given the lack of snow and ice, to achieve their mountainous Olympic ambitions.
She does, though, think that there is a gaping hole in policy when it comes to ensuring that sports like basketball aren't left behind. And that, generally speaking, participation and getting young people of all ages and ethnicities active is worth just as much as a shiny gong around the neck of an athlete.
"Most people will you that it takes 12 years at least to make a medallist," says Wainwright. "Take a sport like hockey – that's the perfect case, they've had a great amount of funding and they've had some phenomenal outcomes.
"That's where policies has gone wrong, particularly with team sports. We should have had funding, not just for one (Olympic) Games or two Games but for three.
"In terms of what we (Team GB) achieved in 2012 or 2016 then you can't find fault. But I have to ask – what is the purpose of a medal?
"I say that in relation to inspiring a nation. Policy could be different. For kids between the ages of 11 and 15, basketball is the second largest team sport in the country after football.
"The reach that this has in terms of inspiring kids in hard-to-reach areas of society is huge."
The success of UK Sport is, by and large, judged by Olympic medal-hauls, while Sport England's remit focuses primarily on participation.
All of which, according to Wainwright, leaves a huge hole in the middle that shows no sign of being filled by either body.
"The kids who are inspired at the bottom and want to come through to the top – but in certain team sports there's no linkage," says Wainwright.
"There's absolutely nothing. I don't want to yell about UK Sport policy or Sport England policy – but the middle bit, the funding gap, the policy gap, is something that nobody is picking up.
Speaking earlier this week, Sir Hugh Robertson, the chairman of the British Olympic Association, said he was frustrated with the notion that Winter Olympic sports were someone competing against sports like basketball.
"There is a really good argument about basketball and its effect on participation among lower income group, but that argument should be had in the context of the amount that we spend on participation, not in the context of the amount of money that we devote to winter sports that is there as a package we devote to winning medals."
The argument would be that more of that package could just as well be spent funding a basketball team that didn't exactly set the world alight in London in 2012 but certainly did enough to hint of better times ahead.
Wainwright says it would cost £1m to fund British Basketball's teams – men's, women's and youth sides – over a 12-month period. When £4.8m is spent on speed skating, it's understandable that British Basketball feels as marginalised as some of the sections of society who play and enjoy the sport.
"We know that 18% of Basketball England – a grassroots organisation – are from deprived communities," says Wainwright. "To get an escape, to play basketball with their mates and to find a way to gain a scholarship to university in America, instead of paying the costs to go to university in this country, and then have a profession of playing a sport that they love – for me, that has to be a reason for finding a policy change. These kids deserve better.
"I won't take anything away from those Winter Olympians and what they have achieved but they will inspire certain people. If we have role models in British Basketball then they will inspire those kids in urban communities."
Join our new commenting forum
Join thought-provoking conversations, follow other Independent readers and see their replies