Conor McGregor is one of the most marketable sports personalities in the world – and he stands to earn even more money if he reclaims his UFC lightweight title by becoming the first man ever to defeat Khabib Nurmagomedov.
Dana White has dubbed the fight "the biggest in UFC history" and the pay-per-view numbers could even reach the 3m mark.
McGregor – undoubtedly the biggest star in the UFC – has said that he expects earn around $50m for fighting Khabib: the biggest payday of his mixed martial arts career.
Providing the fight goes the full distance – which we're not expecting – that works out as $10m per-round, $2m per-minute and a whopping $33k per second.
Conor McGregor's most controversial moments

Show all 13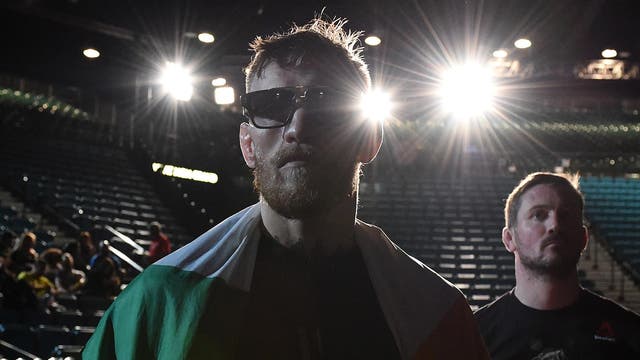 A huge sum … but not quite the $100m he earned for fighting Floyd Mayweather in Las Vegas last summer.
And his official fight salary is a lot less. According to salaries released earlier this week by the Nevada State Athletic Commission, McGregor will take home a flat $3m for fighting Khabib – a sum which of course excludes any bonuses, PPV revenue and commercial deals.
Nurmagomedov will meanwhile take home $2m – very much the B-Side of the bout despite holding the lightweight title.
It's important to note those figures do not include deductions for items such as insurance, licenses and taxes. Nor do they include money paid by sponsors, including the official UFC Athlete Outfitting sponsorship program.
'Locker room' and special discretionary bonuses are not includes, nor are the PPV cuts McGregor and Nurmagomedov will receive, hence why the actual amounts made by the men will be far, far higher.
Here is the full list of UFC 229 disclosed paydays:
Khabib Nurmagomedov: $2 million (no win bonus) vs. Conor McGregor: $3 million (no win bonus)
Tony Ferguson: $150,000 to show ($5,000 to win) vs Anthony Pettis: $145,000 to show ($145,000 to win)
Ovince Saint Preux: $86,000 to show ($86,000 to win) vs. Dominick Reyes: $45,000 to show ($45,000 to win)
Derrick Lewis: $135,000 to show ($135,000 to win) vs. Alexander Volkov: $75,000 to show ($75,000 to win)
Michelle Waterson: $50,000 to show ($50,000 to win) vs. Felice Herrig: $40,000 to show ($40,000 to win)
Sergio Pettis: $46,000 to show ($46,000 to win) vs. Jussier Silva: $43,000 to show ($43,000 to win)
Vicente Luque: $38,000 to show ($38,000 to win) vs. Jalin Turner: $10,000 to show ($10,000 to win)
Aspen Ladd: $12,000 to show ($12,000 to win) vs. Tonya Evinger: $30,000 to show ($30,000 to win)
Scott Holtzman: $30,000 to show ($30,000 to win) vs. Alan Patrick: $30,000 to show ($30,000 to win)
Lina Lansberg: $20,000 to show ($20,000 to win) vs. Yana Kunitskaya: $25,000 to show ($25,000 to win)
Grey Maynard: $54,000 to show ($54,000 to win) vs. Nik Lentz: $50,000 to show ($50,000 to win)
Ryan LaFlare: $33,000 to show ($33,000 to win) vs. Tony Martin: $28,000 to show ($28,000 to win)
Join our new commenting forum
Join thought-provoking conversations, follow other Independent readers and see their replies