UFC champion Israel Adesanya apologises for threatening to make opponent 'crumble like Twin Towers'
Middleweight champion made the offensive remark to UFC 248 opponent Yoel Romero
Jack de Menezes
Wednesday 26 February 2020 13:10 Comments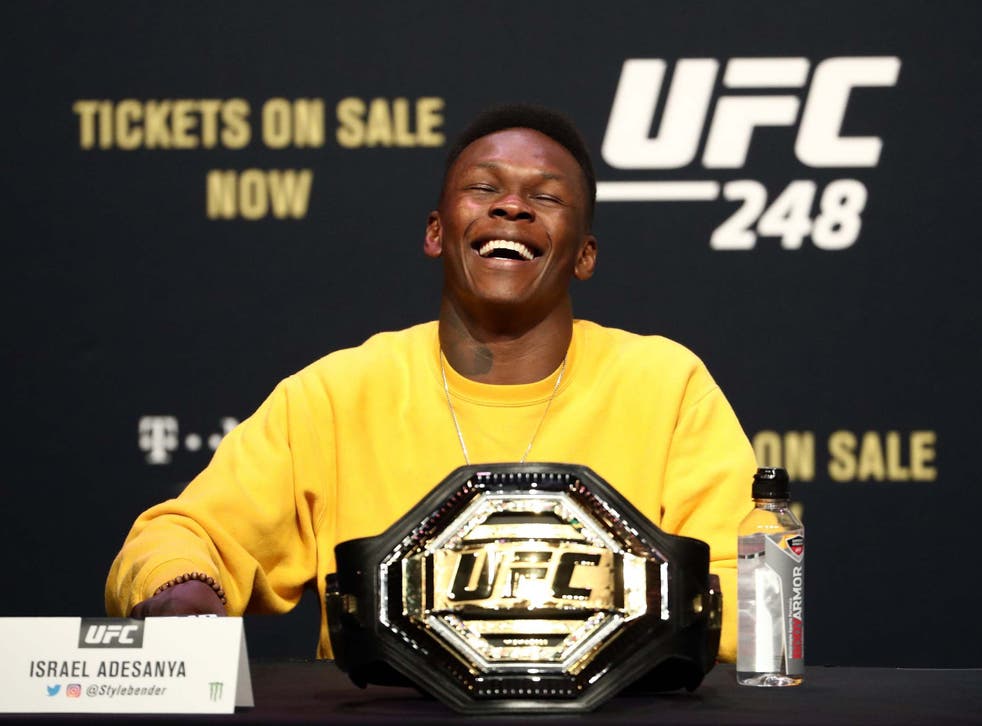 UFC middleweight champion Israel Adesanya has apologised after threatening to make an opponent "crumble like the Twin Towers".
The 30-year-old Nigerian-born New Zealand fighter made the distasteful claim to middleweight rival Yoel Romero, with the two slated to face off on 7 March in the UFC 248 main event.
Speaking last Friday at a UFC event in Auckland, Adesanya made the misguided comment in relation to fighters dodging Romero due to his reputation, though it did not go down well with fans in attendance.
"He's the guy that no one wants to fight," Adesanya said. "He's the oogy-boogeyman. Even Darren Till – 'Oh, I'll fight anyone except Yoel.' Like, why?
"I've seen him get rocked. I've seen him get stopped. I've seen him cry. I'll make him cry.
"He's human like everyone else. Everyone likes to make this myth like, he's like kicking steel; you can hit him and he doesn't fall. I'll touch him enough times that eventually, he'll crumble like the Twin Towers."
A total of 2,763 people were killed in the World Trade Center terror attack as part of the wider September 11 terrorist attacks, and the remark unsurprisingly attracted fierce criticism from fellow fighters and fans, not least middleweight rival Paulo Costa.
Adesanya soon issued an apology for his words, admitting that his attempted joke was wrong.
"You speak on the mic enough times and you're bound to miss the mark with some bars," he wrote on Twitter. "I did on this one and for that I'm sorry. I'll be more careful in (the) future with my words."
"I never made a joke about people dying or made light of the tragic event that was 9/11."
UFC 245 in pictures

Show all 17
But Brazilian Costa issued a strong response to Adesanya's comments that included its own derogatory slur, with the incident proving a controversy the UFC would rather have done without given the controversy that it is attracting.
"Adesanya, you are a disgusting piece of s*it," Costa wrote. "How dare you make a joke disrespecting the thousands who died and the heroic firefighters and police.
"I will really kill you, dirty kiwi."
Following Adesanya's apology, Costa renewed his verbal tirade on the reigning middleweight champion. "Glad you learned your lesson," Costa said. "Now shut your big mouth already. Respect the people and be ready to be erased. Skinny clown."
Adesanya has been slated to face Costa ever since he confronted him after beating Robert Whittaker to win the middleweight championship at UFC 243, though a long-standing bicep injury has left the Brazilian out of action.
Register for free to continue reading
Registration is a free and easy way to support our truly independent journalism
By registering, you will also enjoy limited access to Premium articles, exclusive newsletters, commenting, and virtual events with our leading journalists
Already have an account? sign in
Join our new commenting forum
Join thought-provoking conversations, follow other Independent readers and see their replies