UFC 248 result: Israel Adesanya beats Yoel Romero in uneventful middleweight title fight
'Last Stylebender' is undefeated in 19 bouts after a successful first title defence on Saturday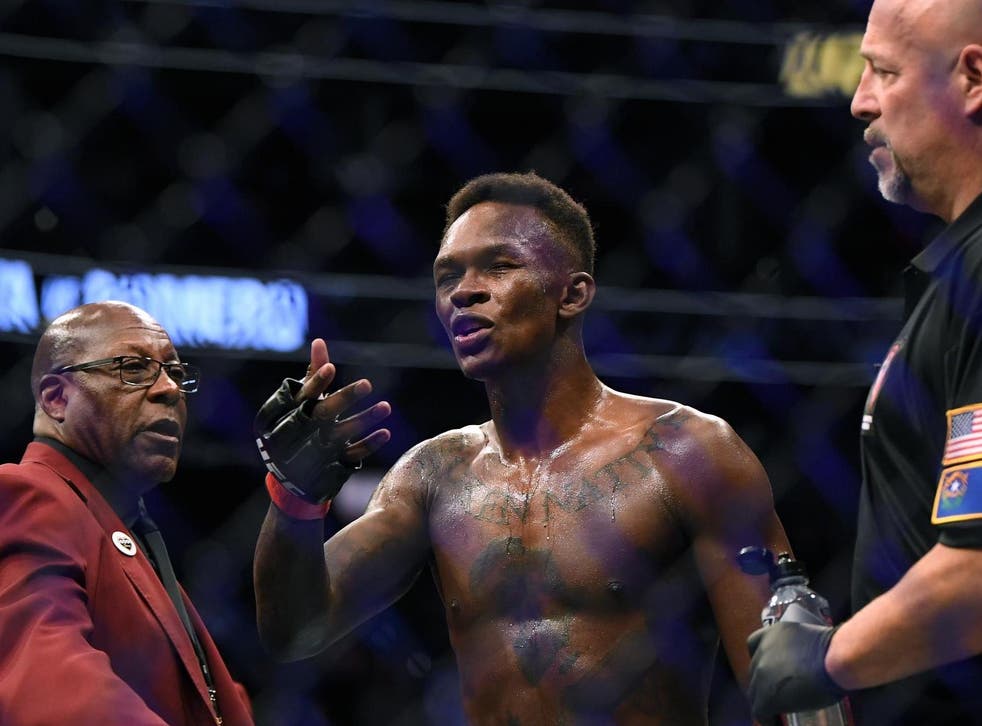 Israel Adesanya called out Yoel Romero. No one calls out Yoel Romero.
But Adesanya is a new breed of fighter, a new breed of champion.
The undefeated 30-year-old (19-0) is perhaps the member of the UFC roster who is most in touch with the promotion's fanbase. He knows what they think, how they feel, and he was determined to conquer Olympic silver medalist Romero (13-5) in his first middleweight title defence in order to enhance his legacy.
No one could have imagined a scenario in which beating the hulking Cuban muscle crisis would not improve Adesanya's standing in the sport, but somehow that was the case in the main event of UFC 248 in Las Vegas.
Forty-two-year-old Romero – who presumably spends his time between fights in a bacta tank of water sourced straight from the fountain of youth – has been known to lull his opponents into a false sense of security before exploding into action with devastating knockout power and elite-level wrestling capabilities.
On Saturday night, however, all he did was lull the crowd in the T-Mobile Arena into a state of brutal boredom.
Likely fighting for the middleweight title for the final time after two failed attempts over the last few years, Romero showed a stunning lack of urgency, while Adesanya – as he noted after the contest – simply did what he needed to do.
The former kickboxer took the centre of the Octagon, largely kept Romero at bay with leg kicks, survived one or two overhand rights to the face, and trundled to a decision victory on all three judges' scorecards after a remarkably unremarkable bout.
What put the lacklustre nature of the bout into even sharper focus was the fact it followed a contest that may go down as the greatest women's MMA fight of all time.
China's first UFC champion Weili Zhang made a successful first title defence, against former strawweight titleholder Joanna Jedrzejczyk, in a five-round war that is certain to one day find a place in the UFC's Hall of Fame.
As a result, the crowd was understandably let down by what followed, when it had promised so much. For someone as aware of what the MMA world thinks as Adesanya, the boos dropping from the rafters during his bout will likely live longer in 'The Last Stylebender's memory than the fight will in any fan's.
Adesanya has all the makings of the UFC's next big star, from his fine attunement to pop culture to his creative entrances, via his versatile skillset in the ring. And even if, through no fault of his own, his star dimmed slightly at UFC 248, his next defence – all but guaranteed to be against 'The Eraser' Paulo Costa, a man with whom he shares a mutual dislike – cannot disappoint as Saturday's main event did.
Costa, who constantly comes forward as though on a conveyor belt, is the perfect opponent to bring out the dynamism in Adesanya.
And when Costa jumped the guardrail after Saturday's final contest, the fans in attendance showed more interest than they had at any point during the middleweight title bout.
That bodes well for Adesanya's next fight – a clash of undefeated fighters on the rise, and a showcase for the new breed.
Join our new commenting forum
Join thought-provoking conversations, follow other Independent readers and see their replies