UFC fights to make after Kamaru Usman retains welterweight title against Gilbert Burns
The Independent plays match-maker following the weekend's card at UFC's Apex institute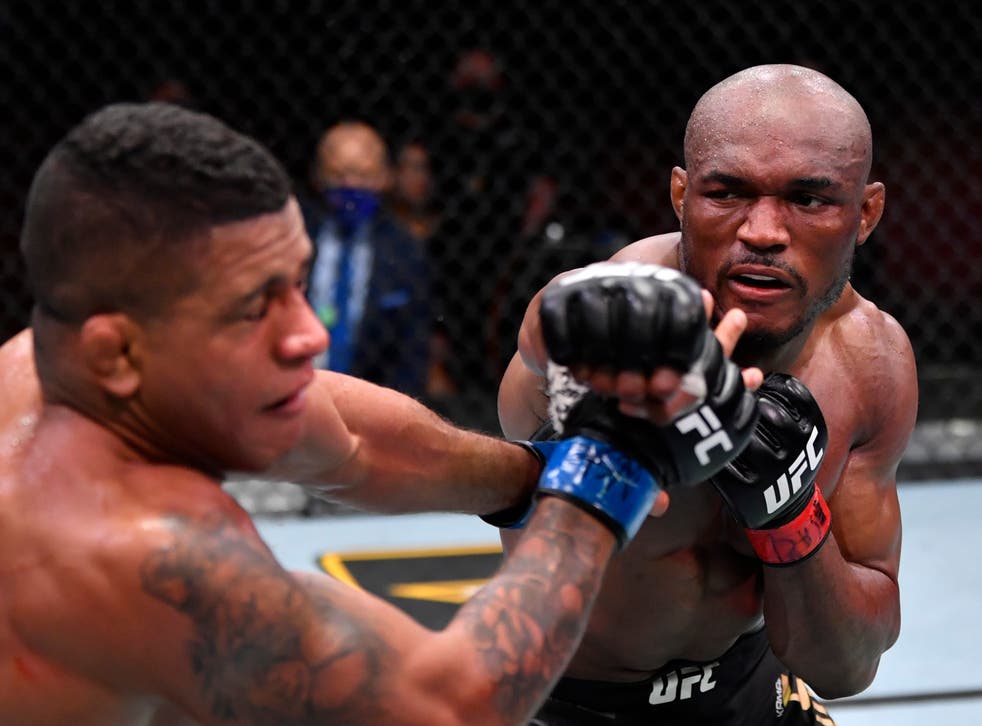 On Saturday night, Kamaru UsmanTKOed friend and former team-mateGilbert Burns to retain the UFC welterweight title.
The main event of UFC 258 saw the 'Nigerian Nightmare' achieve a 13th straight win at 170lbs in the promotion, breaking the record he shared with former champion and consensus greatest of all time Georges St-Pierre.
And with Usman now holding victories over the top four in the welterweight division, there is no clear contender for the throne.
READ MORE: Usman stops friend and former team-mate Burns to retain UFC welterweight title
There are, however, intriguing match-ups to make at welterweight, as well as in the middleweight and women's flyweight divisions following Kelvin Gastelum's win against Ian Heinisch and Alexa Grasso's victory over Maycee Barber.
Here are the UFC fights to make next.
Jorge Masvidal vs Colby Covington
The last two challengers that Usman defeated before taking on Burns. Masvidal and Covington, much like Usman and Burns, are friends turned rivals. But in the case of 'Gamebred' and 'Chaos', there is genuine animosity involved.
Usman called out Masvidal after beating Burns, despite having eased to a decision win over Masvidal last summer, knowing that a rematch is the 'money fight' of the options available to him next.
While Masvidal took the first bout on six days' notice, that also presented Usman with his own set of challenges and is not reason enough to grant 'Gamebred' an instant rematch. Covington, whose classic against the champion ended via fifth-round TKO in December 2019, has since dominated former titleholder Tyron Woodley and has more of a claim to a rematch with Usman.
But there will be no doubting Masvidal or Covington's worthiness as a title contender if one is to defeat the other in the coming months. The build-up would be electric, too; this is genuinely one of the biggest fights that could be made in the UFC right now.
Leon Edwards vs Stephen 'Wonderboy' Thompson
Edwards was beaten by Usman via decision back in 2015, but the Briton has not lost a bout since, winning eight straight. The No 3 welterweight is missing a signature win in the division, however, and beating one of the current top five would give him that and position him as the rightful contender to Usman.
Of course, the winner of Masvidal vs Covington – if that bout takes place – would also be tough to deny a title shot, but Edwards desperately needs activity either way, having not fought since July 2019. That lack of activity is not entirely his fault, with his scheduled contest against rising contender Khamzat Chimaev having fallen through multiple times in recent months due to the Russian-born Swede's struggles with coronavirus.
But regardless, Edwards simply must fight. Following the latest cancellation of his match-up with Chimaev, the Birmingham native wants to stay on the March card for which that fight was most recently scheduled, but he should perhaps hold off for two more months until Stephen 'Wonderboy' Thompson's hands have healed.
Former title challenger Thompson injured himself while pummelling Geoff Neal in December, in a performance that showed that the 38-year-old is more than a gatekeeper at 170lbs. In fact, he is the sort of name over whom Edwards could do with a win.
Kelvin Gastelum vs Robert Whittaker / Paulo Costa
Former middleweight title challenger Gastelum bounced back from a three-fight losing streak by outpointing Ian Heinisch at the weekend, but he is still on a journey of rebuilding himself as a credible threat at the top of the 185lbs division.
The key word there is "rebuilding", and as such the American should next be paired with an elite middleweight but one who is coming off of a loss. Gastelum put himself forwards as a back-up fighter ahead of Whittaker's upcoming clash with Costa, but if Gastelum isn't needed in that capacity he should next take on the loser of that bout – with the winner possibly rematching titleholder Israel Adesanya next (much more likely in Whittaker's case than Costa's).
Gastelum was scheduled to face Whittaker for the title in 2019, when the Australian still ruled the division, and that could yet be a fun match-up. A bout between Gastelum and Costa feels like it would almost guarantee a finish, so is also enticing.
Alexa Grasso vs Jessica Eye
Mexican Grasso jumped from 15th in the women's flyweight rankings up to 10th with her impressive decision win against young contender Maycee Barber on Saturday.
Grasso should keep looking forward and a match-up with eighth-ranked Jessica Eye makes a lot of sense.
Eye, who unsuccessfully challenged for the division's title in 2019, bounced back with a win before losing her last two contests.
Still, she is a big name at flyweight and would make a fine addition to Grasso's resume.
Join our new commenting forum
Join thought-provoking conversations, follow other Independent readers and see their replies