UFC fighter Polyana Viana robbed at 'gunpoint', fights back and beats up man carrying cut-out gun
The Brazilian UFC fighter noticed the gun did not feel real and defended herself successfully before putting the man in a choke hold until police arrived to arrest him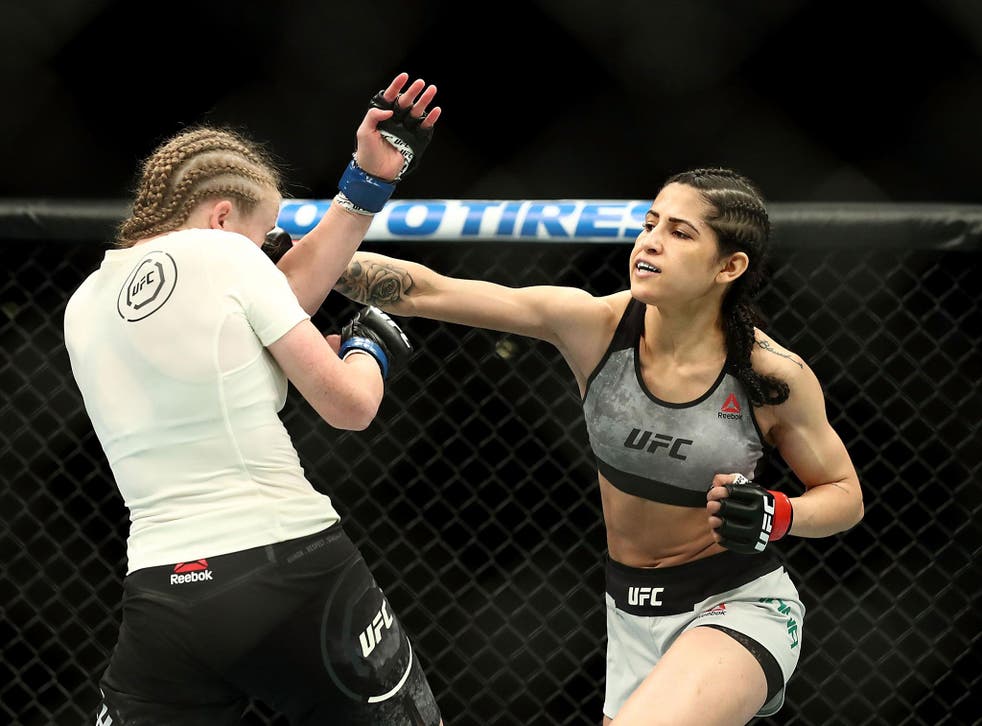 A man who attempted to mug UFC fighter Polyana Viana was left with serious facial injuries after she bravely fought back and restrained him until police arrived.
The Brazilian mixed martial artist was outside her apartment in Rio de Janeiro on Saturday night when the thief approached her, claiming to have a gun, and demanded that she give him her phone.
But the 26-year-old, who has fought twice for the UFC and holds an MMA record of 10-2, realised that the man was not carrying a real gun and decided to fight back.
"When he saw I saw him, he sat next to me," Viana told MMAJunkie.com. "He asked me the time, I said it, and I saw he wasn't going to leave. So I already moved to put my cell phone in my (pocket). And then he said, 'Give me the phone. Don't try to react, because I'm armed.' Then he put his hand over (a gun), but I realised it was too soft.
"He was really close to me. So I thought, 'If it's a gun, he won't have time to draw it.' So I stood up. I threw two punches and a kick. He fell, then I caught him in a rear-naked choke. Then I sat him down in the same place we were before and said, 'Now we'll wait for the police.'"
Khabib vs Conor McGregor

Show all 30
Viana was proved right afterwards when police found a cut-out of a gun on the man, although she believed it may have been a knife or a toy gun. With the mugger still in the submission hold, Viana asked members of the public to call the police, who soon arrived and took the man to an emergency care facility for treatment on his injuries before being taken on to a police station.
After filing a police report, Viana discovered that the man was known to authorities and had only just been released from custody, and she later revealed that the two exchanged words while they waited for police.
"I was fine," Viana added. "I was fine because he didn't even react after. Since he took the punches very quickly, I think he was scared. So he didn't react anymore. He told me to let him go, like 'I just asked for the time.' I said, 'Asked for the time my a**,' because he saw I was very angry. I said I wouldn't let go and that I was going to call the police.
"He said, 'Call the police, then' because he was scared I was going to beat him up more."
Join our new commenting forum
Join thought-provoking conversations, follow other Independent readers and see their replies