UFC: Leon Edwards vs Belal Muhammad ends as no contest after accidental eye poke by 'Rocky'
Edwards' long-awaited return to the ring ended in disappointment due to his unintentional foul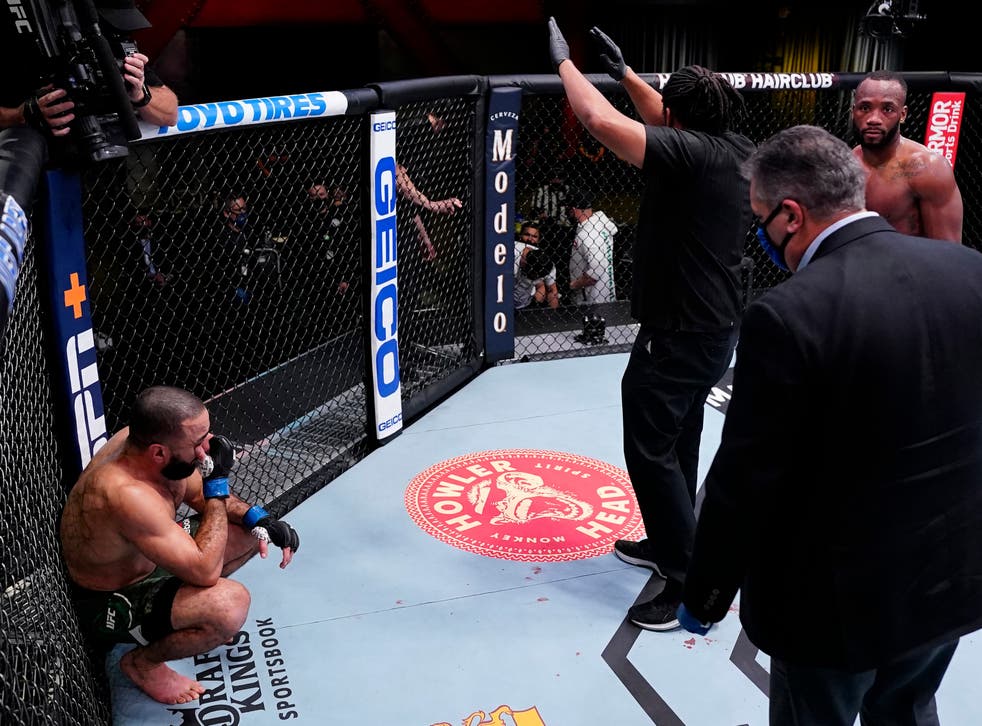 Leon Edwards' long-awaited UFC return ended in disappointing fashion on Saturday night as his main event against Belal Muhammad was ruled a no contest following an accidental eye poke by the Briton.
Edwards (18-3, 1 NC) had last competed in July 2019, beating former lightweight champion Rafael dos Anjos via unanimous decision to extend his winning streak to eight fights.
Welterweight Edwards, born in Jamaica and fighting out of Birmingham, last lost in 2015 when he was outpointed by current 170lbs champion Kamaru Usman, and 'Rocky' would likely have received a rematch against the titleholder if he had beaten Muhammad (also 18-3, 1 NC) in Las Vegas.
Read more:
But the Fight Night main event ended as a no contest early in the second round, with Muhammad – who stepped in on late notice following the withdrawal of Khamzat Chimaev – unable to continue after suffering an unintentional eye poke from Edwards.
It was the second foul of that nature from Edwards, though referee Herb Dean elected to rule the bout a no contest rather than disqualifying the 29-year-old.
Edwards was showing no signs of ring rust for as long as the fight lasted, despite his 20-month absence from the Octagon. 'Rocky' was effectively using forward pressure and counter-striking to test Muhammad, frequently switching stances and alternating targets between the American's head and body throughout the first round.
A sharp one-two from the Briton and a clean head kick that wobbled his opponent were the highlights from the first five minutes, though there was a brief pause in the action after an accidental eye poke by Edwards. Dean advised him to be more cautious, but 'Rocky' failed to heed the advice.
Eighteen seconds into the second round, Edwards caught Muhammad with another unintentional eye poke as the Briton threw a body kick. Muhammad, who had last fought and won on 13 February, immediately fell to the canvas and cried out in pain.
The 32-year-old was evidently distressed and could be heard saying "I can't see anything." The American's eye quickly began to swell and the fight was abandoned, with Muhammad unable to continue.
He was able to get to his feet shortly thereafter, however, hugging an apologetic Edwards.
"I'd rather a loss than that, you know?" Edwards said after the bout.
"I'm just heartbroken. It's been a long, long year-and-a-half, and to come back to that... I was just getting into the flow of it, getting into my combinations [...] I've learnt so much in the last year-and-a-half and I just wanted to show it.
"It's heartbreaking, I'm disappointed. I just don't know what to say."
Read more: UFC fights to make next as Blachowicz hands Adesanya first career loss
The result marked the second no contest of the evening following fellow Briton Darren Stewart's bout with Eryk Anders. Stewart was unable to keep fighting after suffering an illegal knee late in the first round of the pair's three-round match-up.
That result came just seven days after Petr Yan lost his bantamweight title to Aljamain Sterling after being disqualified for landing an illegal knee on his challenger. The strike left the Jamaican-American unable to continue.
Join our new commenting forum
Join thought-provoking conversations, follow other Independent readers and see their replies