North and South Korea lay down table tennis bats to unite in World Team Championships quarter-final
The news comes three months after the Winter Olympics, when they fielded a unified women's ice hockey team and marched together under a shared flag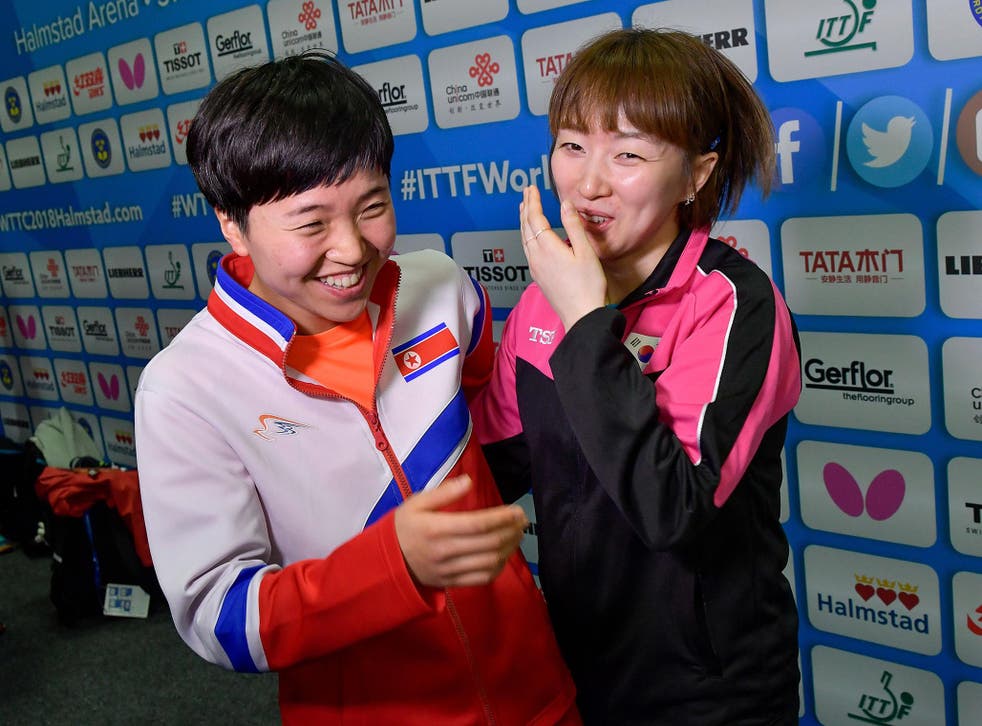 North and South Korea have again turned to sport in another small step towards reconciliation, creating a unified women's table tennis team.
The two countries were due to face each other in the quarter-finals of the World Team Table Tennis Championships in Halmstad, Sweden, but instead asked organisers if they could merge and progress to the semi-finals together. The move was approved, meaning they will face either Japan or Ukraine in the final four on Friday as a united Korean team.
The news comes three months after the Winter Olympics, when they fielded a unified women's ice hockey team and marched together under a shared flag at the opening and closing ceremonies, and only days after the two nations pledged to rid the Korean peninsula of nuclear weapons.
On Thursday the president of the International Olympic Committee, Thomas Bach, said he would support peace talks on the Korean peninsula with sports initiatives.
"We have committed ourselves to the request of both (countries) to accompany peace talks through sports initiatives and meetings, encounters and support for athletes," Bach said.
"There is more to come on short notice, in mid-term and long-term with regard to the upcoming Youth Olympics (in October in Buenos Aires), Tokyo 2020 Olympics and with the youth Games in Lausanne in 2020 and then of course the winter Games in Beijing 2022."
Bach said politicians had used the momentum created by the Olympic Games to further push for peace between the two nations. The IOC had supported several North Korean athletes with cash and in-kind support to help them qualify for the Pyeongchang Games.
"We hope this momentum keeps going and that the governments will come to results which will mean peace on the Korean peninsula and means also peace for the world," he said.
"This Olympic momentum is continuing and the political side now has obviously used this momentum to enter into peace talks for the Korean peninsula."
Join our new commenting forum
Join thought-provoking conversations, follow other Independent readers and see their replies