Ajmal Faizy: The Taliban killed his father and scarred him for life. But now AJ is fighting back
The first Afghan boxer to turn pro tells Alan Hubbard the amazing story of how he went from refugee to British rising star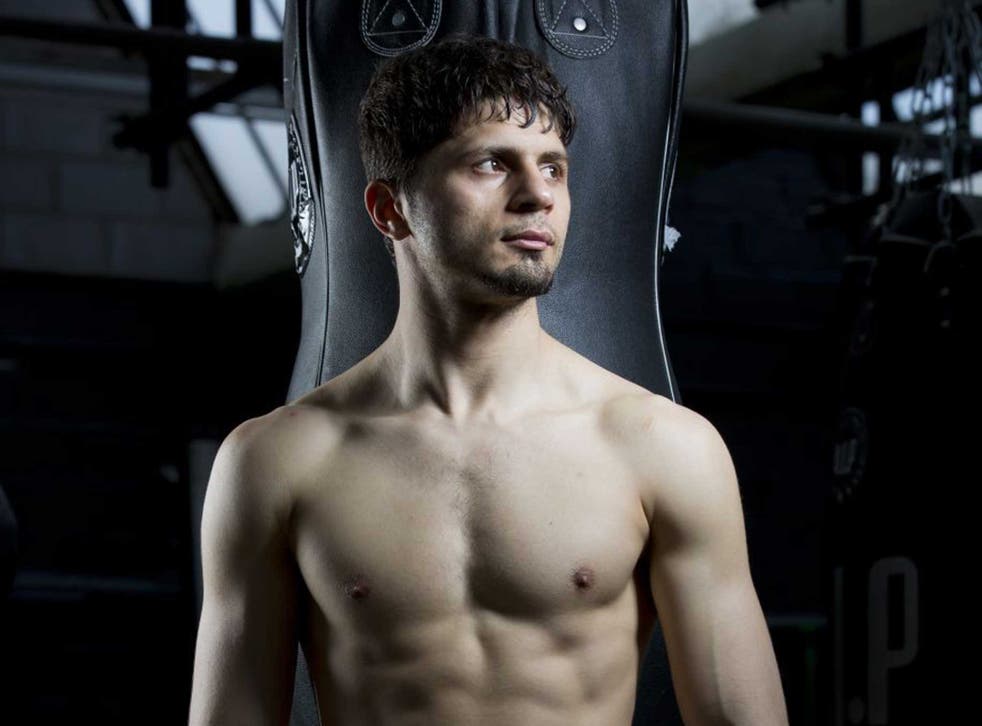 The scars around the eyebrows of young boxer Ajmal Faizy were not inflicted in any fight, but a grim legacy of a more terrifying encounter as a 13-year-old in his native Afghanistan when he was brutally beaten and tortured by the Taliban.
How he fled that troubled land to become one of the rising stars of British boxing is a story astonishing even by the many extraordinary tales of the unexpected which inhabit the sport.
It began seven years ago in a small Afghan village near the town of Charinkar in the province Parvan, some 70km from the capital, Kabul. Faizy's family owned some arable farmland, its fertile soil producing grapes and vegetables, through which ran a small river. One day the Taliban came calling and demanded it be handed over to them.
Faizy's's father, Abdul Salam, refused. So they took him to a barn, hanged him upside down for three days and savagely beat him. He died soon after.
As the new head of the family, teenage Ajmal became the target of Taliban brutality when they returned with a renewed demand.
Now living in Darwen, Lancashire, Faizy dispassionately recalls how they first threatened him, and then set about him with sticks and clubs.
"They beat me up badly, smashing my teeth, my face and shoulder. I still have the scars."
The Taliban may have broken his bones, but not his spirit. He told them he would not allow them to take the land. "How could I? It was my family's only income and we would have had nowhere else to go."
It was when the Taliban said they would kill him when they next came back that Faizy's mother decided he must flee. She sold off part of the land – not to the Taliban but to another farmer – to raise the money to send her son to Kabul and then abroad.
In Kabul a family friend hastily arranged a plane ticket to Dubai, where Faizy was put on another flight. "I had no idea where it was going ," he says. It happened to be Manchester.
On landing at Ringway, and speaking no English, he was detained while an interpreter was brought. Eventually, after an investigation into the boy's story, he was given temporary refugee status and placed with a foster family in Darwen, near Blackburn.
It was there that the next phase of his astonishing journey unfolded. Wandering through the town he walked into a local gymnasium run by well-known veteran boxing trainer Barry Higginson. Although he had never boxed he accepted Higginson's invitation to punch the bags.
Liking what he saw, the trainer not only taught him how to box, but helped him learn English, which he now speaks fluently with a Lancashire burr. He was found a place at Rhyddings School in Oswaldtwistle, where he went on to get a fistful of GCSEs.
Meantime AJ, as he is now known, had also embarked on a successful amateur boxing career as a promising light-welterweight, winning all his bouts before encountering yet another twist.
On his 18th birthday the foster payments ceased and the family he was living with told him he must leave. Homeless and desperately in need of direction, he called Higginson, who found him late at night sitting on a wall surrounded by six bagfuls of his possessions.
The trainer immediately offered to take him into his own home where he now lives. He is currently at college studying to be a plumber, but his real sights stretch far beyond fixing burst pipes.
He has now turned pro – the first Afghan to do so – and at 20 has won his first two fights with impressive ko's in one and four rounds respectively, already swiftly moving up the British rankings
Higginson, a respected judge of fistic talent who previously trained son Graeme to a 2010 English lightweight title challenge, enthuses: "He's a terrific prospect. A natural. He boxes like a Mexican, full of grit and fire with a hell of a punch. He's exciting and there's so much to him. He's also got the right mind-set for boxing, a very tough kid. Boxing-wise there's still a lot to learn but he's got a big heart, he can bang and he's in your face all the time. He's a right good lad too. Really pleasant and appreciative. He's at college, a volunteer at Age UK, and I just wish I had another ten boxers like him."
AJ's next fight is at Dewsbury Leisure Centre on 24 May, when he meets "Dirty" Dan Carr, a journeyman of 63 bouts on the undercard of the British super-featherweight title fight between Gary Sykes and John Kays.
"I've dedicated myself to boxing," Faizy tells us. "I eat and sleep it. I'm a pressure fighter. I like to come forward and fight, like Marcos Maidana [the Argentine who gave Floyd Mayweather Jnr a torrid time in Las Vegas last weekend]. He is my favourite fighter. Like him I'm not a great technical boxer, I just come to fight."
His promoter, Steve Wood, sees his story as a good news tale that can benefit the sport as a whole. "Boxing sometimes gets a bad press but AJ's story is a great example of the good that can come from it," he says.
It is one that has even stirred the World Boxing Council, who recently awarded him and his trainer their WBC Champions' medal. Says president Mauricio Sulaiman: "This young man is already a champion of life by his courage and determination to overcome so many disasters."
He joins a rare band of Muslim boxers who have forged ring careers in this country, with two, Amir Khan and "Prince" Naseem Hamed, becoming world champions. Faizy, who has applied for British citizenship, now has a ring nickname. They call him "The Dream".
That is because he has one. "Obviously I would love to become a world champion but more than that I want to win a Lonsdale Belt as a British champion. My trainer has told me so much about its history and prestige and winning one would mean so much because this country has been so good to me.
"My mother and sister are still in Afghanistan and I pray for them every day. With everything that's happened, boxing takes away all the stress. It was a very bad time in Afghanistan, but I'm happy now."
The Dewsbury bill on 24 May will be streamed live and free on Vipboxing.TV
Register for free to continue reading
Registration is a free and easy way to support our truly independent journalism
By registering, you will also enjoy limited access to Premium articles, exclusive newsletters, commenting, and virtual events with our leading journalists
Already have an account? sign in
Register for free to continue reading
Registration is a free and easy way to support our truly independent journalism
By registering, you will also enjoy limited access to Premium articles, exclusive newsletters, commenting, and virtual events with our leading journalists
Already have an account? sign in
Join our new commenting forum
Join thought-provoking conversations, follow other Independent readers and see their replies