American Football: Steelers turn to Big Ben Roethlisberger in their hour of need
After three defeats the Pittsburgh quarterback will be under pressure at Wembley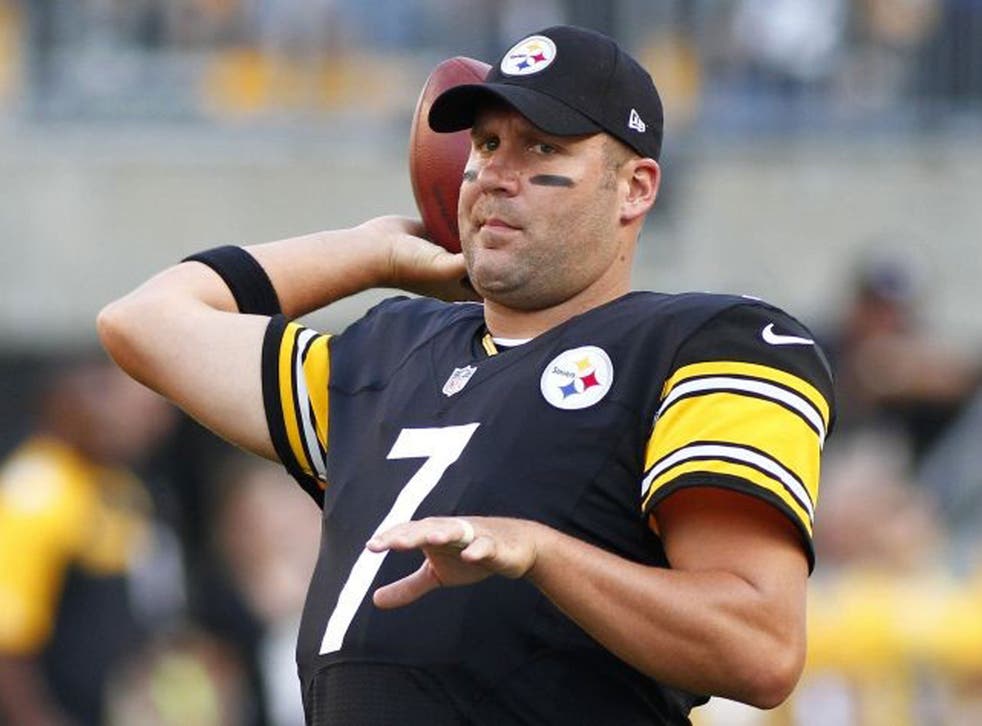 Ben Roethlisberger, the Pittsburgh Steelers quarterback, has two Super Bowl winners' rings, and his aim is to pass his legendary predecessor Terry Bradshaw, who won four between 1975 and 1980. But if he is to get closer to his target this season, he must inspire his team to start winning, beginning with the game against the Minnesota Vikings at Wembley tonight.
Defeat would leave the Steelers, whose six Super Bowl victories lead the NFL, with no wins in their first four games, their worst start to a season for 45 years – not what was expected when the NFL announced the match-ups for its two regular-season games in London this year to widespread excitement at the Steelers' appearance.
Time, then, for "Big Ben" to rally his team-mates and remind them what it means to be a Steeler? Not only is he in an awkward position to criticise after a poor start to his own season, but he has never been comfortable assuming moral authority after off-field recklessness marked his early career.
He suffered head injuries in a motorcycle accident in 2006 after refusing to wear a helmet – somewhat ironic for an American footballer – despite warnings from the team, and even Bradshaw. But worse was to come.
Accusations of sexual assault in 2008 were followed by a repeat in March 2010, and although criminal charges were not brought in either case, the NFL imposed a six-game suspension, later reduced to four, for violating the League's personal conduct policy, and ordered him to undergo a behavioural evaluation.
Roethlisberger, though, has matured off the field as much as he has on it. In 2006 he became the youngest Super Bowl-winning quarterback when the Steelers beat the Seattle Seahawks 21-10. But although he ran in the team's opening score from a yard, he completed only nine of 21 passes for 123 yards, threw two interceptions and achieved the lowest quarterback rating by a Super Bowl winner.
But Roethlisberger, who idolised Denver Broncos quarterback John Elway as a youngster, buried those memories three years later in Super Bowl XLIII, throwing the game-winning pass to Santonio Holmes in the dying seconds of the 27-23 victory over the Arizona Cardinals in Tampa Bay.
Such comeback wins became a speciality as Roethlisberger set a host of team records, including beating Bradshaw's passing yardage mark, but he has preferred to be a silent leader by example, despite encouragement from Mike Tomlin, the head coach. "He needs to be what his team-mates need him to be, formally and informally, on the field and off," Tomlin said. "It's a very complex balancing act, but one that I think is done naturally for those that play that position, particularly as long as he has."
Roethlisberger understands the obligations on a quarterback, especially one who wears the Steelers' iconic black and gold. He said: "From the moment you walk into our building you see all those Super Bowl trophies, you know the level of greatness that is in that building, and what putting on that jersey and wearing that logo means, the countless players that are in the Hall of Fame, and the rich tradition.
"Being the leader of an offence of a team that has high expectations brings a lot of added pressure. But if you're an athlete and a competitor, you want that because it drives you and it motivates you. From day one, I learnt that from the older guys like Hines Ward, Jerome Bettis. And that is something now that I try to pass on to our younger guys – that there is a level of excellence and expectation. "
So, albeit reluctantly, Roethlisberger has spoken out, calling on his offensive line to "be tough, be nasty", and challenging rookie running back Le'Veon Bell to play through the pain barrier. "For us, not making the play-offs [would be] a disappointment because the level of expectation on us, and that we put on ourselves, is much higher," he said.
"What gets me up in the morning? Catching Terry Bradshaw and passing him. The motivation is to make this my best year. That's what I strive for."
Minnesota Vikings v Pittsburgh Steelers is on Sky Sports 2 today, kick-off 6pm
Super stats
Super Bowl wins
Pittsburgh Steelers 6
San Francisco 49ers 5
Dallas Cowboys 5
Green Bay Packers 4
New York Giants 4
Active quarterbacks at multiple Super Bowls
Tom Brady (New England) W3, L2
Ben Roethlisberger (Pittsburgh) 2-1
Eli Manning (NY Giants) 2-0
Peyton Manning (Indianapolis, now Denver) 1-1
Roethlisberger's stats
Height 6ft 5in
Weight 17st 3lb;
Age 31
NFL career 10 years, 141 games; passing yards 30,692; touchdown passes 195; rushing TDs 14; interceptions 112
Register for free to continue reading
Registration is a free and easy way to support our truly independent journalism
By registering, you will also enjoy limited access to Premium articles, exclusive newsletters, commenting, and virtual events with our leading journalists
Already have an account? sign in
Register for free to continue reading
Registration is a free and easy way to support our truly independent journalism
By registering, you will also enjoy limited access to Premium articles, exclusive newsletters, commenting, and virtual events with our leading journalists
Already have an account? sign in
Join our new commenting forum
Join thought-provoking conversations, follow other Independent readers and see their replies