Boat Race 2015: Everything is oarsome as Oxford's women row into sporting history
But as Richard Jinman and Olivia Blair report, it took years, not minutes to achieve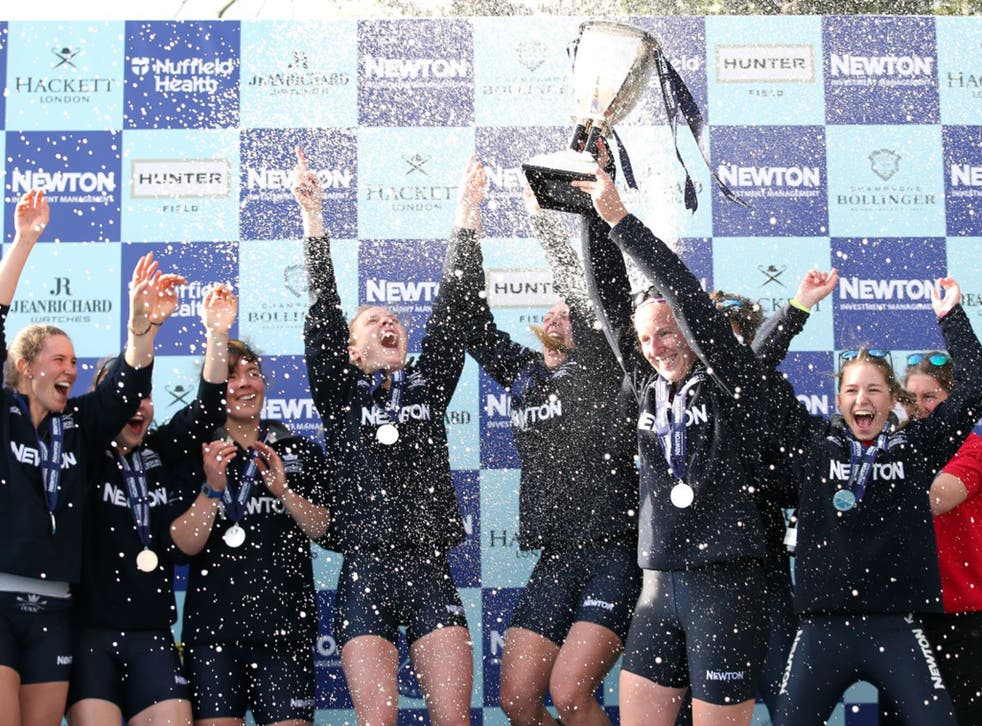 Amy Gentry would have been in her element on the sunlit banks of the Thames today. A redoubtable woman who devoted much of her life to the practice and promotion of women's rowing, she would have marvelled at the size of the crowds gathered on the Tideway to watch the Women's Boat Race. It is easy to imagine she would have felt a shiver of pride as the blades dug into the water, sending the best of Oxford and Cambridge oarswomen surging towards a finish-line four miles upstream.
Gentry, who founded Weybridge Ladies Amateur Rowing Club in 1926, might have smiled when Kelly Alford, a 24-year-old Londoner attending her first boat race, admitted she had assumed women rowers had always competed on the same day as the men. "I don't see why they didn't do it already," she said, unaware of decades of gender inequality in boatsheds and club houses across the country. Her friend, Hannah Hockin, 25, nodded: "It's nice that they've brought it into the 21st century."
It started at 4.50pm: the first women's race to be held on the same course, over the same distance and on the same day as the men's competition. As the two boats scythed towards Hammersmith Bridge they were competing for more than just line honours – they were obliterating decades of discrimination stroke by technically perfect stroke.
In the end, it was a one-sided battle. Oxford, the firm favourites, pulled away early as Caryn Davies, their powerful American stroke, drove her team forward. Cambridge struggled in their wake and 19 punishing minutes later it was all over. Oxford celebrated; Cambridge slumped forward in their seats. But the significance of the event was always destined to transcend the result.
In 1927, the first women's boat race was held on Oxford's river Isis. Men jeered from the banks and the plucky female rowers were judged on their deportment and grace as well as their speed. Fast forward almost 90 years and women's rowing has finally claimed its rightful place in the sporting calendar. It may seem that today's Lycra-clad powerhouses have little in common with their overdressed sporting forebears, but appearances can be deceptive.
The Boat Race 2014: in pictures

Show all 10
Gentry, who died in 1976, would surely have felt kinship with today's gym-toughened, highly focused female rowers. She was made of strong stuff herself. In the Second World War she became Barnes Wallis's secretary, rowing the inventor of the bouncing bomb over Silvermere Lake, Surrey, to test a series of hand-thrown prototypes. "Sit down, Wallis!" she barked when the scientist disturbed the vessel. "You'll have us both in the water, and I'm in charge of this boat!"
"She was a fierce lady – you didn't mess with Amy," said Nigel Burton, the author of a book about Weybridge Rowing Club, where Gentry began her rowing career before forming a women-only club. She decided that women were getting a "raw deal" and she devoted herself to doing something about it.
Gentry may not have seen 2015's race, but her legacy and that of other pioneering female rowers, was written on the waters of the Thames. The Boat Race is no longer a men-only event; the women have arrived.
Register for free to continue reading
Registration is a free and easy way to support our truly independent journalism
By registering, you will also enjoy limited access to Premium articles, exclusive newsletters, commenting, and virtual events with our leading journalists
Already have an account? sign in
Register for free to continue reading
Registration is a free and easy way to support our truly independent journalism
By registering, you will also enjoy limited access to Premium articles, exclusive newsletters, commenting, and virtual events with our leading journalists
Already have an account? sign in
Join our new commenting forum
Join thought-provoking conversations, follow other Independent readers and see their replies