Boat Race 2015: Oxford do the double as Men follow suit to beat Cambridge by six lengths
Both Oxford's Men's and Women's crews powered to victory in the annual University Boat Races
Steve Tongue
Saturday 11 April 2015 22:29 Comments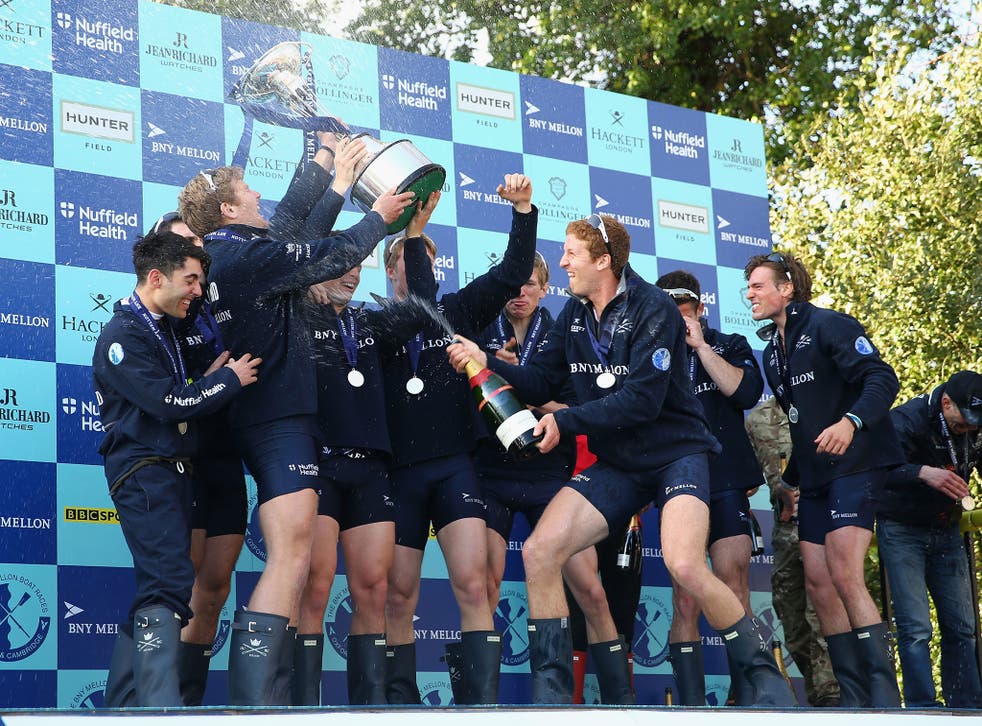 Short-odds favourites in both University Boat Races, Oxford took a double first on a historic day in which the women also rowed the four mile, 374 yard course. That was more than three times their previous distance at Henley but despite having sunk on a training run on April Fool's Day, the female Dark Blues had no such problems yesterday even in difficult conditions, leading from the start to win by six-and-a-half lengths in a procession.
They were led by stroke Caryn Davies, a 32 year-old American with four world titles and two Olympic golds to her name, who said: "It hurts a lot. But it's less suffering when you are winning." The Oxford president Anastasia Chitty, receiving the trophy from Sir Steve Redgrave, told BBC television, who had shown the race live for the first time, "To race on the same stage as the men is really humbling. We'll have some fun this evening."
"Let's make history here today," the Oxford cox, Jennifer Ehr, was shouting at her crew and she knew they would do so long before the end, to complete a seventh win in eight years.
Getting as far as the start line at Putney was an achievement of significant proportions for the two women's clubs. Although the universities first competed against each other in 1927, it was considered unseemly to actually race, so that the event was judged on "matters of style", like some sort of dressage on water.
Although the men's winning margin yesterday was almost identical to the women's, the contest was closer until halfway, and more of a race than last year, when Oxford shot clear to win by 11 lengths after Cambridge's Luke Juckett was thrown from his seat.
The American was back on board yesterday, living up to his Twitter motto "gotta risk it to get the biscuit" but although his crew recovered from a poor start to stay in contention for two miles, they crumbled and were unable to take advantage of having won the toss and chosen the Surrey station, falling behind just as they needed to use the bend on the Chiswick Reach.
Cambridge's Austrian president Alexander Leichter admitted that was the key moment: "They took us around the outside on Surrey, which was supposed to be our advantage. It's hard to accept we couldn't respond to the challenge. But it was 100 per cent a fair result."
While for many of the estimated 250,000 spectators and huge worldwide television audience the occasion is merely a good old British tradition, Boat Race day has long been a serious sporting competition contested by international athletes, often world champions.
The Dark Blues fielded three Americans and two New Zealanders, the O'Connor brothers, but the stand-out individual was British: Oxford's stroke and president Constantine Louloudis, an old Etonian, won his fourth Boat Race in five years, having missed the 2012 event to row in the Olympics.
Victory for Oxford, despite being 12 lbs per man lighter, was suitable commemoration of Dan Topolski, the outstanding former coach who died two months ago.
He, therefore, missed seeing Oxford's head coach Sean Bowden break his record by winning a 13th race (the first two with Cambridge). "We definitely had Dan in our hearts throughout the campaign," Bowden said, "and we're just so pleased to have won in style for him."
Around the Topolski years, Oxford's men won 16 out of 17 races until 1993, then lost seven in succession and have now taken six wins in eight. For Cambridge there is some consolation in knowing future preparations should be enhanced by moving by 2017 to a new £4million facility at Ely – for both sexes.
Register for free to continue reading
Registration is a free and easy way to support our truly independent journalism
By registering, you will also enjoy limited access to Premium articles, exclusive newsletters, commenting, and virtual events with our leading journalists
Already have an account? sign in
Join our new commenting forum
Join thought-provoking conversations, follow other Independent readers and see their replies