Boxing: Holyfield's life goes under the hammer
Five-time heavyweight champ is broke after blowing £350m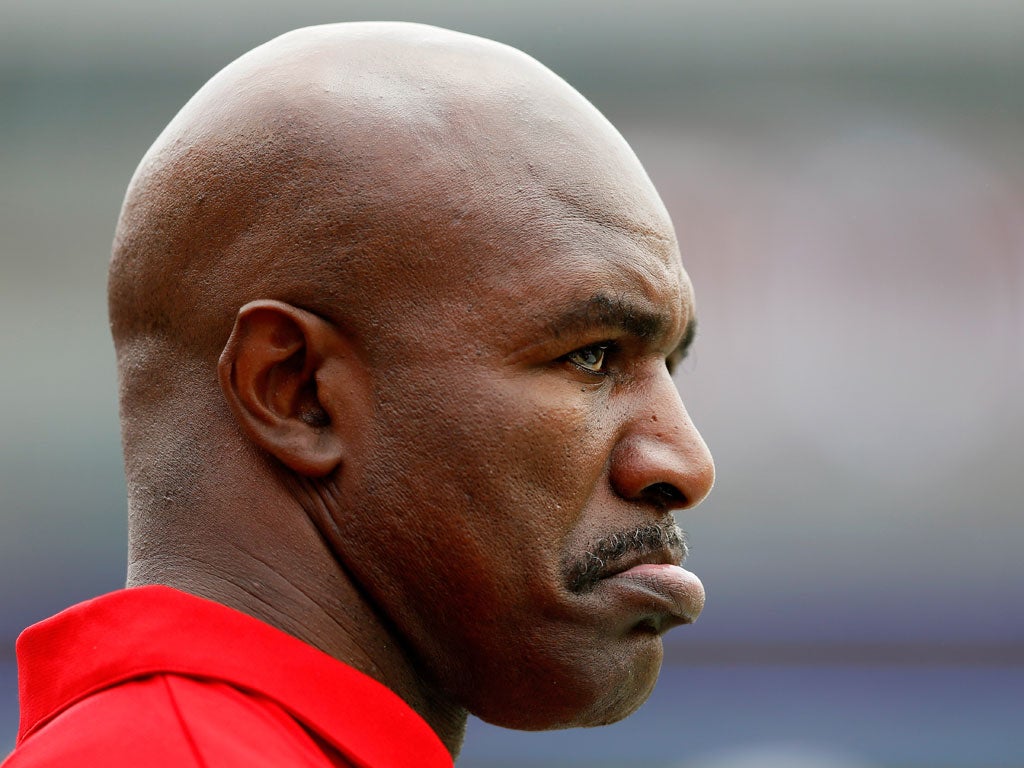 Evander Holyfield, 50 on Friday, is still dreaming of becoming a world heavyweight champion for the sixth time. "I've still got hope," he says. But what he doesn't have is money, despite banking £350 million, half of it from his 57 fights, in his 28-year career.
The "Real Deal", one of the greatest fighters of all time, is now flat broke and bankrupt and having to sell everything except his soul to pay off debts which amount to over £10m. Virtually his whole life goes under the hammer at a Beverley Hills auction next month in what is believed to be the world's biggest sale of sporting memorabilia.
Even by boxing's depressing standards Holyfield's road to ruin has been spectacular, a fortune lost in the casinos of Las Vegas and Atlantic City, business misadventures, crippling lawsuits and lavish spending on a lifestyle as much that of a champion philanderer as pugilist. He has been divorced three times, has 11 children by five different women and owes half a million dollars in child support, some to his 18-year-old daughter Emani, who last month sued him for $372,000 (£231,400) in unpaid maintenance. If he doesn't pay up, he faces a prison sentence.
He was also evicted from his 109-room Atlanta mansion, owing $14m in mortgage repayments. It was sold at a knockdown price of $7.5m to keep the banks off his back. He now lives alone in a downtown condominium.
Holyfield's financial woes started in 1999 when his then wife of two years, Janice, filed for divorce after he had publicly admitted to fathering two children out of wedlock.
"These are difficult days," Holyfield said recently. "Dealing with all the mothers of all my kids – there ain't no winning here, man, no winning at all. I've had no money to pay lawyers and had to fight on my own in court and that ain't easy."
Holyfield was declared bankrupt after earning some $230m from those 57 fights, in which his lowest purse was $600,000 and the biggest $33m – the 1997 bout in which Mike Tyson took a bite out of his ear. His gloves, boots and robe from that infamous encounter are up for sale at Julien's, the US equivalent of Sotheby's, on 30 November along with jewellery, furniture and more ring memorabilia, including 27 other pairs of gloves, his Olympic bronze medal, world title belts and what he says is his most prized possession, a 1962 red Chevrolet Corvette speedster, the same vintage as himself.
There is no reserve on any item. Everything must go, according to Darren Julien, president of the Californian auction house, who estimates the sale will fetch $3m to $5m. He jokes that if the piece of ear gnawed off by Tyson was available that would be auctioned off too, such is Holyfield's need for solvency.
He is so strapped for cash that he still harbours ambitions of ring glory, convincing himself he is on a crusade to end the heavyweight dominance of the Klitschkos. This is despite being banned by the New York Commission and other US states because of concerns about his health.
He was once diagnosed with a heart condition which caused him to retire temporarily, and there are disturbing portents of incipient brain damage. His speech is slurred and his reflexes are suspiciously slow. There are also persistent but unproven rumours that Holyfield's famously muscled physique has been maintained with the assistance of steroids.
"Evander's such a lovely guy, it's a shame to find him in this situation," says Julien. "Hopefully most items will go to museums. Fortunately he's kept everything from his career." Except his money, sadly. Like the mansion, the belts and the Chevy, that's going, going, gone.
For more information, visit: www.juliensauctions.com
Join our commenting forum
Join thought-provoking conversations, follow other Independent readers and see their replies