Commonwealth Games: Corruption, chaos & a race to avert a crisis
With 44 days to go, many of Delhi's stadiums are mosquito-infested building sites, and even the theme music is behind schedule. Andrew Buncombe visits the venues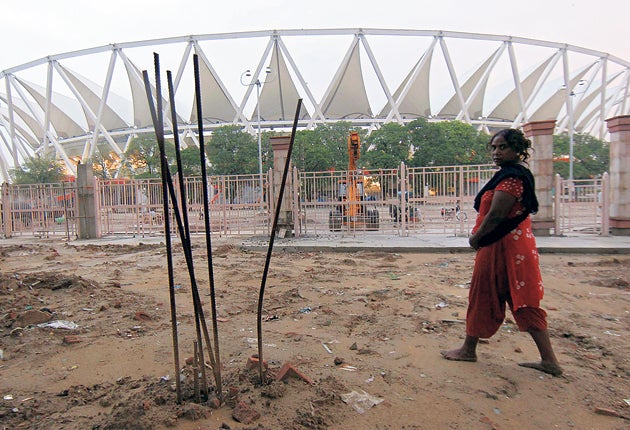 At the Shivaji Stadium in the centre of Delhi there appeared little reason to cheer. Hundreds of workers wearing flip-flops and singlets, loincloths and saris, laboured amid the rich brown mud to complete a task that appeared beyond the might of Hercules.
They scurried to finish laying marble for stands, they rushed to build a series of five-storey blocks and they sweated to repair collapsed scaffolding. In 44 days, the stadium is set to be the practice venue for hockey matches but yesterday lunchtime it was fit for nothing.
Just six weeks before Delhi hosts the 19th Commonwealth Games, the city is in a state of chaos. Venues that should have been completed weeks ago remain dirty, mosquito-ridden worksites, major roads are blocked by construction work, projects to landscape the city appear to have been forgotten halfway through. Even the Games' official theme, composed by A R Rahman, the man who wrote "Jai Ho" from the movie Slumdog Millionaire, is behind schedule.
Added to this is the growing sense of panic. Amid a constant drip feed of revelations over corruption, mismanagement and refusal to follow best practice, there is widespread concern that the event India hoped would allow it to showcase itself to the world could turn into a national embarrassment. The city's chief minister said this week she remained "nervous" about the outcome. That was surely a huge understatement.
Last night, the Commonwealth Games Federation, which oversees the event, put on a brave face. At a press conference following a two-day inspection of venues for the 17 sports represented, federation president Mike Fennell said that for "all practical purposes" the venues themselves were completed. However, he went on: "There is still a long list of detailed work to be attended to."
He listed concerns about the readiness of the Games Village, transportation, catering, landscaping, cleaning, sanitation and hygiene. There were also worries that much of the timing and other electronic equipment required by the various disciplines was not yet in place. However, he dismissed a claim by former Australian swimmer Dawn Fraser that the event would become "another Munich" – a reference to the 1972 Olympics when 11 Israeli athletes and coaches were killed by Palestinian militants – and said he was satisfied with the security in place.
For many involved in Delhi's original bid to host the event, bringing the Games to India had little to do with sport. It was, rather, an opportunity to demonstrate a nation keen to throw off the shackles of poverty and boast about its economic growth rates of 8 per cent or more. Falling after the 2008 Olympics, hosted by India's Asian rival, China, there was even more conviction that the event had to be a show-stopping success. Those who spoke out, such as former Sports Minister Mani Shankar Aiyar, who said he believed the money spent on the event should be used to develop sports in villages across the nation, were roundly condemned.
The event has also suffered from a sporting perspective. Usain Bolt pulled out long before his recent injury worries, the feeling being that the Games were an insufficient stage for the world's fastest man. Jessica Ennis has also ended her season early. And Chris Hoy is among the many names from cycling who are choosing not to disrupt their preparations for November's European Championships, a qualifying event for the 2012 Olympics.
But if the Games fail, it will not have been for lack of money. The cost of the event is reported to have increased almost 18 times from its original budget estimate. The most recent prediction for the total cost of hosting the two-week event stands at an astonishing £4.22bn. The 2002 Commonwealth Games in Manchester cost £300m, including the construction of the City of Manchester Stadium, now home to Manchester City, and even that budget required Government assistance – sponsorships just aren't as attractive a proposition as those generated by the Olympics. The next Games, in Glasgow, are working on a similar budget to Manchester. In Delhi, local taxes have been increased, money originally set aside to help the development of Dalit or "untouchable" groups has been diverted and unsightly slums have been bulldozed out of the way, all in the name of the Games.
There are also reports that labour laws and health and safety regulations have been violated. Moushumi Basu, of the People's Union for Democratic Rights, a civil rights group that has filed a series of court actions against the authorities, said workers had routinely been paid less than the legal minimum wage. Indeed, one of the workers labouring at the Shivaji Stadium, a venue the authorities have already admitted will not be fully completed by October, revealed he was getting paid 3,000 rupees a month (£41) to work 12 hours a day, seven days a week. By law he should have been getting double that, but Bhakti Mandal, from West Bengal, said he had been paid in advance by a contractor. "We get our food as well," he said, as if the plates of rice and watery lentil stew the workers were eating for lunch was somehow compensation for their exploitation.
Aside from the conditions of the workers, some of the most worrying accusations relate to corruption, a daily feature of life in India. Earlier this summer, the Government's main watchdog identified 16 Games' projects where there appeared to be financial irregularities. Three senior officials have already been suspended and the Prime Minister, Manmohan Singh, has ordered an investigation into alleged corruption over the awarding of contracts and purchase or hire of equipment.
Meanwhile, in another blow, it was announced yesterday that two Indian state-run firms had withdrawn their sponsorship of the Games as a result of the "negative publicity" stemming from the alleged corruption and mismanagement. The country's biggest power producer, NTPC Ltd, has decided to scrap its £7m sponsorship deal while the Power Grid Corp of India has also decided to back out of its commitment of around £1.3m.
With the constant negative press that the Games have attracted and the clearly chaotic preparations, some have wondered whether even at this stage the event could be called off. That is very unlikely to happen. A more likely scenario, is that there will be a final frenzy of work that will be sufficient to pull together a decent-looking event which will be remembered as much for the warmth of ordinary Indians rather than the stunning landscaped infrastructure – or rather the lack of it – on display.
It might even prove to be roaring success, a view expressed by many people here, among them Babu Lal Bharti, a 71-year-old man who was yesterday afternoon catching a bus near the site of the Games Village in the east of Delhi. "It will be completed on time, I am sure. All the attention of the nation will be focused," he grinned. "It will be good for India, it will be good for Indian pride."
Problems mount for Delhi showpiece
Athletes
Usain Bolt pulled out long before his recent injury worries. Jessica Ennis has also ended her season early. And Sir Chris Hoy is among the many names from cycling who are missing.
Venues
Games chief Mike Fennell said the basic structures for all 17 sports were complete but much "detailed work" remained, including landscaping, cleaning and catering. Many venues are waterlogged, a breeding ground for mosquitoes. The athletes' village needs work to provide water and sanitation.
Traffic
Delhi's wretched traffic could hamper athletes' movements. Special lanes have been set aside for Games vehicles, but drivers notoriously ignore traffic rules.
Security
Fennell said there was satisfaction about the level of security at national and local level. Foreign countries are also involved. Some have suggested security will have been boosted for US President Barack Obama's visit in November.
Corruption
There are daily reports of alleged corruption over the awarding of contracts and hiring of equipment. Some stories may have been hyped yet there is evidence of wrongdoing. India's Prime Minister has ordered an investigation.
Join our commenting forum
Join thought-provoking conversations, follow other Independent readers and see their replies