David Haye interview: 'I lied. I've let people down'
The boxer admits to Ian Stafford that he has messed up but he's now reined in the alter ego (and become a vegan) in an effort to make amends and become world heavyweight champion again
Ian Stafford
Friday 06 June 2014 09:19 Comments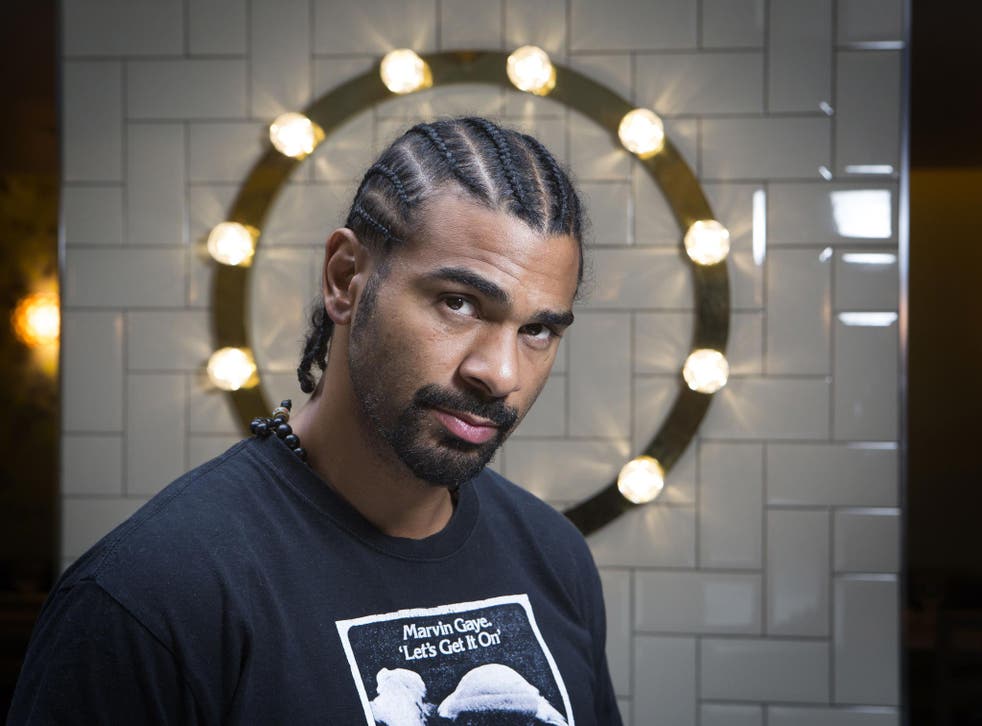 David Haye is devouring a green salad in a quiet corner of an Italian restaurant close to his Kent home and explaining why, six months ago, he took the decision to become a vegan.
"I watched a TV documentary about how animals are farmed, killed and prepared for us to eat," he explains, shaking his head. "I saw all those cows and pigs and realised I couldn't be a part of it any more. It was horrible. I did some research to make sure I could still obtain enough protein to fight and, once satisfied that I could, I stopped. I'll never go back."
This is hardly in the image of the snarling, in-your-face, provocative boxer who goads his opponents prior to meeting them in the ring to boost sales. Then again, much has happened since the man was, if you forgive the pun, in his heyday.
The memories of him, a former undisputed world cruiserweight champion who waded into the heavyweight division like some unwelcome gatecrasher at a house party and took the WBA belt, are fading fast.
The spectre of him beating the human giant that was Russia's Nikolai Valuev, then defending his title against the highly respected American John Ruiz has been overrun by the sight of him barely putting up any kind of meaningful challenge against long-term champion Wladimir Klitschko, before then pulling out of three fights – the last two against Tyson Fury – down to injuries.
In fact, the last time he was seen in the ring, against Dereck Chisora at West Ham's Upton Park, was July 2012. The shoulder injury sustained last November that forced him to postpone Fury for a second time for a fight due in February was widely believed to be career-ending.
Perhaps, then, it is little wonder that it is a seemingly changed man finally prepared to talk about the past, and a future which, he admits for the first time, includes a plan to reclaim the world title. He is a man far removed from the one we think we know.

"Ah," says Haye. "You're talking about The Hayemaker now, aren't you? But he's not here today. It's only David Haye. This is the real me. The other one is my alter ego. He's the one who comes out on TV or when promoting a fight.
"You see, the boxing public aren't interested in knowing me. They want to know The Hayemaker, the one who gives it big. But the real me is the one sitting here before you now. I couldn't think of anything worse than being my alter ego all the time. It would drive me and everyone else nuts. I'd burn myself out."
He is relieved just to be able to use his knife in his right hand. For much longer than he envisaged following the shoulder surgery – the first time he had ever been operated on in his life – he could do next to nothing.
"I couldn't tie my shoelaces, wash my left armpit, clean my teeth, hell, wipe my arse. I am very right-hand dominated and it was tough to change everything. There were many times when I couldn't even lie down on my bed.
"When the doctors said I wouldn't be able to fight again everyone automatically retired me. But I never said anything. I was determined to prove people wrong, like I have been all my life.
"I remember as a 10-year -old telling people I'd become world champ and retire at 30. I was 10 and hadn't even had any kind of fight. Mind you, I also wanted to win the 100 metres Olympic gold medal. To me being heavyweight world champion and Olympic sprint champion are the two greatest prizes in sport. Anyway, people laughed. This time, though, I kept my own counsel for two reasons.
"The first was that, although I always planned to come back, I had some dark days. Of course I felt sorry for myself. I thought I'd be back in two or three months but that came and went and I was no better.
"You have to understand, my right shoulder is everything because that's where the power comes to launch the Hayemaker, and that's always been my moneymaker.
"That may seem obvious. Every boxer needs to be able to punch, but none more than me and that's because I'm not that skilful and I'm one of the smallest heavyweights you'll ever see. If I didn't have a great right hook the bigger, heavier fighters would grind me down and smother me. They didn't because they knew I had the ability to knock them out."
His other reason for his uncharacteristic silence is closer to the bone. "I thought about issuing a statement but I didn't want to make another false promise. I told the public three times I'd be fighting – against Manuel Charr and twice against Fury – and I pulled out each time through injury. I didn't want to let them down again."
Is that how he sees it? Is a cut above the eye one week before a fight, then severe shoulder damage letting people down? "Yes, I do. And I think a lot of the criticism I've had as a result is fair, too. It's like paying to watch a movie and then the projector breaks down. I've given Fury ammunition to claim I'm ducking fighting him, too, and I've only got myself to blame. To be as injury-prone as much as me isn't bad luck. It's the way I've trained in the past."
This, so Haye finally admits, is the real reason why the Klitschko fight in July 2011, went so horribly wrong. He entered the ring having goaded his erudite opponent with T-shirts depicting the severed heads of Wladimir and his brother Vitali, and left citing a broken toe as the reason behind his limp display to face a British boxing public who turned on him.
"I failed that night," he concedes. "I let a lot of people down, including myself. I betrayed the trust and belief I had obtained from so many people. I lied to them all."
I suggest he has been hard on himself. Klitschko, after all, has reigned as world heavyweight champion for 10 years.
"No, no. It's the truth," he responds. "I urged people to believe in me and to back me. They spent hard-earned money because I said I would win. I didn't even get close."
Why was that? "My training was wrong. I've got away with carrying minor injuries in the past. I've found a way to win. The problem is I'm sparring with bigger, stronger guys than me as I have to do. Before Klitschko I obtained niggling injuries in the process of a constant pounding and was in far from optimum shape to face a guy who you have to knock out to win in Germany. That's not an excuse. It's a problem I created. I wasn't at my best but, then again, Wladimir might not have been either. It's gone."
In February 2012 Haye was involved in an unedifying bust-up with Chisora at the post-fight press conference in Munich after Chisora had pushed Vitali Klitschko, elected mayor of Kiev last week, to 12 rounds before losing. In the full glare of the media the pair brawled, with Haye launching the first punch before swinging a camera tripod.
Two years on, and after a successful stint in I'm a Celebrity, Get Me Out of Here, the same man winces visibly. "I was really annoyed with myself after that incident," he admits. "I remember asking myself that night: 'How the hell did I let that happen?' I get paid good money to fight. Why would I do that for free? It happened because a trained fighter, who had slapped one Klitschko and spat at the other and who had said on TV that if he saw me he'd break my jaw, came straight for me and placed his head on mine. I wasn't going to hang around to find out what happened next."
A better response was in the ring against Chisora when he knocked his bigger opponent out in the fifth round in front of 35,000 fans. Haye believed it was the start of the next chapter in his career. Instead the string of injuries and pull-outs that ensued suggested it was the end.
Until now. Haye is back in training, his shoulder is fine, and he has set himself a goal. "I want to become world heavyweight champion again," he says without batting an eyelid. "There's no other point in doing this."
Is this feasible? "Yes, because my trainer, Adam Booth, and I have analysed why I was so injury-prone and we believe, with the disadvantages I have as a small heavyweight, we have a training programme designed to minimise the risk.
"It means instead of fighting once every 18 months I'll be looking to box three times a year, move up the rankings and fight for the title within two years."
This cannot include a defeat, of course. "No, that would be it. But I've broken through the apprehension of punching after surgery and I'm giving it my best shot. Succeed or not, I'm not going to die wondering."
What of reports that he may fight the winner of Fury versus Chisora, who meet next month? "Not interested. I've beaten Chisora already and I'd take more satisfaction in knowing I'll deprive Fury of a £5m payday than if I knocked him out, which I would."
Still, why do this? Haye has earned more money than even he would have dreamt of. He has businesses flourishing as varied as a new gym in Dubai and a protein company. He has been one of just seven British boxers to have been a heavyweight champion. Why go through it all again?
Haye knows the answer to this instantly.
"It's because I have to. I've always wanted to finish boxing on my terms: to walk away when I decide, not when boxing does. Well, if it all ended now boxing has won, hasn't it? It's tossed me out of the ring.
"I've got a chance to put that right, and a lot of other wrongs too. I've got a chance to prove a lot of doubters wrong about me the boxer, and me the person. Most of all I've got the chance to prove something to myself. I can't let this opportunity go. I won't let it go."
As he wipes his mouth, takes a last swig of his water and rises from the table I suggest the real David Haye is a more likeable person than his alter ego. "I know," he accepts. "The Hayemaker will reappear. He'll have to. But I've reined him in a bit – for everyone's sanity, especially mine."
For information on Hayemaker Protein go to: Hayemaker.com
Register for free to continue reading
Registration is a free and easy way to support our truly independent journalism
By registering, you will also enjoy limited access to Premium articles, exclusive newsletters, commenting, and virtual events with our leading journalists
Already have an account? sign in
Join our new commenting forum
Join thought-provoking conversations, follow other Independent readers and see their replies