Eddie 'the Eagle' Edwards: 'It was while I was in a mental hospital I heard I was in the Olympic team'
Twenty years after learning his ski-jumping trade from a borrowed bed at Finland's 'Broadmoor', his story is nearing the silver screen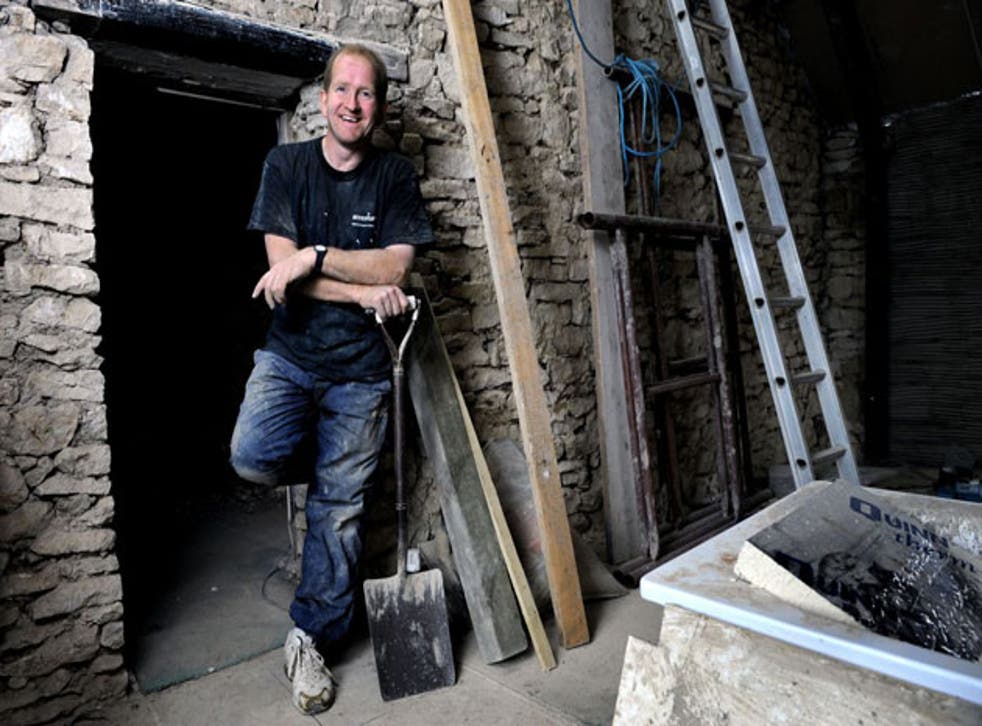 The 10-person shortlist for the BBC Sports Personality of the Year award next Sunday features no fewer than seven gold medallists from this year's Olympic Games, a reminder that Britain's historic haul of 47 medals, 19 of them gold, exceeded that of every other nation except the powerhouses of China, the United States and Russia. Rebecca Adlington, Chris Hoy, Nicole Cooke, Rebecca Romero, Bradley Wiggins, Ben Ainslie and Christine Ohuruogu are all richly deserving contenders for the venerable prize.
But, and it is a but which cuts to the very essence of Britishness, which of them 20 years from now will still be in demand at social engagements up to six times a week, purely as a consequence of their performance at the 2008 Olympics? Which of them will be talking to film producers eager to get their story on to the big screen? Probably none of them. Which brings us to Eddie "the Eagle" Edwards, who was to ski-jumping roughly what John Sergeant more recently was to the salsa, but unlike Sergeant was enthusiastically clutched not just to the nation's bosom, but the whole world's. He continues to make a decent living off the back of his 58th and last-placed finish at the 1988 Winter Olympics in Calgary, and hopes to find out this week whether the latest film company to option his story is able to start production early next year, as planned, perhaps in time for a premiere at the 2010 Winter Olympics, which are back in Canada.
He might also find out who they want for the lead role. Until recently it was Steve Coogan. "But I wouldn't mind that guy from Hot Fuzz... is his name Sean Penn," says Edwards. Erm no, Simon Pegg. "Oh yes. Simon Pegg." Mistaking Penn for Pegg is somehow typical of Edwards, a man of immense bonhomie who still radiates a faint air of haplessness, even though the thick glasses and prominent jaw – which once combined to make him strikingly reminiscent of the hero of the children's books Where's Wally? – are long gone. He had surgery on his jaw to cure his underbite, and four years ago, sophisticated laser treatment on his eyes provided free by a company happy to be known as the people who gave Eddie the Eagle the gift of clear sight.
So it is an unfamiliar-looking Edwards that I meet near Stroud, where he is currently renovating a house. He comes from a long line of plasterers and builders and juggles that trade with public relations jobs, motivational speaking and the like.
One way or another he is much in demand, and knows as soon as he answers his mobile which of his skills are being sought, because as a builder he works under his real name, Michael Edwards. Which is fair enough. Would you want Eddie the Eagle putting up a partition wall?
So it is, anyway, that our conversation unfolds in a half-finished house, with me perched on an unplumbed toilet. We talk first about the film, first mooted in 1999, and now apparently about to happen. In July, with Coogan lined up to play him, Edwards was actually sent a script. "But I hated it," he says. "It was written with Coogan in mind, and you could imagine Alan Partridge saying those things, but not me. There was nothing in the script that had actually happened. For instance, it made out that I didn't go off the 120-metre jump until the Olympics, but actually I'd been jumping from 120 metres for at least a year before that."
I must raise a sceptical eyebrow, because he hurriedly adds: "I know there needs to be some artistic licence, but I just thought they went too far. And it's in their best interests for me to be wholeheartedly on board, because they will want me to promote it. But there's a new company involved now, and I think they're looking at a script done for Disney a few years ago, which is much better." Not that Edwards wanted Disney to undertake the project when they first showed interest. "I thought they might Americanise it. I wanted it to be very British, more a Full Monty kind of thing. I don't want it just to be a comedy, full of slapstick. That was the problem with the script I saw. There wasn't enough drama, even though it's a dramatic story."
It is, to be sure. And I can understand his keenness not to see it played for laughs. But at the same time, he must surely recognise the inherent comedy in a short-sighted plasterer from Gloucestershire earning worldwide fame as a singularly poor ski-jumper, at least by Olympic standards?
"Oh yes," he says. "It's just that I don't want them to turn my story into a big joke. But I did get into some funny situations." Such as? "Well, I was invited to train with the Finnish team up in Kuopio, but I didn't have anywhere to stay. Luckily one of the trainers was a painter-decorator, and he happened to be working at a mental hospital. So he asked if I could stay there, which I did for about a month. I didn't found out until later that the place was Finland's equivalent of Broadmoor. I met quite a few of the inmates, usually at breakfast time, but they spoke Finnish so whether they were talking to me or talking to themselves I wasn't quite sure."
Edwards tells me this story matter-of-factly, almost cautiously, as if eager not to reinforce the perception of him, in some quarters, as a clown. "The thing is," he continues, "it had long been my dream to go to the Olympics, and taking part was my gold medal. It was a sport Britain had never taken part in before, I had no money, no sponsorship, but I still managed to get there and compete, and that's what I want them to get across in the film."
Edwards was a decent downhill skier, on the fringes of the England squad, when he decided to give jumping a whirl. "I went to Kandersteg in Switzerland to train, and stayed in a scout centre there, living on food out of bins. Eventually I broke what we thought was the British record, and wrote to the British Ski Federation for a licence. I started jumping in international competition in the winter of '86/'87. My first European Cup was in St Moritz on Boxing Day."
Magnificently undeterred by small obstacles such as his thick glasses misting up at altitude, he went to Oberstdorf for the Four Hills Tournament and took off from a 120m jump in front of 80,000 people. "It was fantastic," he says. "It was so exhilarating, even though I wasn't sure what i was doing. I knew I had the ability to stay cool in stressful situations, but I didn't have very good technique. You see, when you take off you have to get right over your skis very, very quickly. Otherwise they come up, and the further they come up, the more of a brake they become. But getting into that flight position very quickly takes a lot of guts, and I had to get used to getting off the jump before I could start working on my technique." Unsurprisingly, he came a cropper. "I tore the ligaments in my knee, and had to take a couple of months off. But I was dying to get back."
This eagerness, and doubtless the Wally-esque looks as well, warmed the hearts of fellow-competitors of all nationalities. "The Italian team gave me a new helmet because until then I was using an old helmet that was only attached by piece of string, and it fell off while I was jumping one day. The Austrian team gave me skis. But I wasn't always in last place. There was always a group of us trying to avoid last place. There was a guy from Holland, a couple of Spanish guys, a couple of Bulgarians, and I knew I could beat them."
By now Edwards was determined to get to Calgary for the ultimate competition of all, and the British Ski Federation told him that if he could jump 70m in a World Cup event they would let him go. In December 1987 he hit 69.5m. The BSF agreed to put his name forward to the British Olympic Association.
"It was actually while I was in the mental hospital in Finland that I got the letter saying I'd been picked for the Olympic team," he says. This, I muse inwardly, is a sentence that has never featured on this page before and probably never will again. Anyway, thrilled to bits, he flew to Colorado and trained with the American team, washing up in a hotel to raise the money for his air fare to Calgary.
What happened next has entered Olympic legend, even though there are many who feel it has no place there. Edwards, peering through his specs, finished emphatically last and became world-famous. He also became the first competitor ever to be singled out for a mention in the speech at the closing ceremony, prompting thousands of people to chant "Eddie, Eddie, Eddie!" And were the blazered officials of the BOA relishing this attention for one of their team? Hardly. "They hated it. They were very upset. They felt I'd brought the sport into disrepute, and very quickly made new rules to prevent people like me getting to the Olympics in the first place. In America it's still called 'the Eddie rule'."
The rewritten rule book – which stipulated that to reach the Olympics a ski-jumper must be in the world's top 50, or have finished in the top third at a World Cup event – did not stop Edwards trying to reach the Games of 1992, 1994 and 1998. He failed, which only compounded his popularity, yet Edwards dislikes this perception of him as a heroic failure, seeing himself rather as someone who triumphed over massive odds. Is this not a little disingenuous, though? After all, he laughed all the way to the bank as hapless Eddie the Eagle. "Yes, I traded on the joke, but I had to," he says. "I'd been kicked out of the sport, so my only option was to take advantage of my popularity, opening shopping centres and rides at Alton Towers. It would have been silly not to make hay while the sun shone."
Does he identify with other hopeless competitors, meaning hopeless in the literal sense, such as his partner in alliteration, Eric "the Eel" Moussambani, the swimmer from Equatorial Guinea who in the 2000 Olympics took almost two minutes to swim a 100m freestyle heat? "Not really, though I talked to him on a video link set up by GMTV. Actually, I hate watching sport on telly. I get bored very quickly. I'd much rather be out there doing it."
And finally, now that he is 45, if I were to offer him a 1988 Olympic medal instead of all the Eddie the Eagle hoopla, would he take it? A long, long pause.
"I would, yes. I've had a lot of fun, but I've also had some embarrassments. A PR company once asked me to dress as an eagle, and travel by helicopter from Swansea to Clovelly in Devon, to open a tourist information centre there. The helicopter was to land in the car park, where I could jump out in my eagle costume. But when I got to Swansea, the PR agency said she hadn't been able to find an eagle outfit. She said, "Can you put this on instead?" and I ended up jumping out of the helicopter dressed as a chicken. I'd been paid a lot of money, so I flapped around the car park, but afterwards I swore I'd never dress up again." Such resolve. Such dignity. Never mind Simon Pegg for the movie version, I'm thinking Leonardo DiCaprio, or maybe Brad Pitt.
Eddie in numbers
17
Age at which Edwards left school to take up plastering with his father. He was 24 when competing in the 1988 Games in Calgary.
55 and 58
Edwards' finishing positions in the 70m and 90m jumps respectively in Calgary. Both saw him finish last.
73.5
Edwards set a British record of 73.5m with one of his jumps at the Calgary Games. Matti Nykanen, the winner, recorded a jump of 118.5m.
9 kilograms
At 82kg, Edwards was around 9kg heavier than his nearest competitors at the 1988 Olympics.
2
Where his song, "Mun Nimeni on Eetu" (My Name Is Eetu), reached in Finland's charts. Edwards also released "Fly Eddie Fly" in the UK, which charted in the Top 50.
Register for free to continue reading
Registration is a free and easy way to support our truly independent journalism
By registering, you will also enjoy limited access to Premium articles, exclusive newsletters, commenting, and virtual events with our leading journalists
Already have an account? sign in
Register for free to continue reading
Registration is a free and easy way to support our truly independent journalism
By registering, you will also enjoy limited access to Premium articles, exclusive newsletters, commenting, and virtual events with our leading journalists
Already have an account? sign in
Join our new commenting forum
Join thought-provoking conversations, follow other Independent readers and see their replies