Inside Lines: Wladimir Klitschko plays risky Russian roulette with fistful of dollars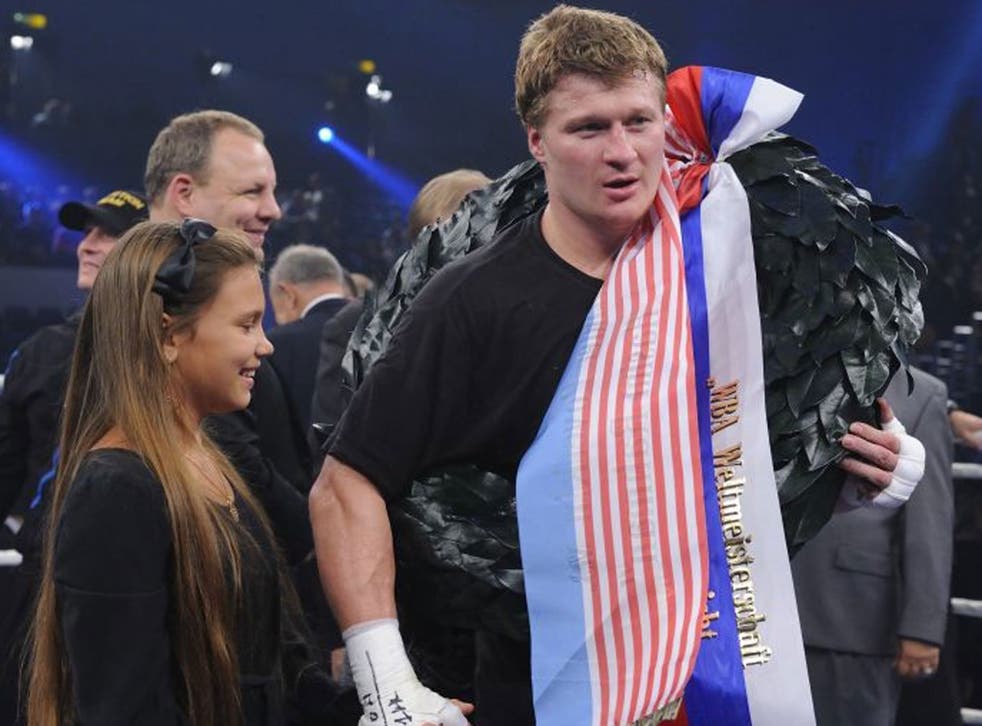 Another fistful of dollars – 23 million in all – will be trousered in a world-title fight next Saturday when long-reigning heavyweight champion Wladimir Klitschko faces the unbeaten Russian Alexander Povetkin in Moscow.
Curiously, this means that three Olympic super-heavyweight champions will be in action simultaneously. Britain's 2012 gold medallist, Anthony Joshua, makes his pro debut in London around the time Klitschko (Atlanta 1996) and Povetkin (Athens 2004) contest the WBA, IBF, WBO and IBO belts before a sell-out 35,000 crowd at the Olimpiyskiy Stadium.
Normally this should be another comfortable excursion for the 37-year-old Ukrainian, an overwhelming 1-12 favourite, but after recent scoring curiosities an intense spotlight will be on the ringside judges, two Americans and a Belgian, and the Puerto Rican ref, Luis Pablon. The massive purse bid for the fight – to be screened live here on BoxNation (www.boxnation.com) – was secured by Povetkin's billionaire manager, and whispers abound of heavy betting on the home fighter among the Russian mafia. Povetkin, 34, is a capable enough opponent but lacks Klitschko's class and clout.
Conspiracy theories are not uncommon in boxing, but in his 61st contest Klitschko is canny enough to be aware of the old saying that sometimes in an opponent's backyard you have to knock 'em out to get a draw.
Hoey all gloved up
Richard Caborn has got his retaliation in first by jumping before he was pushed as chair of the Amateur Boxing Association of England (ABAE). Now there is speculation that the vacant seat could be filled by another former Labour sports minister, the redoubtable Kate Hoey. Her name is firmly in the ring according to ABAE sources.
At 67, long-time fight fan Hoey is still punching her weight politically as MP for Vauxhall, a constituency which embraces London's most prestigious amateur boxing club, Fitzroy Lodge, where she is an ardent supporter. Such an appointment would be propitious at a time when women's boxing, of which Hoey was an early advocate, is burgeoning. It would also appeal to prickly international governing authority AIBA, from whom ABAE have been suspended because of alleged technical breaches of regulations, and by funding body Sport England.
Meantime, the reforms brought in by Caborn, including a reconstituted board, may not get the full approval of boxing's blazers at an EGM in Sheffield next Saturday, when Caborn almost certainly would have been deposed had he not resigned last week. Should this be the case, the position of the chief executive, Mark Abberley, who worked closely with Caborn, could be under threat. Whether these much-needed attempts at modernisation will be enough to nudge AIBA into lifting the pernicious ban remains to be seen.
Sol's view far from sunny
The former defender Sol Campbell demonstrated an astute political awareness when reviewing the papers on TV this week. Subsequently he says he may have to move abroad to pursue a coaching career because of apparent prejudice against black managers and coaches in the domestic game.
Campbell, 39, capped 92 times for England, makes a salient point, and the FA seem as guilty of not using his skills as they were of ignoring the ambassadorial potential of World Cup-winning captain Bobby Moore.
Safe or sorry?
Was Japan's prime minister, Shinzo Abe, being economical with the truth when he told the IOC during Tokyo's successful 2020 Olympic bid presentation that the Fukushima nuclear fallout was "under control"? He is now being ridiculed for such optimism. A safe pair of hands, the IOC's Jacques Rogge assured us. Perhaps more important to the IOC was that they are clean ones. No Japanese athlete has ever failed a drugs test.
Register for free to continue reading
Registration is a free and easy way to support our truly independent journalism
By registering, you will also enjoy limited access to Premium articles, exclusive newsletters, commenting, and virtual events with our leading journalists
Already have an account? sign in
Register for free to continue reading
Registration is a free and easy way to support our truly independent journalism
By registering, you will also enjoy limited access to Premium articles, exclusive newsletters, commenting, and virtual events with our leading journalists
Already have an account? sign in
Join our new commenting forum
Join thought-provoking conversations, follow other Independent readers and see their replies