Mixed view in world of flings and arrows
Female darts-players take their turn at the oche in search for global glory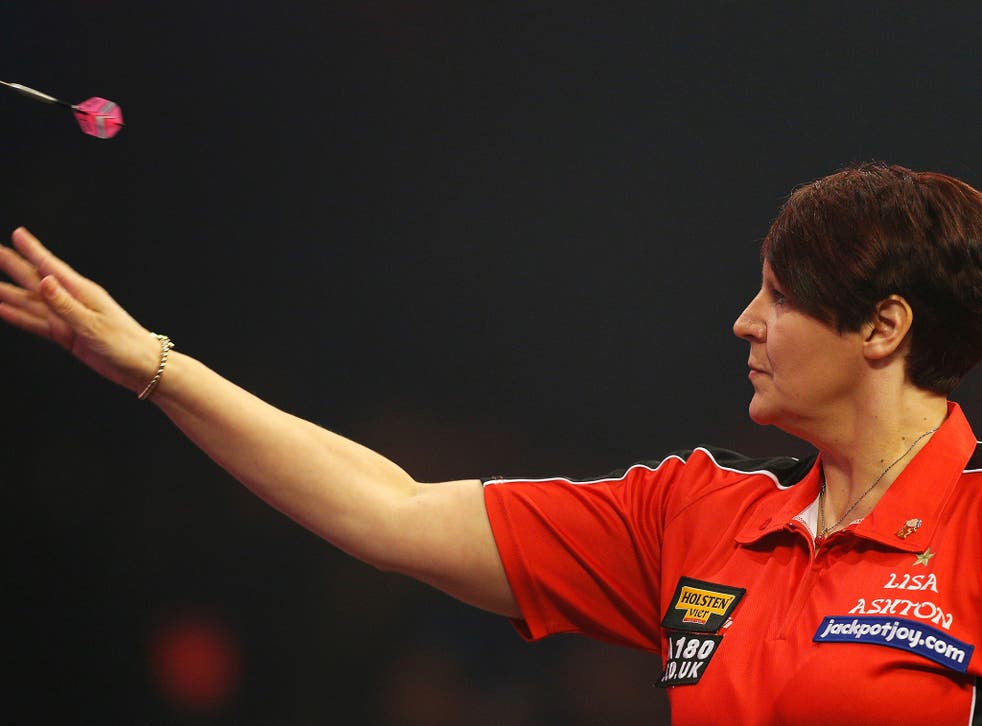 Lakeside Complex in Frimley Green doesn't appear to be a natural home of top-level sport. It's an unprepossessing modern hotel and leisure centre, more usually home to BeePy's nightclub, and next month you can attend the Southern Country Annual Show here.
But over nine days it will host the World Professional Darts Championships, under the aegis of the British Darts Organisation, just as the event's more glamorous rival, staged by Barry Hearn's Professional Darts Corporation, is drawing to a close in the rather swankier surrounds of London's Alexandra Palace.
But women – competitors, that is – are missing at Ally Pally, as it is an all-male event (although "darts dollies" are much in evidence as part of its razzmatazz). At Lakeside, meanwhile, the (ahem) Ladies World Championship is taking place alongside the men's version. The BBC are showing both competitions live, the event is sponsored by the venue, and the women's winner will walk away with £12,000 (there's £100,000 for the men's champion).
Darts, we are told, is the latest working-class sport to be discovered by the posh and celebrities (Prince Harry was seen again at Ally Pally last week) – replacing a night at the greyhounds as a jolly place to patronise the locals. But at Lakeside there is no VIP area.
As I enter the auditorium, at first I think the 2,000 fans must all be stag and hen parties, as many of them are in fancy dress – pirates, cowboys and animals are particularly popular for some reason. Friends Bob and Gavin and Bob's daughter, Jenn – up from Colchester in Essex for the day – explain: "The first time we came to this we felt underdressed," so today, Matthew, they are in costume as a knight, Woody and Minnie Mouse respectively. And while the bars are doing great business there is none of the aggression one normally associates with all-day drinking.
I also meet Marcel, from Holland, here for the weekend with 12 of his mates for their annual trip to Lakeside. Why not Ally Pally? Cost is a factor (top price for entry at Lakeside is £80, at the PDC event it is £150), but mostly, says Marcel, it's because "it [the PDC tournament] is full of hooligans. They have no respect for players and even stand with their backs to them drinking at the bar. This is just a lot of fun".
The world's top female players are at Lakeside, and yesterday's two matches were an all-English affair as seventh seed Zoe Jones, 22 and from Redditch, was pitted against Lakeside debutant Sarah Brent, 44, from Nottingham.
First up, though, was the World Darts Federation's No 1 and top seed, Jamaica-born Deta Hedman, 55, continuing her rivalry with the reigning Lakeside champion, Lisa Ashton, 44, from Bolton (above). Ashton won two sets to one, with one exit score of 156, which included a bull's-eye – the highest-ever checkout in the women's game.
As with the menfolk, there is some nicely daft showmanship to add to the party atmosphere: all the players have nicknames – Hedman against Ashton is The Dark Destroyer v The Lancashire Rose – and they enter, gladiator-like, to signature music (The Merrymen's "Hot Hot Hot" and "Girls" by the Sugababes respectively). But no scantily clad women accompany them as eye candy, as happens with the blokes. The women get just as loud a reception as the men and there is no rush for the bar, as happens depressingly often at mixed events.
After her match I ask Ashton if she likes having the men's and women's events side by side. "Oh yes," she says. "It shows that we can play just as well as them." Would she like to participate in the same competitions? "It would be nice. I think if you look at the quality at the top of the women's game we could definitely compete on equal terms."
But Trina Gulliver, 45, a nine-time world champion who was awarded an MBE for her services to the sport, disagrees. "I think having separate world championships gives proper recognition to the ladies' game," she says. "It's important that we establish a really strong identity and have coverage and support in our own right. I think separate events is the way to do it."
However, Ashton and Gulliver agree that longer matches – women currently play fewer sets than men – would not be a problem if events became co-ed, and Gulliver adds that in her opinion says there is no difference between how men and women throw darts.
"I used to think there was – weight and stance and so on," she says. "But we throw from the same oche and everyone throws differently, so there's no right or wrong way to throw a dart – as long as it hits the board in the right place, of course."
The event continues until next next Sunday, costumes optional.
Register for free to continue reading
Registration is a free and easy way to support our truly independent journalism
By registering, you will also enjoy limited access to Premium articles, exclusive newsletters, commenting, and virtual events with our leading journalists
Already have an account? sign in
Register for free to continue reading
Registration is a free and easy way to support our truly independent journalism
By registering, you will also enjoy limited access to Premium articles, exclusive newsletters, commenting, and virtual events with our leading journalists
Already have an account? sign in
Join our new commenting forum
Join thought-provoking conversations, follow other Independent readers and see their replies