MMA: The UFC is more competitive and more exciting than boxing, yet isn't treated with the respect it deserves
Don't be fooled by hypocritical preconceptions
Asher Simons
Monday 13 January 2014 17:38 Comments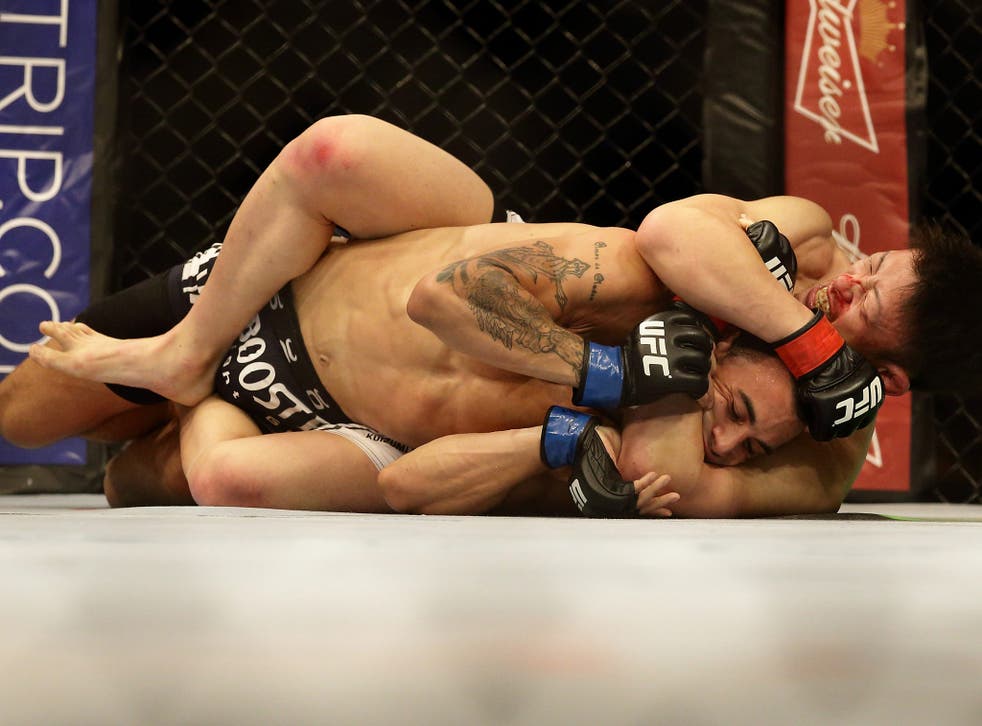 With this week being a rare week off for the UFC and most other promotions, I found myself with a golden opportunity to write about one of the things that irks me the most. It's a topic that overlaps politics and sports, business and morality, history and mythology. It's also a topic that is written about by anti MMA journalists and too oft disregarded by those of us who love the sport; "Is the sport of MMA barbaric"? It's time the uninformed receive a response.
It's important to start this piece my making sure it is understood that MMA is a sport. It is not a case of two individuals randomly getting into a cage fighting to the death. When fighters enter UFC's Octagon, they are finely tuned athletes competing at the pinnacle of a sport that is the fastest growing in both viewership and participation in history.
England's next great heavyweight boxing hope, Anthony Joshua is currently 3-0 with three KO's after starting his career in October. The fighters he has face thus far have one job; to go in the ring and last as long as possible before being decisively knocked out by this unbelievable talent. It has been brutal to watch. The idea, of course, is to build up Joshua's profile before actually giving him a worthy challenge. It isn't entertaining to watch and it isn't responsible to put on, yet nobody says anything because this is how boxing has operated for decades and boxing is accepted by the masses. It is worth saying that I am a huge boxing fan and have actually worked in the sport, but I am merely drawing a comparison. The way MMA works is that matchmakers look to put on the best and most competitive fights available. This means that more often than not, fighters are extremely well matched, which makes for good entertainment and prevents horrifying pulverisation you sometimes do see in boxing.
Why then is this the case? The reason is that in MMA, the organisation is the promoter. Fighters are after UFC Championships, and it is the UFC that promote their fighters and the events. This means that it is in the UFC's best interest to put on the most competitive fights regardless of the result. 
In boxing there are four major organisations and promoters represent only the fighters. A boxing promoter's job is two fold. Firstly, they must make fights to enable their fighter to win a World Championship by the quickest and easiest road possible. Secondly, they must do this by ensuring their fighter earns as much money as possible in the process. 
In the UFC, if a fighter wants to win a belt, they must beat who's put in front of them. It will certainly be a long hard road, but fighters reach their goals through merit and not entitlement. 
My argument is that there will be those that love MMA and those who hate MMA, in the same way that there are those that love football and those that hate football. This is inevitable. Currently however, the sport of MMA is being dismissed by those that know nothing about it. Rugby players take to the pitch week after week, charging into each other trying to land the biggest tackle (I'm also a big rugby fan by the way), often resulting in injury and sightings of blood, yet this goes largely unmentioned. It is seen as merely an occupational hazard of a rugby player. Why then in MMA is that not also the case? Why is MMA more barbaric than raking somebody on the bottom of a ruck or dump tackling them unnecessarily?
In the NFL and other sports, there are enormous issues with concussions. Their seriousness has not been fully appreciated until now and the long term damage to those that played through them has been tragic. Still, there are cases of people playing through concussion, whether due to being due to feeling a responsibility to their team or any other reason. In the UFC, when somebody is knocked out, regardless of the severity, the fighter receives an automatic 90 day medical suspension from any physical contact. After this 90 days, they must be cleared by a doctor before being able to fight again. Medical suspensions are handed out to all fighters by a doctor after a fight of varying lengths depending on damage sustained. When Anderson Silva broke his leg last month in the Octagon, the surgeon was present at ring side and arranged for immediate transportation to the hospital. Two hours later He was operating on the past champion. That is how the UFC conduct medical procedure. The UFC often pay for fighters' surgeries and medical help from their own pocket. You are bound to see some blood at an MMA event, yet this will likely be due to surface cuts of no significance. The UFC still maintains a record of never having sustained a death or serious injury, unlike rugby and boxing. 
It is also a common misconception to think that the small 4oz gloves worn by MMA fighters make the sport more barbaric. Boxing gloves are not there to protect the one being punched, but are in fact there to protect the hand of the puncher. The human hand is far weaker and more vulnerable than the head. With more protection and padding to the hand, the puncher is able to punch harder, not softer, with the concussive damage being more and not less. 
We are in an age where so many youngsters look up to footballers who too often set horrific examples, whilst getting paid astronomical sums of money (I'm also a huge football fan). Conversely, MMA fighters are disciplined and respectful, yet are unfairly looked at by so many as being barbaric thugs. They are not street fighters, they are martial artists. The skills and techniques utilised in MMA take years to learn and an enormous amount of dedication to perfect. Whilst you might not like or want to watch MMA, it is time the sport is respected. It is time the nonsense stopped. 
Register for free to continue reading
Registration is a free and easy way to support our truly independent journalism
By registering, you will also enjoy limited access to Premium articles, exclusive newsletters, commenting, and virtual events with our leading journalists
Already have an account? sign in
Join our new commenting forum
Join thought-provoking conversations, follow other Independent readers and see their replies