MMA: UFC heavyweights Mark Hunt and Antonio 'Bigfoot' Silva in fight for the ages
Brisbane witnessed a battle that will be long remembered
Asher Simons
Monday 09 December 2013 17:39 Comments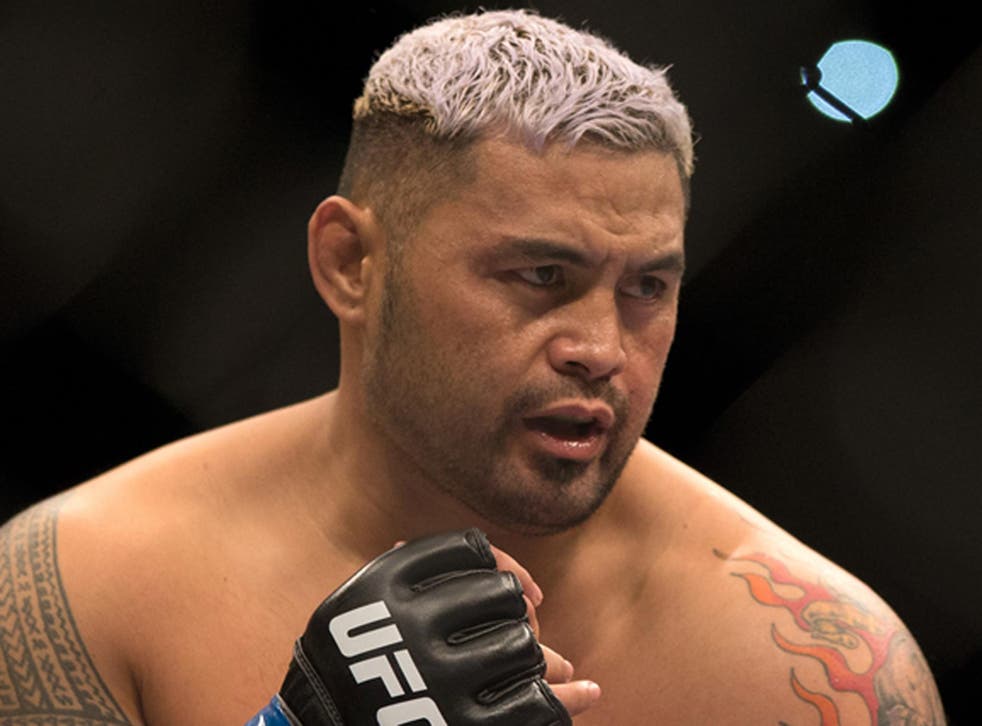 A busy weekend for MMA saw promotions including Invicta, WSOF, Cage Warriors and many others staging events around the world. The UFC's offering was a Fight Night event in Brisbane, Australia. The fight card itself was an intriguing one with the main event scheduled to be a five round fight between heavyweight contenders; Mark Hunt and Antonio "Bigfoot" Silva.
Bigfoot, the number 4 ranked heavyweight was favoured over Hunt, though Hunt was fighting in front of his home crowd. One aspect that most agreed on was that the fight was unlikely to last the full five rounds with both of the fighters possessing extremely heavy hands. Hunt and Bigfoot were both coming off of losses, though the losses were to Junior Dos Santos and Cain Velasquez (respectively), who just fought each other for the Heavyweight title. 
Immediately following the sensational knockout of James Te Huna by a rejuvenated legend in Mauricio "Shogun" Rua, the atmosphere was electric. As the two giants entered the Octagon and Bruce Buffer made the announcements, nobody could have imagined what was about to take place. 
Whilst I will summarise what happened, it truly has to be seen to be believed. It was a masterpiece. 
Bigfoot came out strong using his leg kicks to drastic effect on Hunt's calf. With a n eight inch reach advantage, Bigfoot used his muay thai to keep a healthy distance from the brute force of Hunt. Continually changing stances with his movement fast and fluid, the 6'4" 264 pound Bigfoot could have been mistaken for a middleweight as he took control.
Round 2 saw Hunt start to have success with his boxing. Hunt landed his infamous overhand right that we've seen knock out many a fighter in the past, but Bigfoot took it, seemingly undeterred. Bigfoot went back to his leg kicks and with 40 seconds left on the clock he looked to do some serious damage to Hunt's leg. Maybe this would be the killer blow with Hunt now struggling to walk. It wasn't.
In Round 3 after looking down and out, the juggernaut that is Mark Hunt came back with vengeance. He dropped Bigfoot with another right hand and spent over 2 minutes in a top position using expert ground and pound technique. The crowd sensed a stoppage but Bigfoot somehow survived and made it back to his corner, his face bloodied by Hunt's onslaught.
As we entered the "championship rounds" of this non-title fight, it was now very apparent that something special was happening. Both fighters had been down and seriously hurt, yet here they both still stood, unwilling to give in. The 4th round began and it was on!
Despite early takedowns by Hunt, Bigfoot found his way back to his feet and the two met once more in the centre of the Octagon for a legendary hand to hand combat exchange. Bigfoot managed to come out on top and had Hunt backed up to the fence receiving a flurry of punches. Surely now the fight would be stopped. The fight went to the ground with Bigfoot on top and he produced his own ground and pound. Hunt was now bloodied too, but amazingly again, he managed to reach the end of the round. 
In a show of brotherhood, sportsmanship and solidarity, these 2 warriors began the 5th and final round by embracing one another in the centre of the Octagon. It was a touching moment, familiar to those within the MMA community but rarely seen elsewhere between 2 athletes competing so fiercely against one another.
Both now bloodied, bruised, and exhausted, with the crowd on their feet, the 2 fighters again began exchanging blows. Bigfoot was missing; Hunt was landing. With the tide yet again turning it looked as if Hunt might have enough to finish Bigfoot with his famed right hand KO. A cut opened up above Bigfoot's eye and the referee called in the doctor to check it. The doctor was happy; the fight continued. Bigfoot made it to the bell and the fight that was never meant to go the distance, had done just that. The 2 yet again embraced. The crowd roared showing their appreciation to the fighters. 
When Bruce Buffer announced a majority draw, there were no complaints. On a night where 2 gladiators and masters of their craft gave the MMA world everything they had, and with both still standing when the final bell rang, the winners were the fans.
It was another fight to compete with Jones Vs Gustafsson and Sanchez Vs Melendez for UFC fight of the year, and it will be remembered for years to come. What a fight. What a night. The UFC have done it again.
Register for free to continue reading
Registration is a free and easy way to support our truly independent journalism
By registering, you will also enjoy limited access to Premium articles, exclusive newsletters, commenting, and virtual events with our leading journalists
Already have an account? sign in
Join our new commenting forum
Join thought-provoking conversations, follow other Independent readers and see their replies